Easemakers
[Easemakers Podcast E47] Exploring the options for private aviation
The options for private air travel are extensive. What are the advantages of buying a private plane, working with an air charter service, or owning a fraction of a private jet? In this episode of the Easemakers Podcast, private aviation expert and Corporate Aviation CEO Ryan Hall breaks down the options for flying privately.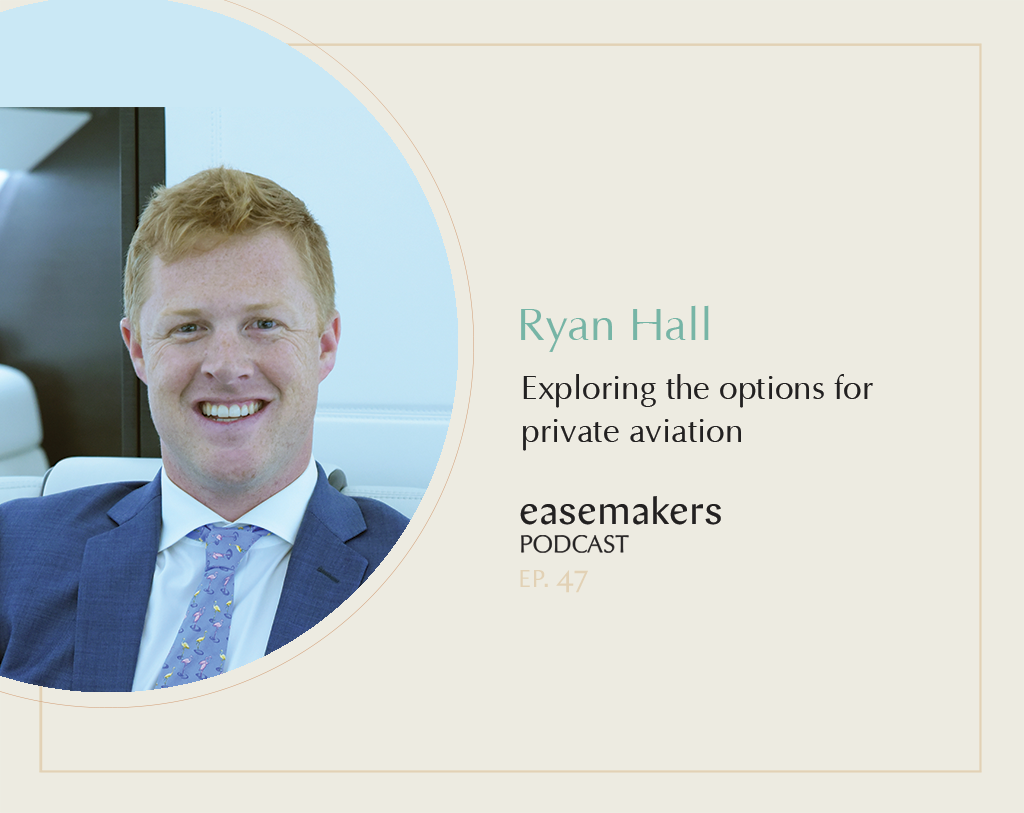 Your principal wants to trade the hassle of commercial flights for a world-class private jet experience. How do you find the right experience for their travel needs?
Ryan Hall is a private aviation expert and the CEO of Corporate Aviation, a consulting firm designed to help individuals and corporations figure out the right private jet travel solution for their needs.
In a new episode of the Easemakers Podcast, he breaks down three private aviation options. Tune in to hear his expert tips and questions to ask when you're trying to figure out the right solution, including:
How to calculate the real pricing for owning a private aircraft
The pros of buying a private jet (peace of mind that the plane is always ready) and the pros of relying on charter flights (flexibility — sometimes you need a light jet for a quick flight from New York to Miami, sometimes you need a large cabin for a roundtrip vacation for a family of 10 to the Caribbean, sometimes you need a long-range airliner for overnight flights from western Canada to France)
Why someone with 200+ flight hours per year may choose to invest in a business jet or private jet
When it makes sense to work with a concierge private jet charter broker
What goes into planning a successful private jet flight and what you need to know ahead of time (from wi-fi requirements to FAA regulations to how to access the private terminal)
The Easemakers Podcast is available on Apple Podcasts, Spotify, and anywhere you listen to your favorite shows.
Catch up on past episodes of the Easemakers Podcast to hear from more experts in the private service industry, and don't forget to subscribe on Apple Podcasts to get notified about future episodes. Follow along with @easemakers on social media, and of course, be sure to join the conversation in the Easemakers community after you listen!
The Easemakers Podcast is presented by Nines, the household management software solution built for high net worth households, family offices and the private service professionals who support them. Questions about household staffing, luxury home management, or how to create a better workflow for everyone on your team? Start a conversation today.