Household Management
Manage your household's contacts all in one place
Your household needs to track contact information, birthdays, anniversaries, gifts and more. Nines household management software comes with built-in contact management, so you can store contact data and use that information to strengthen your relationships.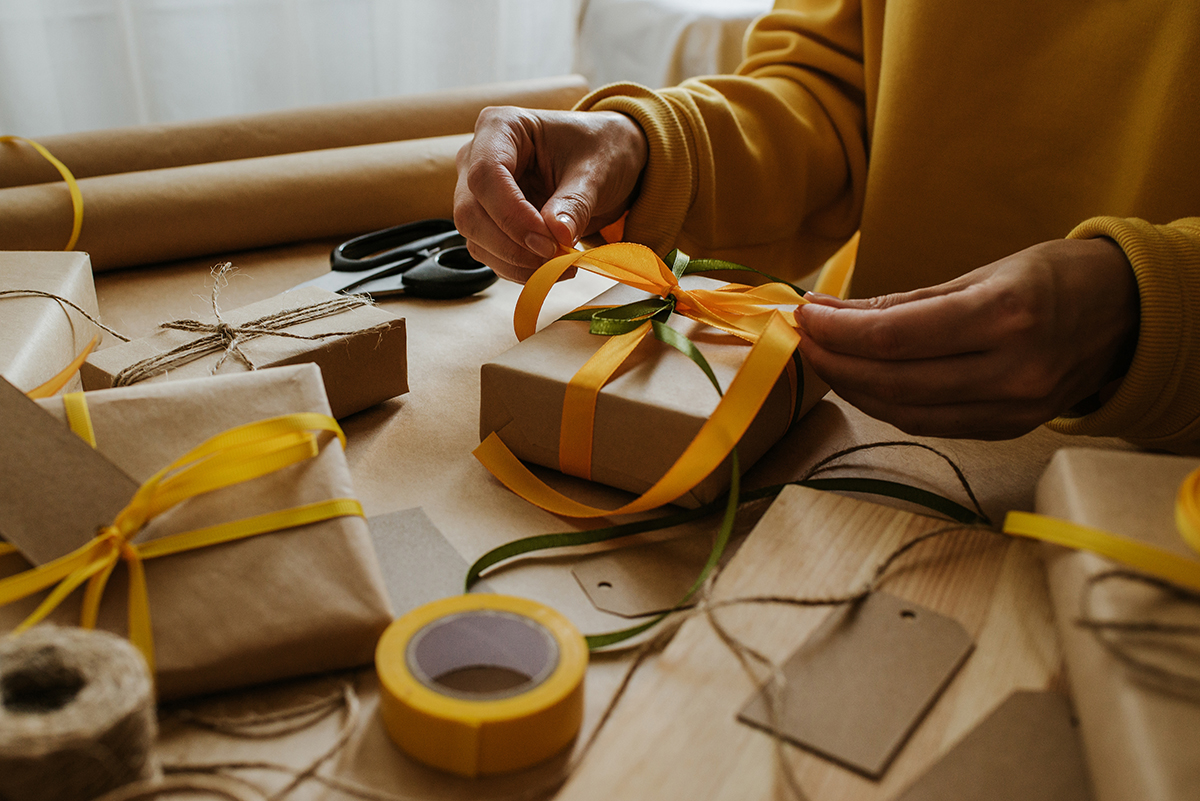 Every household has to remember hundreds of contact details. When is your assistant's birthday? How about your best friend's wedding anniversary? And where did you take your mother-in-law for Mother's Day Dinner last year?
Now, multiply those questions by everyone in your personal life and professional network.
It's easy to let these details slip through the cracks, and forgetting them can damage your relationships. And, if you're an estate manager or a personal assistant, managing your principal's contacts might be one of your most important responsibilities, but where do you find the time?
Nines household management software helps you manage all your contacts with ease — alongside everything else in your household.
Like personal CRM software — but better
Small businesses, startups and more use customer relationship management software (or CRM software) to help them keep track of customer data and create personalized email marketing. Similarly, personal CRM software helps individuals keep track of all their personal contacts.
Think of your stack of business cards coming to life, and becoming far more useful. If you have easy access to someone's contact information, their birthday, their dietary preferences, and more, you can check in on special occasions, surprise them with the perfect gift, etc.
But even the best personal CRM apps are limited. With Nines, you can combine the power of contacts with household staff, tasks, and checklists.
A smarter address book for your household
Nines built-in personal CRM solutions help you organize all of your household's personal contacts in one easy access, searchable place. No more endless spreadsheets, or phone numbers buried in your Gmail.
Each contact page is a simple template, where you can fill in fields, like phone number, address, etc., for fast and easy data entry. You can also select a category to designate family, friends, professional relationships, and more.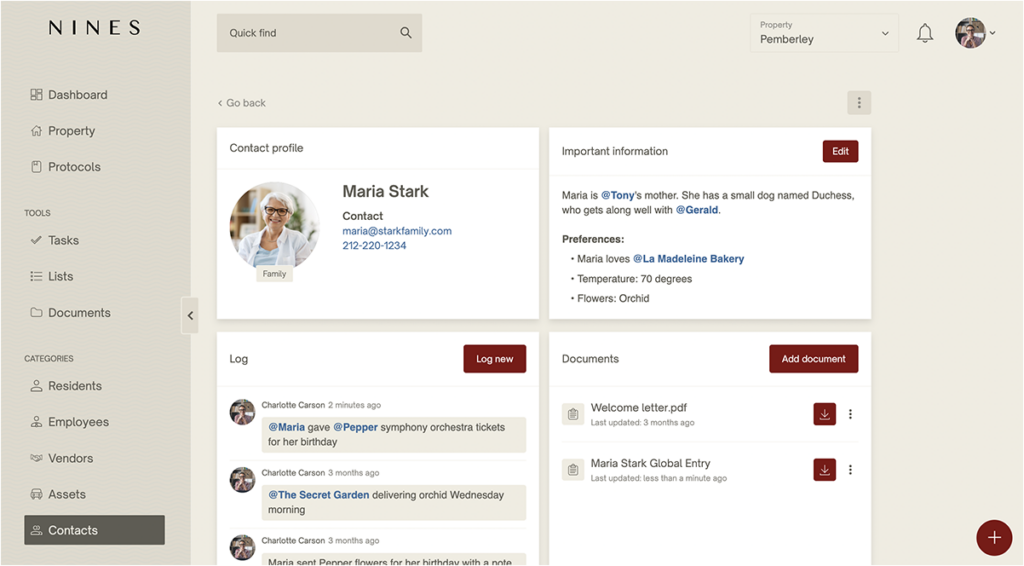 Plus, each page has a customizable field for important information, so you can add any information you feel is relevant, like a contact's children's names, their favorite five-star restaurant, their LinkedIn or other social media details, or their frequent flyer information.
Here's the best part: contact pages are easy to view and search, whether you're at your computer or on the go. Say goodbye to trying to navigate Microsoft Excel or Google Sheets on your iPhone. And, Nines doesn't require you to download an app, so it works across devices, whether you use Apple iOS or Android.
Log gifts, visits, special occasions and more
In some households, gifting can feel like a full-time job. Nines makes it easy to log interactions, so you never forget anything.
This becomes even more valuable over time, because you can scroll through your past logs or run a quick search to find what you need. Whether you're wondering what date someone visited last year, or what they sent for Christmas, you can get answers in seconds.
Having a centralized log is especially helpful if family members and household staff are working together to manage relationships. If the estate manager logs a phone call with someone who's visiting the property next month, the chef can see notes from their conversation, and create a menu that fits the guest's dietary needs.
Power your personal relationship management
Once you have all of this important contact data at your fingertips, you can use it to build better relationships.
Contacts are even more powerful when you pair them with tasks and checklists. In Nines, all your data is linked, so it can work together, and work harder for you.
Let's say you're having guests visit you next weekend. You can create a task for your houseman in Nines, @ mentioning the guests and their assistants to create easy links to the information he needs. Plus, you can set reminders to make sure nothing slips through the cracks.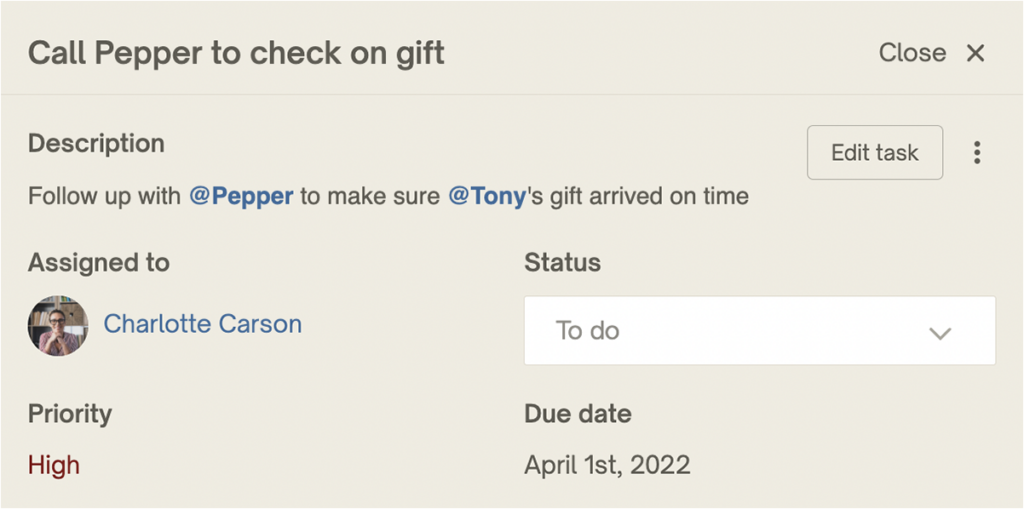 Or, let's say you want to create a gifting list for the holidays. You can use Nines list of tasks, ranging from "Send a gift to @Tony Stark" to "Follow up with @Pepper Potts [Tony's assistant] to ensure gift has arrived."
You can assign tasks to other people in your household, and use automation to set recurring tasks.
Follow along with your own progress, and get notifications when someone else in your household checks something off their list.
With Nines, you get the functionality of a personal CRM system, a project management tool, and more — all in one platform.
Save time every day
How often do you need to reach out to one of your household's personal or professional contacts? Chances are, you're spending too much time every day searching for information.
With Nines, your contacts are always at your fingertips, so you can move quickly and build meaningful relationships.
Schedule a call with our team today to see how Nines can help you manage household contacts, staff, vendors and more.