Household Manual
Centralize your household's preferences, personal information and more with Nines
Whether you're managing your own household or communicating resident preferences with household staff, you need a secure way to store and share sensitive personal information. With Nines, you can keep everything at your fingertips — without losing control.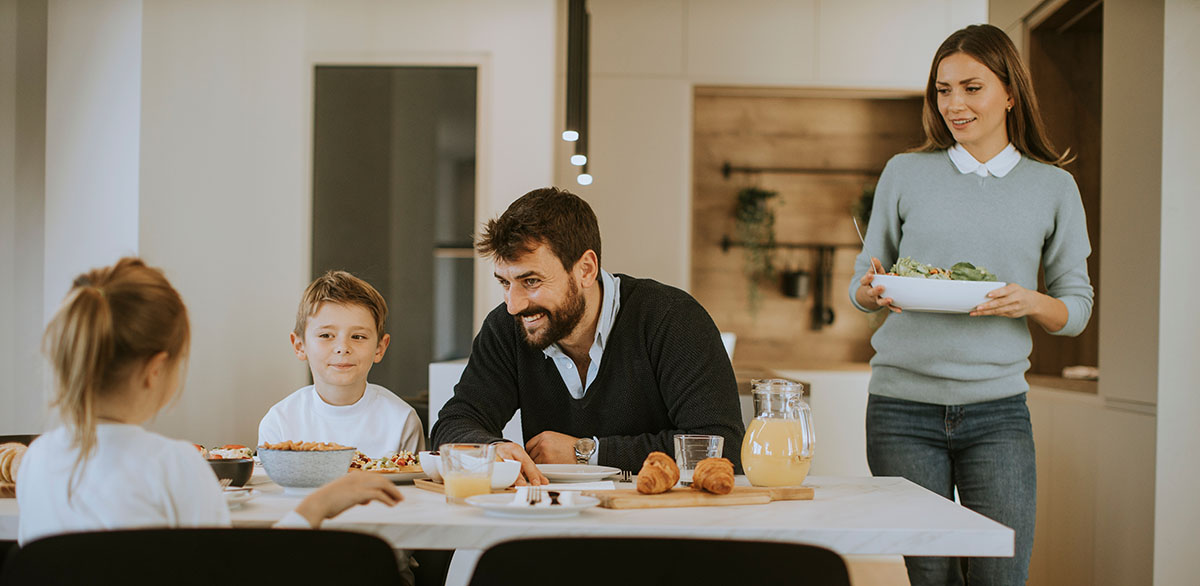 You want things to be a certain way in your home. You want it to feel calm and clean, but not stuffy. You like a specific newspaper, and you drink tea — not coffee.
You might hire household staff to help you manage all the moving parts of your home and ensure everything is just how you like it to be — but if you're not communicating your preferences clearly, how can they bring your vision to life?
Whether you have one family assistant or a staff of 10 private service professionals, you need to be clear about your household's preferences and protocols. When you empower staff members with the right information, you get better service.
But how do you store and share your household's sensitive information in a secure way? Historically, families have kept their private information in a binder, safely stored in a drawer. But when you decide to host an impromptu dinner for eight people, and your household manager is out running errands, a binder can't keep up.
Enter Nines, a smarter household manual that's as flexible and fast-paced as you are.
With Nines, you can keep everything from allergies and dietary preferences to shoe sizes and TSA pre-check numbers — all in one easy-access, searchable, and secure place.
When you arm your household staff with the information they need, they can move quickly to provide the best possible service, while making it seem effortless, so you can live with ease.
Communicate preferences, protocols and personal information
Everyone in your household (even your pets) has their own likes, dislikes, and little details unique to them. In the past, household staff members might've kept all of this information in a Word Doc, or in a binder that's only accessible when they're on site.
But those tools are too slow, and too inconvenient.
Let's say you have a celebrity chef coming for a party you're hosting this weekend. You or your household manager needs to spend time collecting everyone's preferences and dietary restrictions — just like they have to do every time someone new comes in. This is a tedious waste of time.
With Nines, all of your preferences and details can live in one easily accessible, searchable place. Each resident gets their own profile where you can keep a range of details, including:
Favorite dishes and menus
Allergies and dietary restrictions
Emergency information
Clothing and shoe sizes
Travel preferences and TSA, frequent-flyer, and loyalty accounts information
Room temperature, lighting, and wardrobe preferences
You can add information in a simple template, and customize it based on what information you most frequently need to access and share. You can include photos and documents, and @ mention doctors, close friends, executive assistants, household staff members, and other residents to create an intuitive map of your household.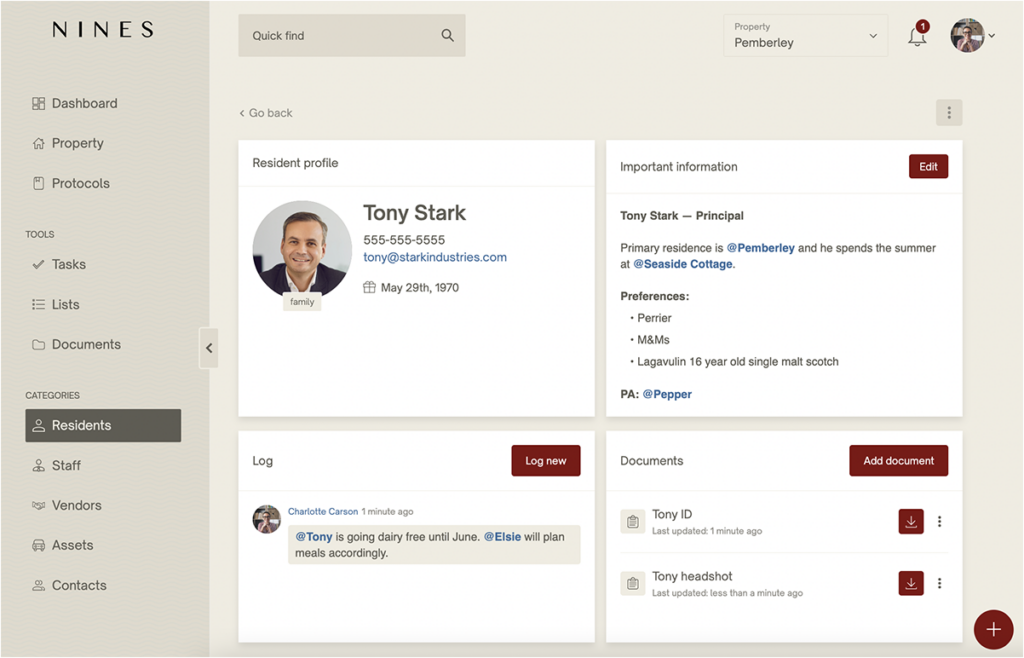 Plus, beyond your personal preferences, you can organize your household's standards and procedures for laundry, clothing and valet, housekeeping, culinary, entertaining and more with our protocols feature. Nines protocols are pre-arranged into intuitive chapters inspired by household management expert Marta Perrone's tried and true system for building house manuals. You can add your own chapters, and remove any you don't need.
When all of your residents' preferences and personal information is documented, it's easy for new staff to learn how you want to feel in your home, and for any staff member to move quickly to make things happen.
Easily update information as preferences change
Your preferences and schedule might change on a weekly basis, and you need an easy way to communicate that with everyone on your staff.
With Nines, you can update information quickly and easily. Nines works seamlessly across desktop and mobile (both iOS and Android), so you can make changes whether you're at home or on the go.
Plus, any Nines user can log notes as things change — if you tell your personal assistant that you're giving up dairy this month, they can log a note in Nines to update your staff.
Share sensitive information in a secure way
If your family is sharing personal information like medical needs and travel details over text and email, you're taking a risk. Not only should your sensitive information have an extra layer of security, but what happens if your trusted employee leaves for a new opportunity?
Don't let your household's personal information walk away on the personal phones of former staff and contractors.
With Nines, you control who can see your household's information. You have the option to require two-factor authentication for an extra layer of security. And, access can be revoked quickly and easily when someone leaves.
Whenever you need to share a task, you can include information from your account, like a document (let's say, a photo of your ID), and set an expiration date. That way, you're only granting someone access to the information for a limited amount of time.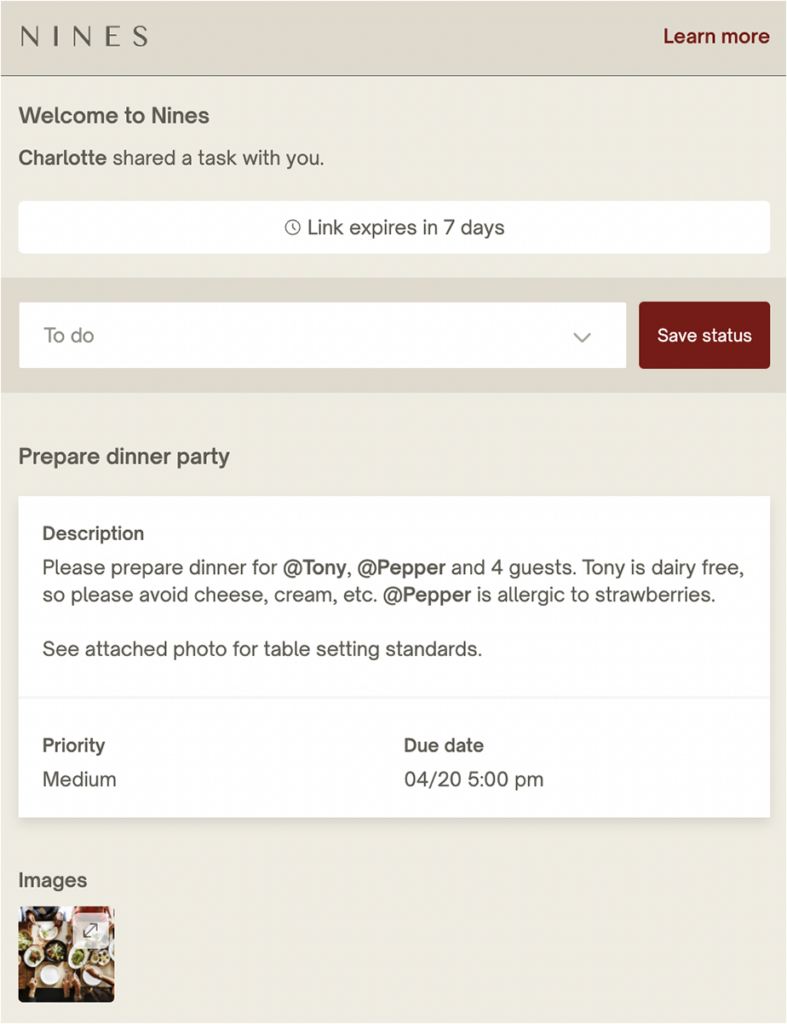 Plus, you have a searchable historical record of everything you've shared, making it easy to retrace your steps if necessary.
And, Nines is built with security first, backed by Microsoft's highest available security standards.
With our protected, smart platform, you can move quickly, without compromising your security.
A new approach to household management
Nines household management software helps you manage not only your residents' information, but also your properties, household staff, tasks, vendors, contacts, and more — all in one place. Want to see how Nines elevates discerning households and the private service professionals who support them? Get started today.