Household Assets
Maintain your household's valuable assets with Nines
Your household's cars, art, antiques, musical instruments and appliances all require regular care and maintenance — but keeping track of details and schedules can be a massive challenge. With Nines, you can preserve your household's most valuable assets effortlessly.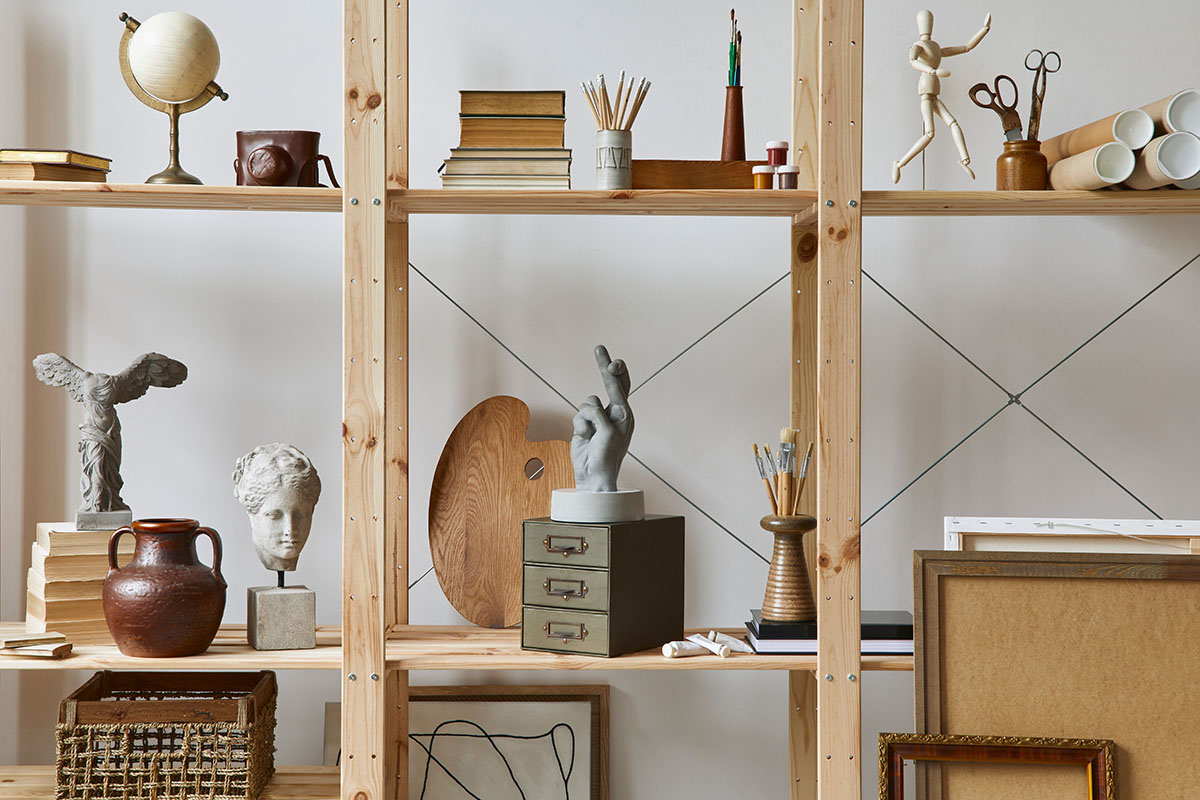 Your home is full of valuable assets that need to be carefully maintained. If you're not on top of the details, you're running the risk that something costly — or even priceless — could be damaged or ruined forever.
But how do homeowners and the private service professionals who support them keep track of everything? How do you organize all the serial numbers, insurance policies, warranties, and other important documents and details for hundreds of valuable items?
Nines makes it easy to manage your home inventory lists for cars and automobiles, collections, wardrobes, household items and any other type of personal property you want to track — so you can minimize risk, and find any detail any time you need it.
One place for all the details
Each asset comes with a number of details to track. Take, for example, a car. On any given day, you might need easy access to the car's license plate number, make and model, and any notes on what the car is used for on a daily basis.
On top of that, you occasionally need to know who's responsible for servicing the car (and their contact information), its maintenance schedule, the purchase date and the valuation. And, you need a convenient way to store any important documents related to the car, from sales receipts to warranties and insurance claims.
Whether you're looking for information daily or in an emergency situation, you don't want to have to search through five different places. With Nines, you can keep all of the details at your fingertips.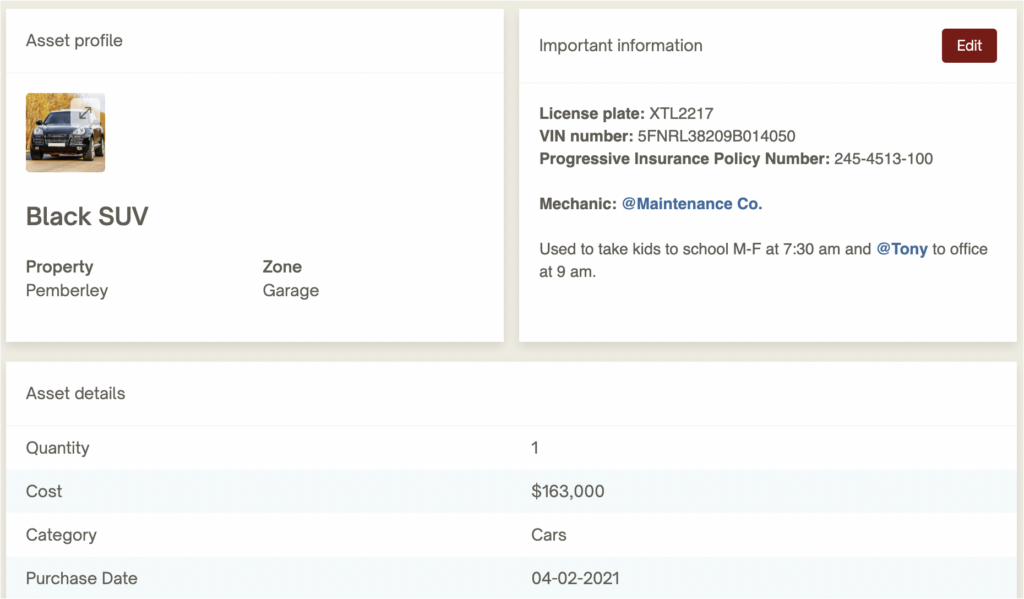 When you add an asset to Nines, you can include any relevant information in one simple template. Choose the asset's category (art, antiques, cars, consumables, etc.), add photos, upload any relevant documents, and note the brand, value, purchase date, and more. You can include a description with any information that may be helpful to you and/or your team. For example, you might want to mention how the car is used on a daily basis.
When all the details are in one place, you never have to waste time searching for details, or get stuck without the answers you need.
Easily track changes and keep a historical record
Keeping track of appraisals, changes in insurance coverage, maintenance and repairs can be tedious.
With Nines, you can quickly update information, whether you're at home, at your desk, or on the go. Our flexible platform is easy to use on both desktop and mobile, and works seamlessly across iPhones, iPads, Macs, Microsoft and Android devices. And, it's user friendly, so even your least tech-savvy staff member can use it to work more efficiently.
Plus, you can log any relevant events, and automatically keep a reliable, searchable historical record as tasks related to an asset are completed.
Let's say, for example, your driver completes the task, "Take @Black SUV for annual maintenance." Later, when you search "Black SUV," you'll be able to see this task, and any other tasks related to this asset, so you always know what happened and when.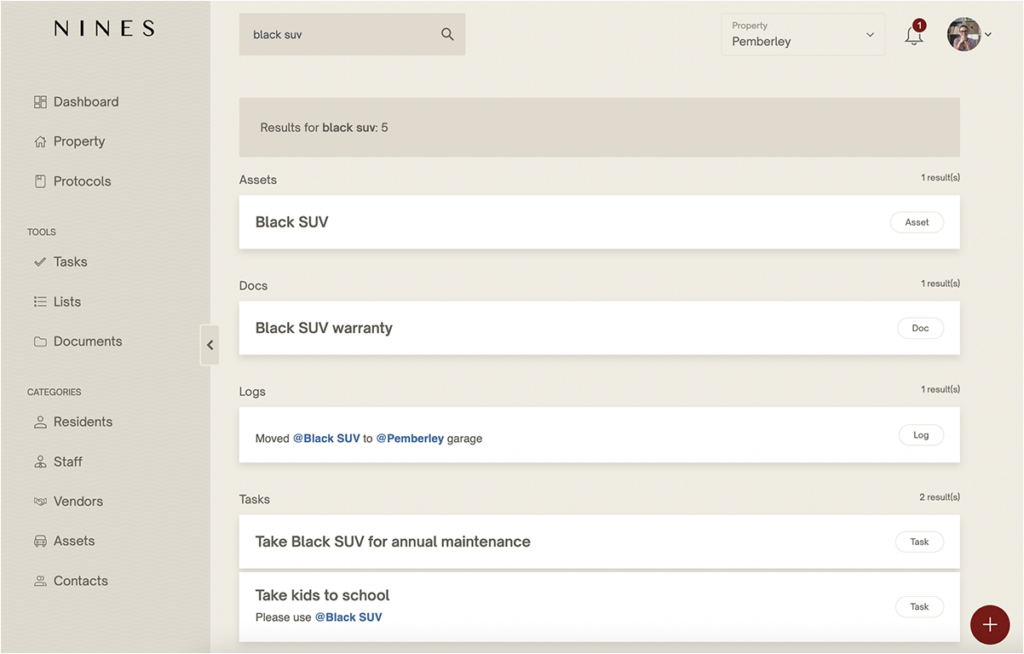 When you visit the Black SUV's asset page, you can also scroll through any notes you've logged.
Need to find your notes about last year's annual maintenance? Easy — just run a quick search.
Connect important information for seamless household management
When your papers are in a filing cabinet, your notes are on your phone, and task lists are buried in your email, it's nearly impossible to take action and check things off your list efficiently. But when all your data is connected, you can use it to work faster.
With Nines, your assets and all of their photos, documents and important details can be seamlessly connected to any relevant vendors, properties, household staff and residents.
For example, on the asset page for a car, you can @ mention your insurance company and your maintenance vendor, so you can simply hover or click to get their contact information. This saves you time when you're organizing information and when you need to access it in your day-to-day work.
Or, let's say you want to schedule annual maintenance for the car. You can create a task for your driver take the car to your service vendor, and set it to recur annually. This becomes even more valuable for tasks that happen daily or weekly, like regular care and cleaning for antiques and works of art.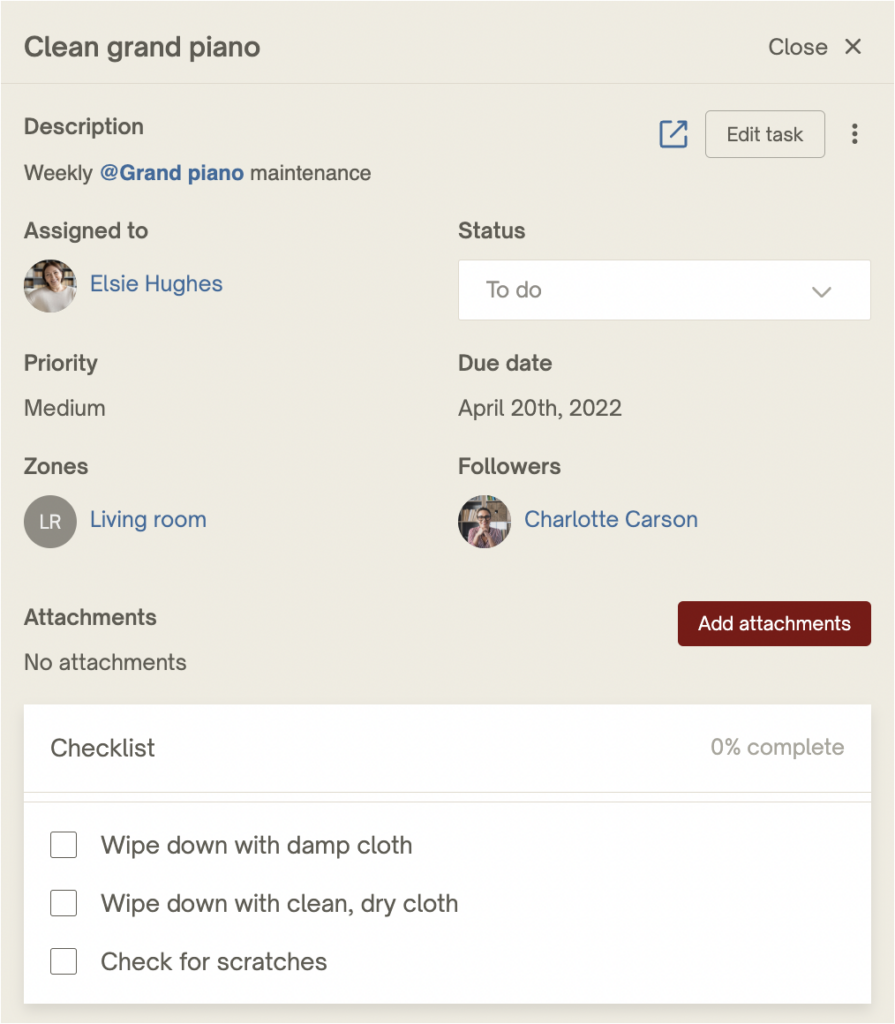 You can set due dates and reminders for tasks, and follow along as work gets done — so nothing slips through the cracks. And when you're on top of maintenance tasks, you minimize the risk of damage.
Manage home inventory, from cars to consumables
Beyond your home's most valuable assets, like cars and art, you may also need to track other types of home inventory, like consumables, household items, wardrobes and wine.
Nines gives you flexible tools for managing any type of asset. Just add the category, and fill out the fields that are most important to you — from purchase price to quantity.
In addition to the assets feature, you can use lists to manage home inventory lists that change more frequently. With lists, staff members and residents can easily add and remove items, or check off recent purchases.
Our solution is tailored specifically to the needs homeowners and household managers, so it's easy to make it your own.
Safeguard sensitive information
When you're looking into home inventory apps, security should be a top priority. Information about your home's most valuable assets needs to be carefully protected, and should be organized and shared in a secure way.
Nines is backed by Microsoft's highest available security standards. You have the option to require two-factor authentication to anyone logging into your account, and you decide who can log in. Plus, you can revoke access at any time — which means your household's sensitive information won't walk away on the personal phones of former staff members and contractors.
Manage your assets more efficiently
With Nines household management software, you can can manage your assets, as well as every aspect of your household manual, like your staff, tasks, properties, contacts and more — all in one smart platform. Want to see how Nines can help you live with ease? Get started today.