Nines
3 ways Nines helps you control your household's information
You depend on trusted staff to manage your family's most important information, but what happens if you have to part ways? With Nines, you can hold on to everything from paint colors to HR records, and ensure continuity for your household — come what may.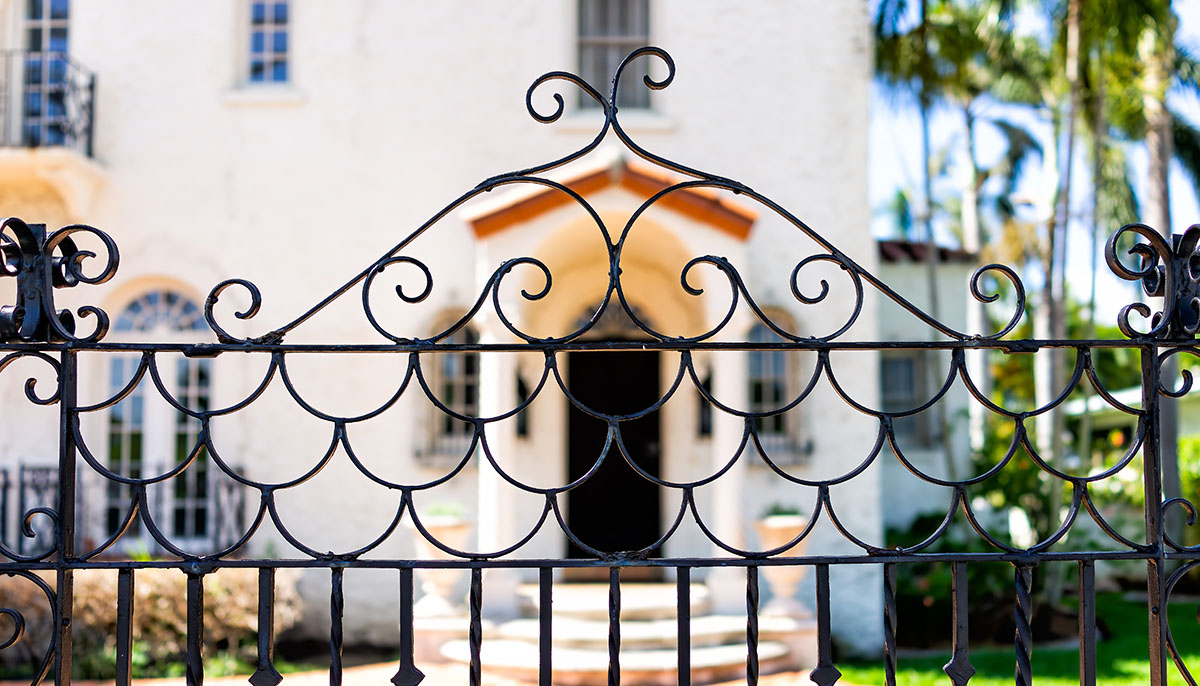 An estate manager knows the ins and outs of a household. When did you buy your oven, and is it still under warranty? Who handles your car's annual maintenance? Where is your housekeeper's emergency contact information?
No matter your question, your estate manager always knows the answer.
But what happens when it's time for the person who knows it all to move on? The idea that any private service professional will stay with your household for life is unrealistic — and you need to have a plan.
Top estate managers know the importance of leaving behind a historical record, so no matter who steps into the job next, they'll have a roadmap for managing the household.
Meanwhile, families need continuity, no matter who comes and goes. Most importantly, they need to own their household's information.
Your former estate manager doesn't have time to sift through their camera roll to find a photo of your renovation. And if you have to let a staff member go, you don't want to worry about your private details stored on their personal phone.
Leaving your household's information unprotected can lead not only to hassle, but major risk — you could lose years of valuable data about your property, your family, your contacts, and your most valuable assets overnight.
Here's the good news: with Nines household management software, you can keep all of your household's data in a secure platform that belongs to you. As staff members manage day-to-day tasks in Nines, your household automatically builds a searchable historical record of checklists, vendor contact information, contracts, and more. And as staff members come and go, you can easily preserve notes, train new employees, and maintain continuity in your household.
Let's explore 3 ways Nines helps you control your household's most important information.
1. Ensure continuity with a smarter household manual
Keeping all of your household's data in a flexible house manual helps you find answers, empower staff, and train new team members.
With Nines, you can organize information about your properties, staff, residents, vendors, contacts, assets and more — all in one place. When everything is at your fingertips, your household can run smoothly, no matter what challenges you're facing. This is a game changer for estate managers, household staff, and principals.
Plus, you can manage tasks, checklists and projects within Nines, to make life easier for everyone in your household. As work gets completed, Nines automatically creates a rich historical record, so you can run a quick search to find the answers you need in the future.
Want to know how much you paid a vendor to replace the roof? Looking for notes from your nanny's annual review? Hoping you held on to that photo of the flood in your basement? It's all right here.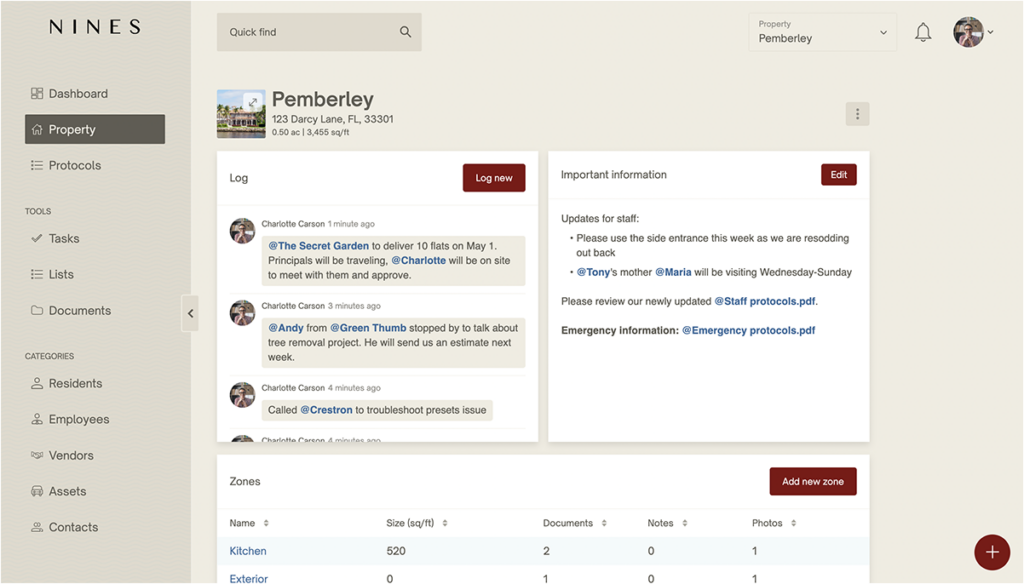 Using Nines helps estate managers and household staff succeed and save time on a daily basis. At the same time, keeping everything in a digital house manual ensures you don't leave your principals in a lurch when you move on to a new opportunity — allowing you to preserve your relationship.
Meanwhile, Nines gives households a safety net and valuable peace of mind.
With Nines, you can hold on to every detail and make sure nothing slips through the cracks.
2. Control who can see and share your household's sensitive information
You never want your household's most sensitive information falling into the wrong hands. Think about all the details your most trusted staff members have access to, from security codes to passwords to intimate information about your family, your property, and your assets.
When they leave, your data leaves with them, vulnerable and unprotected on their personal phones.
But when you use Nines, you can easily control who can see and share your data — and you can revoke access whenever someone leaves.
With Nines layered permissions settings, you can choose who can see each section of your digital house manual. Want all your staff to be able to see your protocols, standards and procedures, but only a small handful of trusted people to see information about your assets, like your cars and art? No problem.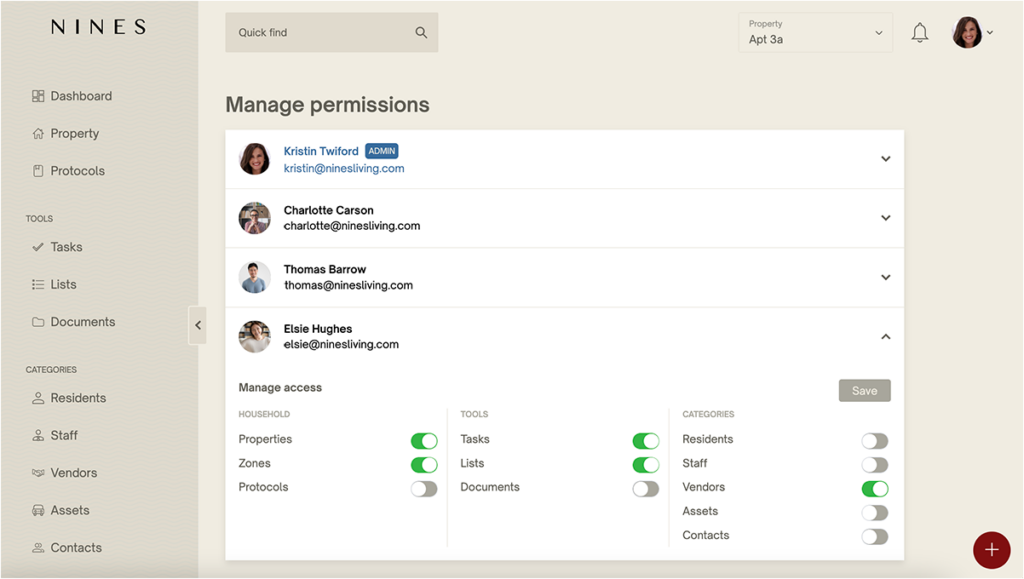 Plus, you can easily share tasks with staff and vendors, without giving them access to Nines at all. This works well for sharing daily cleaning checklists with your housekeepers, or task lists with your contractors. You can set an expiration date, or stop sharing a task at any time.  
As soon as someone leaves your household, you can quickly and easily remove their access to Nines (and all of your data within it), while preserving their past tasks, logs, updates, and more.
Maintaining control of your household's most important information minimizes the risk of losing data, and helps you avoid any dangerous leaks.
3. Safeguard your information in a secure platform
Are your household's sensitive details and documents going unprotected in text messages, emails and Dropbox links?
Nines allows you to hold residents and staff members accountable, and helps you minimize risk.
Nines household management software is backed by Microsoft's highest available security standards, and your data is backed up, protected, isolated, and encrypted at rest and over the wire. Our leaders in infrastructure, security and engineering came from Walmart — where data standards and security have the strictest requirements — and they have implemented the same security elements at Nines.
Plus, for an added layer of security, we offer multi-factor authentication, which requires anyone logging into your account to enter a uniquely generated code (in addition to a username and password).
With Nines, you can rest easy, knowing your data is safe in a platform built with security first, where you are in control.
Ready to live with ease?
Want to get an inside look at how Nines can help you simplify and elevate your household — all in one secure platform? Get started today.
Explore a new approach to household management
Get started