Nines
Organize your lists with Nines
Lists help you organize everything in your household. But what happens when your lists start to pile up? Let's get your lists under control.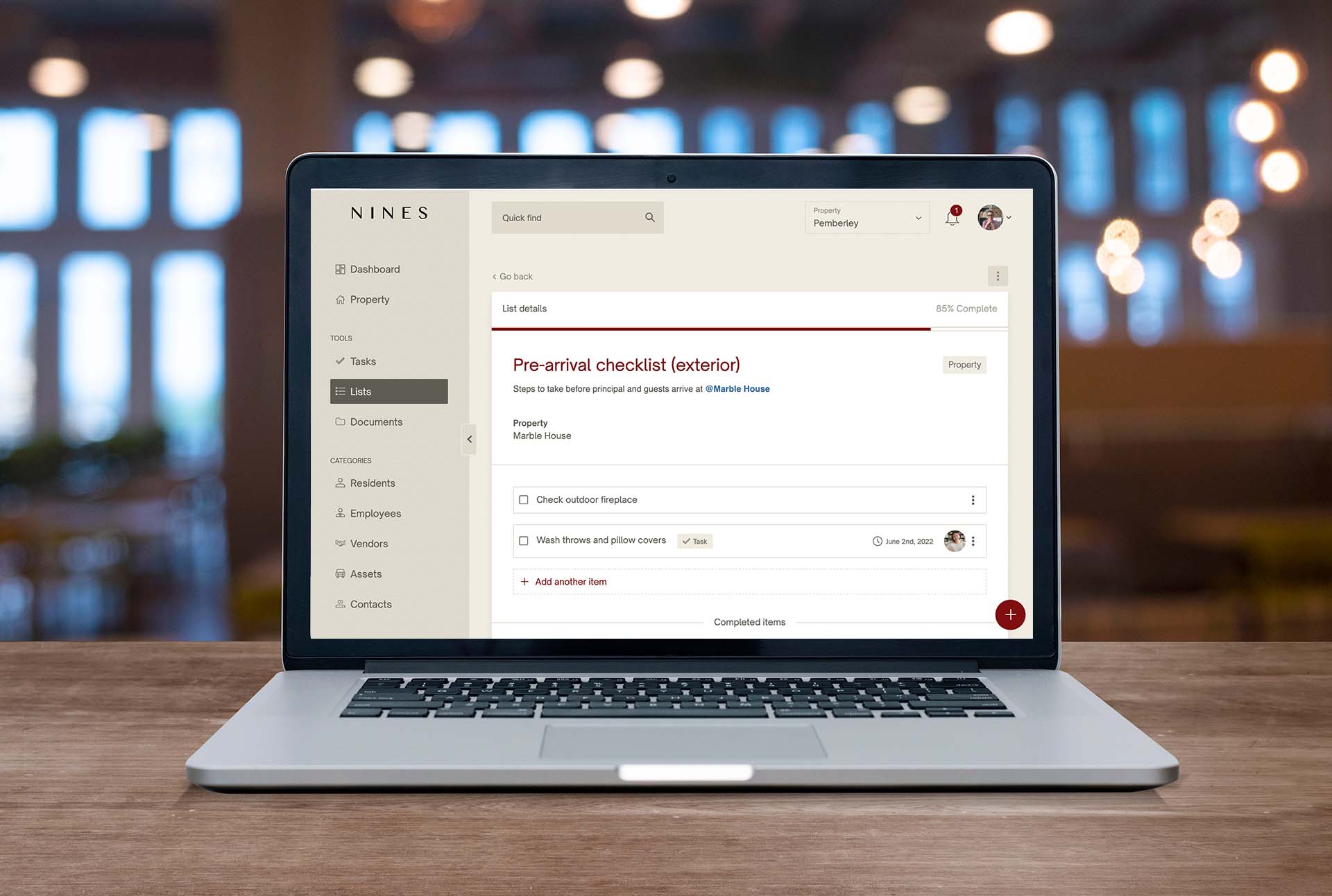 How many lists do you use to run your household? Chances are, you can't count the ones you and your team will use today on one hand.
Lists help you with everything from packing for a quick weekend trip to managing inventory and seasonal property openings. But this tried and true method of staying organized has its flaws.
What happens when a list gets buried in your pile of papers? How do you share lists with your employees, and get confirmation once everything's done? Where do you keep go lists so everyone knows where to find them in the case of an emergency?
Now, you can bring your lists to life and make them work harder for you with Nines, the all-in-one platform for modern household and estate management.
When you make a list in Nines, you can add simple items or detailed tasks assigned to different team members, @ mention anything in your household (employees, assets, vendors, etc.) for easy access to relevant information, and automatically keep searchable records for the future.
Let's explore the possibilities.
Create a simple list
You can put together a simple list, like a shopping list, in minutes. If it's a checklist, you can choose to include checkboxes (and enjoy the satisfaction of checking things off). If you just want to jot down a list of items, you can remove them.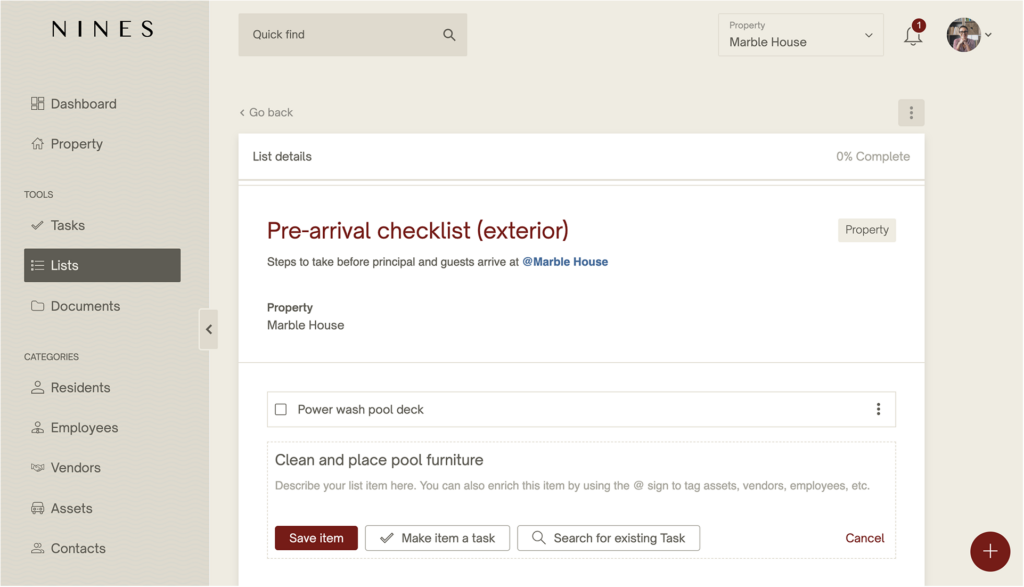 Later, you can access your list whenever you need it, no matter where you are.
Make your list work harder for you
When you're creating a list, you can turn any item you add into a task, or search to add tasks that already exist. You can also add external URLs, so you can easily link out to a vendor's website where you can buy a particular item.
Let's say you're making a list for the spring opening of a property. You can create a list of tasks and assign them to a number of different employees. Later, you can watch in real time when your employees see the task and check off items.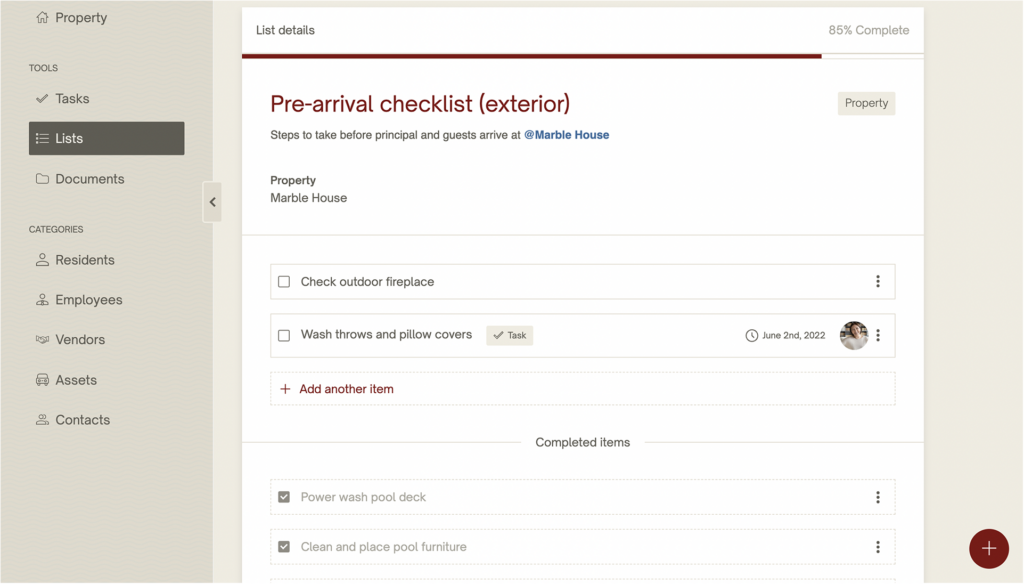 Use lists to keep track of your team's progress and get a bird's eye view of any project.
Save time by linking to anything in your household
Nines helps you organize information about your employees, residents, vendors, assets, contacts and more. Once the information is in your account, you can @ mention it to link it to something else — creating a dynamic web of information that mirrors your real-life household.
That means you can automatically fill your lists with relevant information, without having to write everything out again. Here's an example: Prepare @Guest Room for @Tony Stark's arrival. Place @Welcome Letter.pdf and flowers from @The Secret Garden on the nightstand. The person who's assigned this task can click to get any information they need about the property, the guest, the document they need to print, and the vendor who's delivering the flowers. Of course, you control who gets to see any of this information, and you can choose to hide it from anyone who doesn't have full access to your account.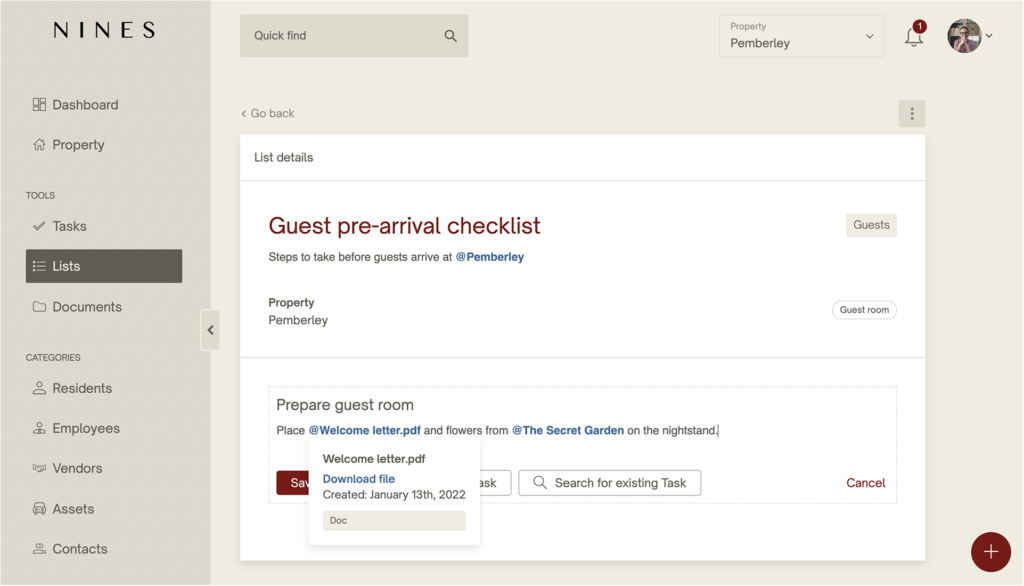 With easy access to the most relevant information, you can empower your staff with everything they need, answer questions and minimize texts back and forth, and help them get work done more seamlessly.
Ready to start checking lists off your list?
With Nines lists, you can start saving time and helping your team work more efficiently right away. Ready to start getting more from your lists? Schedule a demo today.