Household Manual
Build a dynamic house manual to match your household
Your household manual should be able to keep up with your fast-paced, constantly changing household. Introducing a better way to create manuals that work, powered by Nines and industry expert Marta Perrone.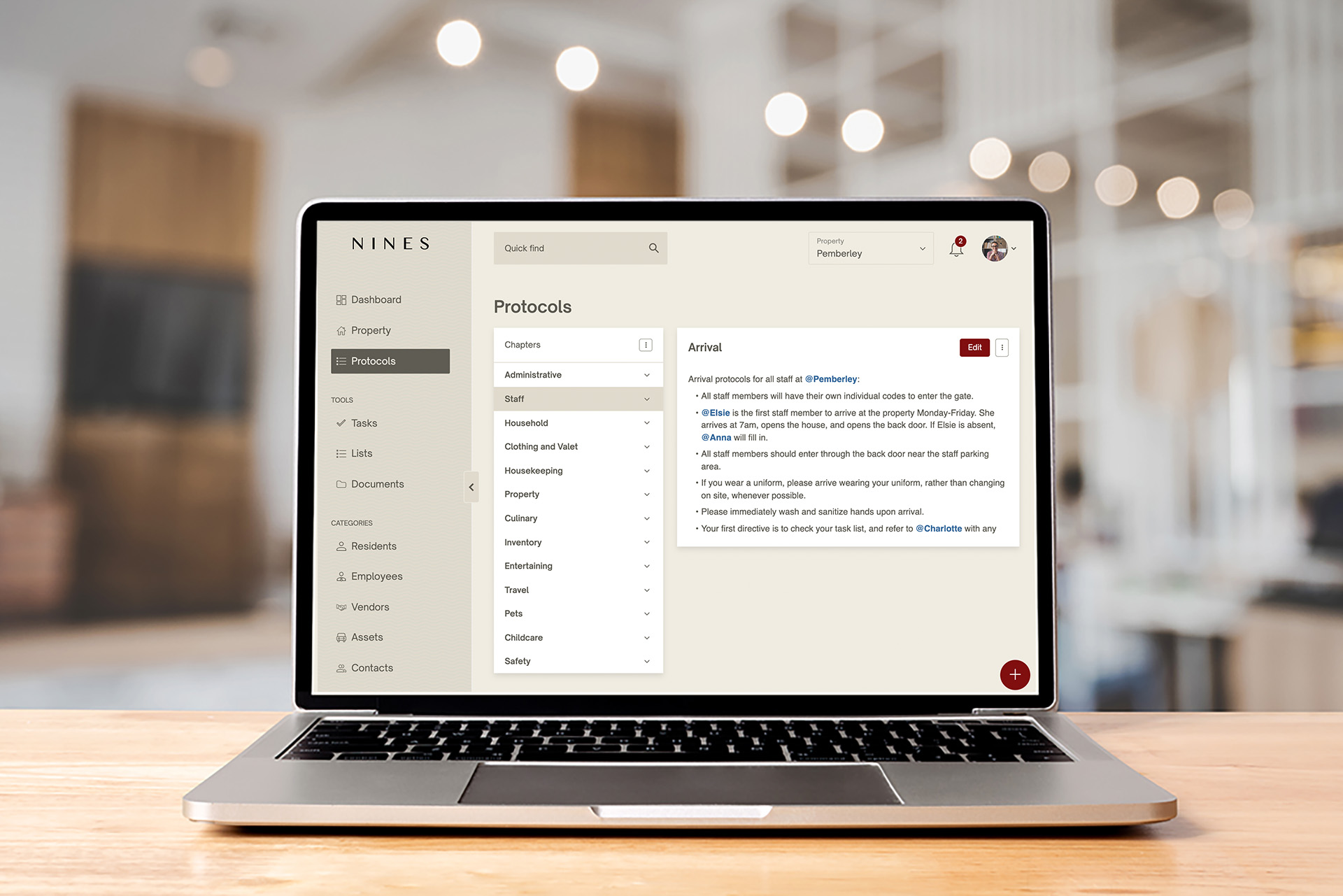 Is your household manual readily available when you need it, or is it sitting in a drawer? Is it comprehensive and accurate, or filled with information that became outdated as things changed in your household? Or worst of all, has "create a house manual" been on your to-do list for ages, looming over you because you know it would be helpful, but you don't have the time?
Manuals are a critical part of household management. You need a way to keep your household staff on the same page, whether you oversee one housekeeper or 30 private service professionals. House manuals help you communicate everything from standards of etiquette and emergency protocols to detailed instructions on how to care for specific pieces of fine furniture.
But the problem is, house manuals often feel like an intimidating project. Building an effective manual takes time — and once it's done, you have to remember to keep it up to date.
The secret is this: your manual needs to be easily accessible and flexible — and it needs to work hard for you — so you get all the time you put into it back as it helps you run your household more efficiently every day.
That's why Nines is building the first dynamic household manual platform for discerning households and the people who support them. We want to help you build smarter, more accessible household manuals, and we're teaming up with an expert who knows them best, Marta Perrone.
Today, we're launching new tools for organizing your household's protocols, standards and procedures. Now, you can make your household's manual more accessible, searchable, interactive, and easy to update. Our intuitive chapters are inspired by Marta Perrone's tried and true manual format, which is trusted by hundreds of discerning households.
"There has to be something in place for everybody to understand all the moving parts to be able to run a house seamlessly," says Marta.
"You need it to create order, and the risk is chaos."
At Nines, we believe your house manual should be an interactive environment, rather than a static document. All of your household's data should be easily accessible, no matter where you are, and it should be connected, so it can work harder for you. Your household is always changing, and your manual should be, too.
Whether you're starting from scratch or digitizing your existing manual, Nines protocols make it easy to bring your manual to life.
Digitize your manual to match your dynamic household
Your manual is only helpful when it's easily available. If your Director of Residences travels between properties, a digital manual guarantees that the information they need is always at their fingertips.
Keeping your household's protocols in Nines empowers your household staff with the information they need, no matter where they are — without compromising the security of your household's sensitive information. Plus, Nines is searchable, so you can pinpoint exactly what you need in seconds.
An accessible, cloud-based format also opens up new opportunities for keeping your manual fresh and up to date. With Nines, your household manual is a daily part of your workflow. Rather than being a static document, it's a living environment where you can link to important contacts, vendors, assets and more.
For example, in your safety protocols, you can @ mention residents, employees and contacts when you're listing emergency numbers. In your staff protocols, you can @ mention specific employees. And in your housekeeping protocols, you can @ mention zones to clearly communicate where work needs to be done.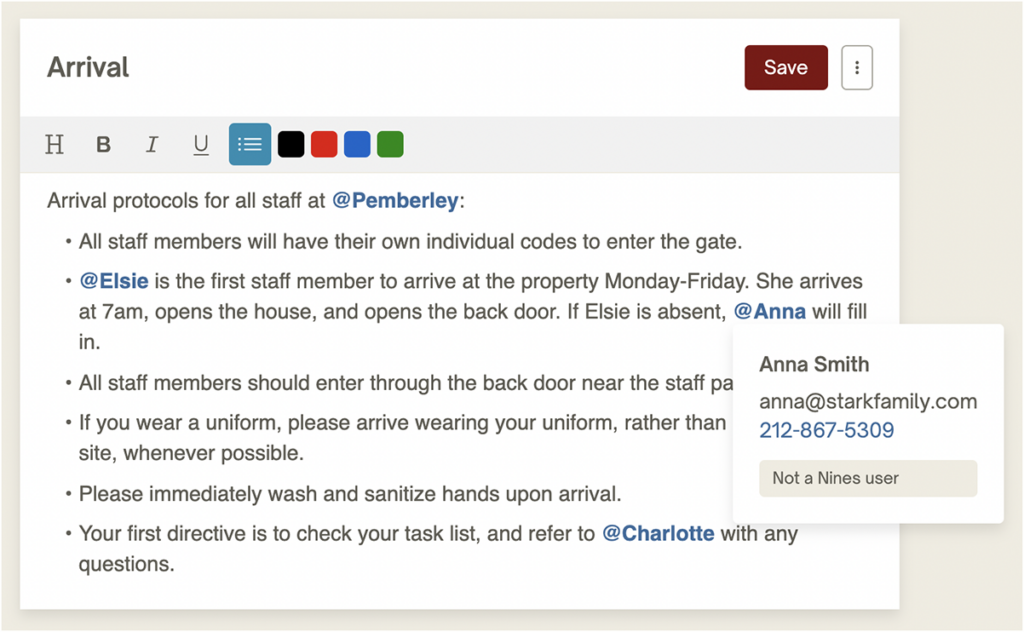 Organize your protocols with help from Marta Perrone
Not sure what should be included in your manual? Our protocols are organized into an intuitive chapter list inspired by Marta Perrone's expert system for creating household and estate manuals.
"A lot of people don't even know where to start," says Marta. "Nines gives them the essentials."
Marta's standard list of protocols includes staff, clothing and valet, housekeeping, property, inventory and more. It gives you a head start, whether you're building a new manual or organizing the procedures you already have.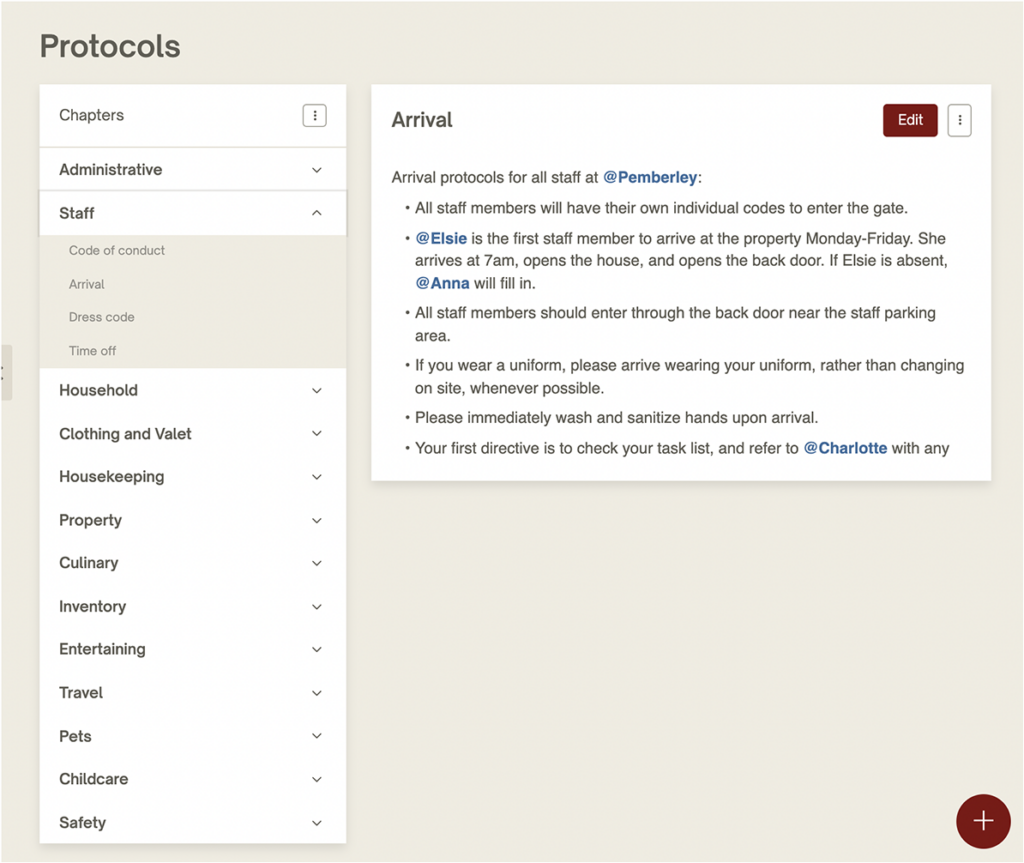 Tailor the manual to your own household
In addition to Marta's standard list of chapters, you can easily create custom chapters unique to your household. Plus, you can add nested sections under each chapter to keep everything organized and make your protocols even easier to browse.
Every household is unique, and with our flexible protocols, your manual can be tailored to your exact needs.
Build the manual your household deserves
Ready to turn your manual into a dynamic tool that can keep up with your household life? Learn more about Nines and schedule a demo today.
Watch the webinar: 5 Steps to Overcoming an Unmanageable Household
Watch now