Household Management
The household management app to organize your home and keep your family on track
You need an easier way to manage properties and all the chaos that comes with them. Meet Nines, the household management app designed for homes like yours.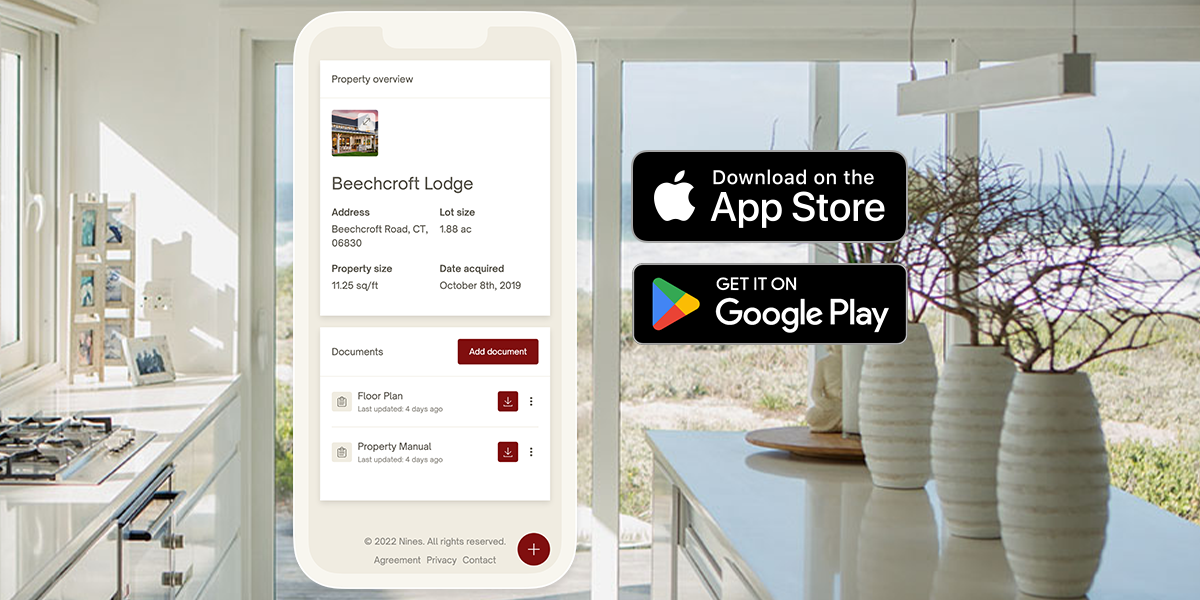 When you have a question about your property, you want the answer at your fingertips. Now, you can keep all of your household's most important information in one place where you can find it in seconds — and turn it into tasks, checklists and more.
Introducing the Nines household management app for Apple iOS and Android — the easiest way to manage your properties and assets, keep track of vendors and tasks, and access lists, documents and photos.
"Finally, there is a platform to organize my day, delegate tasks, and stay on top of things. I especially love that everything is in one place, and accessible anywhere," says Brianna Shute, an estate manager in California. "Thanks to Nines, I have been able to streamline my day to day which has in turn allowed me to be more productive. Goodbye random text threads, notes in my phone, and lost sticky notes!"
Whether you're moving, welcoming guests, or managing the everyday chaos of modern home life, Nines helps you ensure everyone's on the same page and everything's running smoothly — so you can get back to doing whatever you love most. 
With the Nines mobile app, you can:
Quickly log anything that happens on your property
Easily add household tasks to your to-do list
Search for information about your home
Get notifications about completed tasks
Ready to try it out? Nines users can download the app for iPhone, iPad or Android and start using it right away. If you're not using Nines yet, reach out to our team for a demo.
Want a preview? Keep reading to explore 3 ways the new app will help you keep your home running smoothly. 
1. Add something new to your dynamic household manual.
When something comes up at your property, chances are you won't be at your desk. With the Nines app, your household manual is always at your fingertips, so you can quickly log something that happened or assign a task to someone — even when you're on the go.
Let's say you're walking the property, and you want to log a change to the living room. You can take a photo, add some notes, tag a vendor or an asset, and log it, so that it's saved and automatically marked with a timestamp.
You can also create new tasks and assign them to family members or household staff. You can quickly create a one-off task (eg. "declutter the living room") or make a list of tasks (eg. "cleaning tasks") — all while you're walking around, seeing what needs to be done.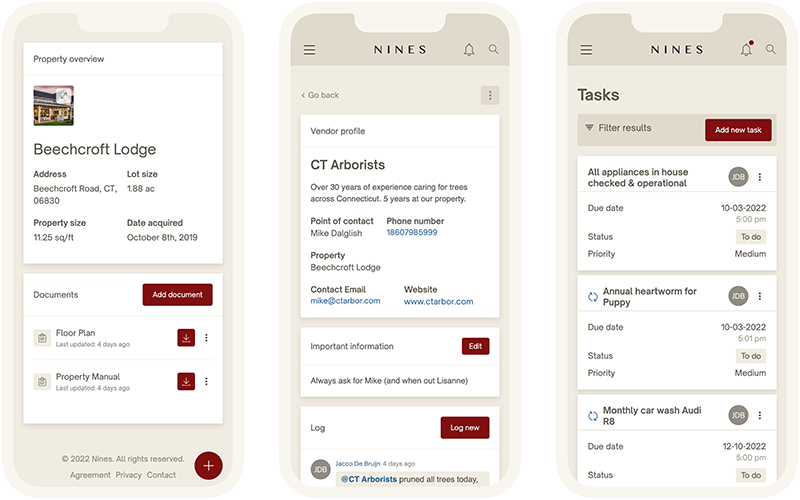 2. Search for answers about your property.
When your house manual only exists in a binder, it's probably not there for you when you need it. If you have a question about your property, or find yourself in an emergency situation, you need quick access to answers.
Whether you're looking for a car's warranty information, how-to videos for your AV system, quick access to a grocery list, or all the details on your HVAC system's maintenance schedule, Nines ensures you have everything you need, no matter where you are.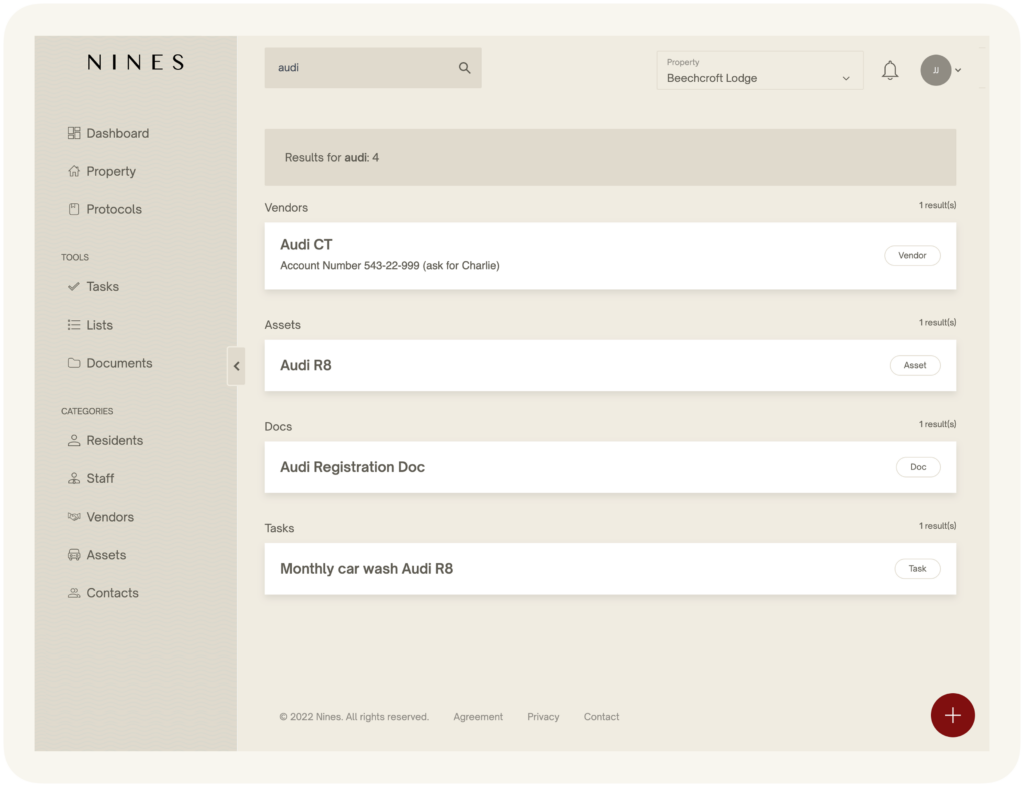 3. Check in on your task list.
Whether you're managing routine housekeeping and home maintenance, or overseeing a big project, you need an easy way to keep track of what's done and what's still on your list.
Let's say you created a shopping list and assigned it to someone else — you can easily check on the list, and see what's checked off.
Or, if you're managing a complex project, you can check in on the status of a single task or your full task list at any time, without having to sift through your handwritten notes or reach out to a team member.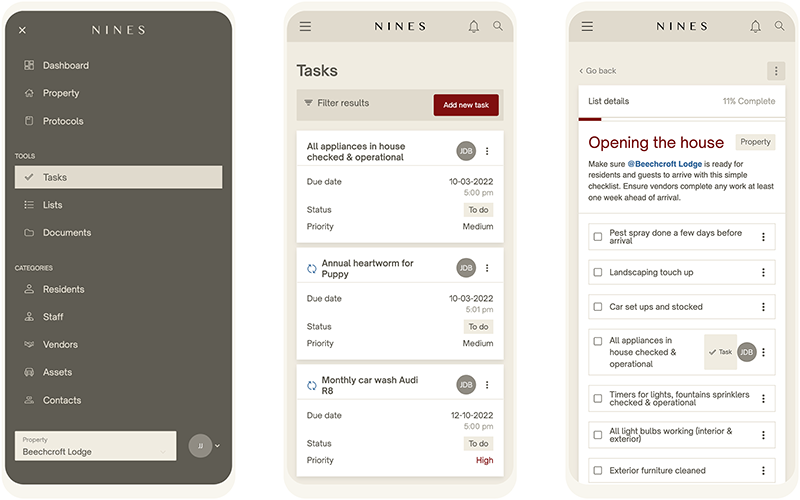 Plus, you can get reminders for upcoming tasks and notifications once the work is completed, so nothing slips through the cracks.
Nines is built specifically for home management, which means it combines the best of productivity apps and home organization apps — all in a simple, intuitive platform that's tailored to homeowners and household staff.
Ready to get started with the Nines household management app?
Download the app for iPhone and Android today. Don't have an account? Get started with Nines here.