Household Management
Manage household tasks anywhere, anytime with Nines
Need a better way to check things off your household's to-do list? With Nines, you can create tasks, assign them to household staff, share them with contractors, and follow along as work gets done — anytime, anywhere.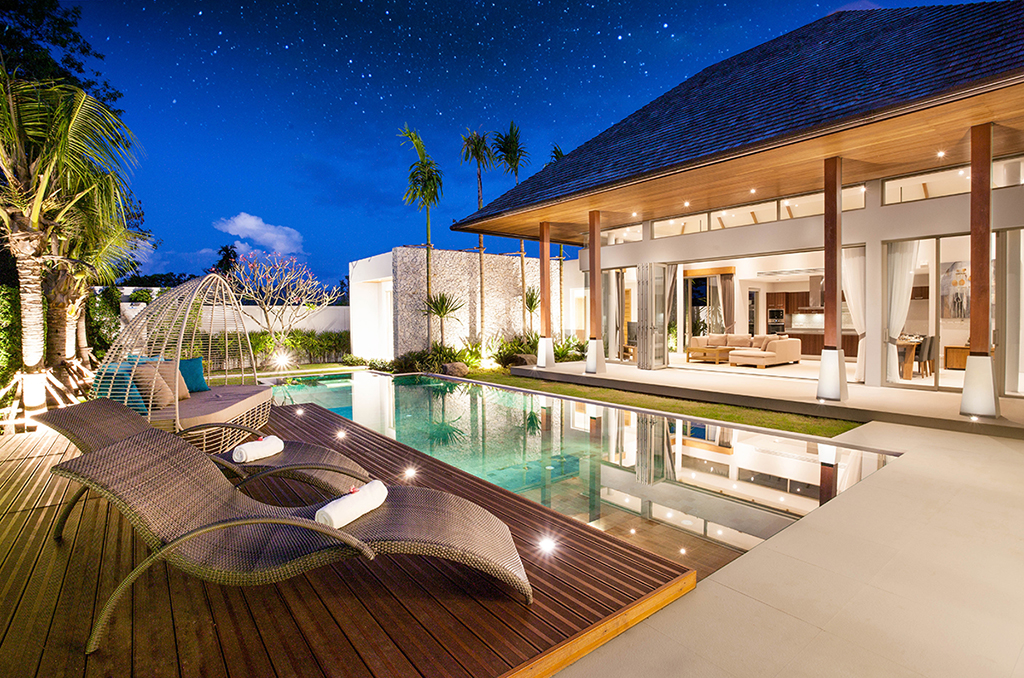 Household management is an art, but how can you brainstorm new ideas for entertaining, troubleshoot inefficiencies on a property, or take on a new renovation project when managing day-to-day tasks takes up all of your time?
Too often, you're stuck recreating checklists for your household staff, answering long text message threads filled with questions and miscommunications, wondering if a task is finished, and keeping the whole family up to date with the information they care about most.
Whether you're an estate manager or a busy homeowner, you need an easier way to manage the to-do lists of your household staff and stay on top project progress. You need the ability to automate tasks that happen all the time, so you don't have to waste valuable hours re-doing work. And, you need a bird's eye view of your household's task list so you can see what your staff has accomplished, what needs to be done, and who needs your support.
At the same time, your household staff needs a system that's both helpful and easy to use. Your housekeeper and your nanny won't use a project management tool that's too complicated. They're always on the go, and they need a simple solution that works well on mobile. But if you can find a household management system that empowers them with the information they need in seconds, without the hassle, you'll be able to help everyone work and communicate more efficiently.
With Nines household management software, you can easily create tasks and assign them to people in your household. It's simple and user-friendly, so it saves you time and works for everyone, no matter their schedule or comfort level with technology. And, it gives you insight into everything going on at a given time, without micromanaging your household staff.
Let's explore how you can start checking tasks off of your to-do list with Nines.
The project management tool built specifically for households
Most households start out by organizing projects in Google Drive, Slack or Microsoft teams, and some may try out project management software like Asana, Basecamp, Jira and Trello.
The problem is, these tools are built for corporate teams, and their functionality can be incredibly complex, with lots of advanced features that don't feel relevant for households. They're customizable, but it takes a lot of time to tailor them to the estate management use case, and a lot of training to make them work for your less tech-savvy team members. And worst of all, they don't solve all your problems, so you end up using them in tandem with Excel spreadsheets, file sharing tools like Dropbox, and Google Calendar, creating a mess of different management platforms that aren't connected.
Complex households deserve their own task management software, with built-in templates for household management, collaboration tools designed for household staff, and a workspace that's organized with households in mind.
At Nines, we're on a mission to build the best project management software for households and the private service professionals who support them — so you can manage projects, people and properties all in one place.
Our household management app is built specifically for homes and estates, so it's already designed in a way that's intuitive for estate managers, staff, and family members. And project management is just one part of Nines — which means your tasks can connect to every other aspect of your house manual.
You can @ mention anything you've added to Nines to create quick links between important information. For example, in your house manual's protocols, you could @ mention your housekeeper, the property where she works, and the asset you'd like her to maintain, all in one task, to quickly add the relevant information without having to re-enter all the details.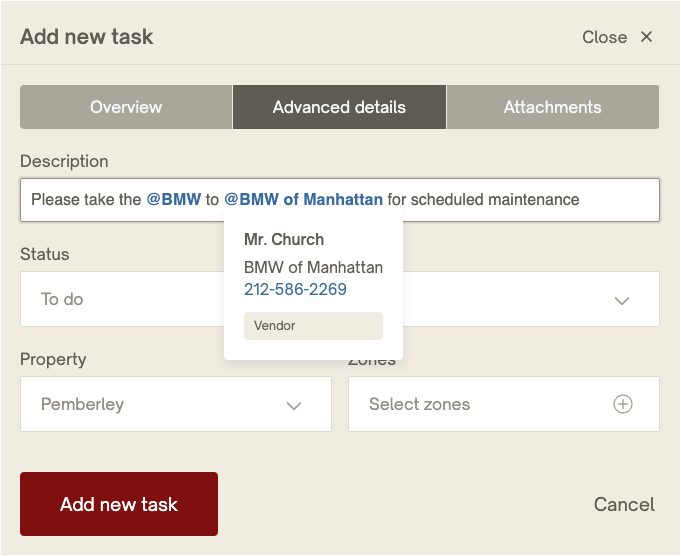 When all of your household's most important information is connected, it can work harder for you.
Manage your household's to-do list
Whether you're looking for a project management app for your own personal tasks, a better way of managing projects for a small team of household staff, or a comprehensive operating system for a large estate, Nines meets you where you are.
Nines makes it easy to create new tasks, set due dates and reminders, attach docs and photos, and prioritize what needs to be done. You can assign tasks to yourself, or to anyone you've added to your account.
You can keep it simple by writing a quick title, setting a deadline, and assigning the task. Here's a look at how to make a task, focusing on the small handful of required fields.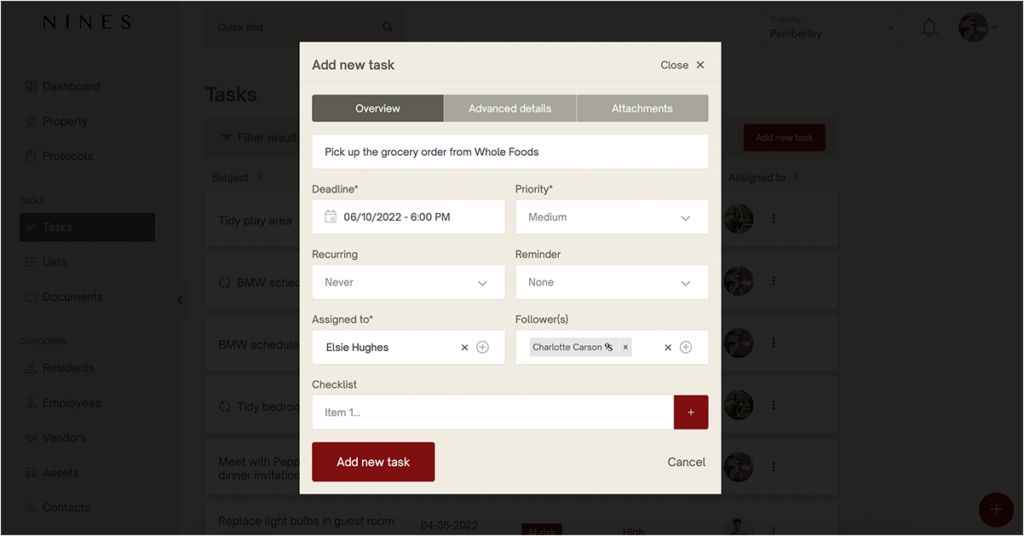 Or, you can get specific, adding a description and a checklist (complete with @ mentions of people, properties, or assets), marking the property and zone where the work needs to be done, and attaching any relevant documents or photos. Below, for example, we've created a task with a grocery list, a description that @ mentions the exact store where we'd like Elsie to shop, and noted the zone where all of the items on her shopping list should be stocked when she gets back to the house.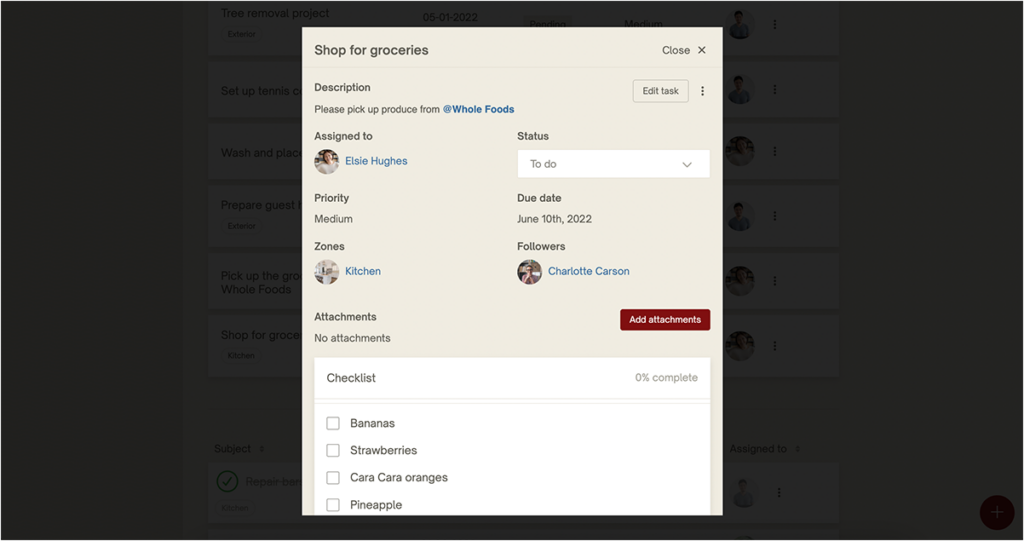 You'll be able to keep track of your household's progress on your dashboard and on the tasks overview page. With our mobile app, no matter where you are, you can follow along in real time as work gets completed, get notifications for any major project milestones, and hold staff accountable without having to check in and micromanage them. Quickly scroll through completed tasks, and sort and filter your list by due date, assignee, status and priority, so you can answer any questions about what's on your to-do list in seconds.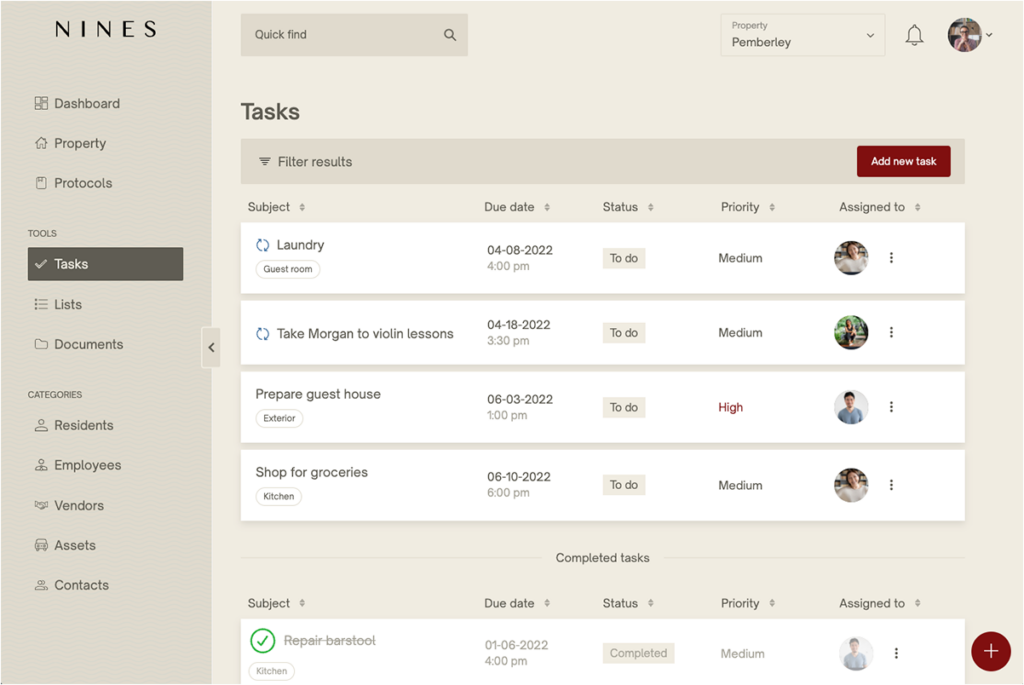 Save time with recurring tasks
How often do you recreate the same task for your housekeeper, your houseman or your landscaping company? How many times have you sent your gardener or your HVAC vendor the same information over the years?
70-80% of household tasks are recurring — and Nines allows you to automate these tasks, so you can stop wasting time doing work you've already done.
When you're creating a task, you can set it to recur daily, weekly, annually, etc. Tomorrow, next week, or next year, it'll automatically come back to your task list, and send a notification to the assignee — without you having to do anything. Think of all the time you'll save, and how you could use that time to work on more exciting, meaningful projects.
Empower your household staff with a user-friendly task management solution
Task management tools are only helpful if your team is actually going to use them. An effective task management app will save you time, rather than adding work to your plate.
Since Nines is designed specifically for home management, our tasks are easy for household staff to use when they're on the go. Our entire platform works seamlessly on mobile, without downloading an app. No need to worry about whether your team uses Apple iOS or Android.
Plus, you can meet staff where they are. Some manager level employees will need full access to your Nines account, with the ability to assign tasks and search for helpful information.
But let's say you want to share cleaning tasks with your housekeeper or meal planning tasks with your chef. They need easy access to simple tasks and lists, without tedious logins and distractions. And, they're not sitting at a computer — they need to check in quickly on an iPhone or an iPad and get back to the task at hand.
That's why we've made it easy to share tasks with anyone via simple links. You create the task, and share it with anyone who needs it — your housekeeper, your nanny, or even one of your third-party vendors, like your plumber or your IT service provider.
They'll get a text or email notification with a simple link. When they click, they'll get a clean view of all of the information you've shared with them. They can quickly read your notes, run through the checklist, and mark the task as completed, all on their phones. If they have any questions, they can add a comment, and you'll get a notification so you can follow up quickly. No need to bounce back and forth between calls, texts, Whatsapp messages and emails, because it's all right here.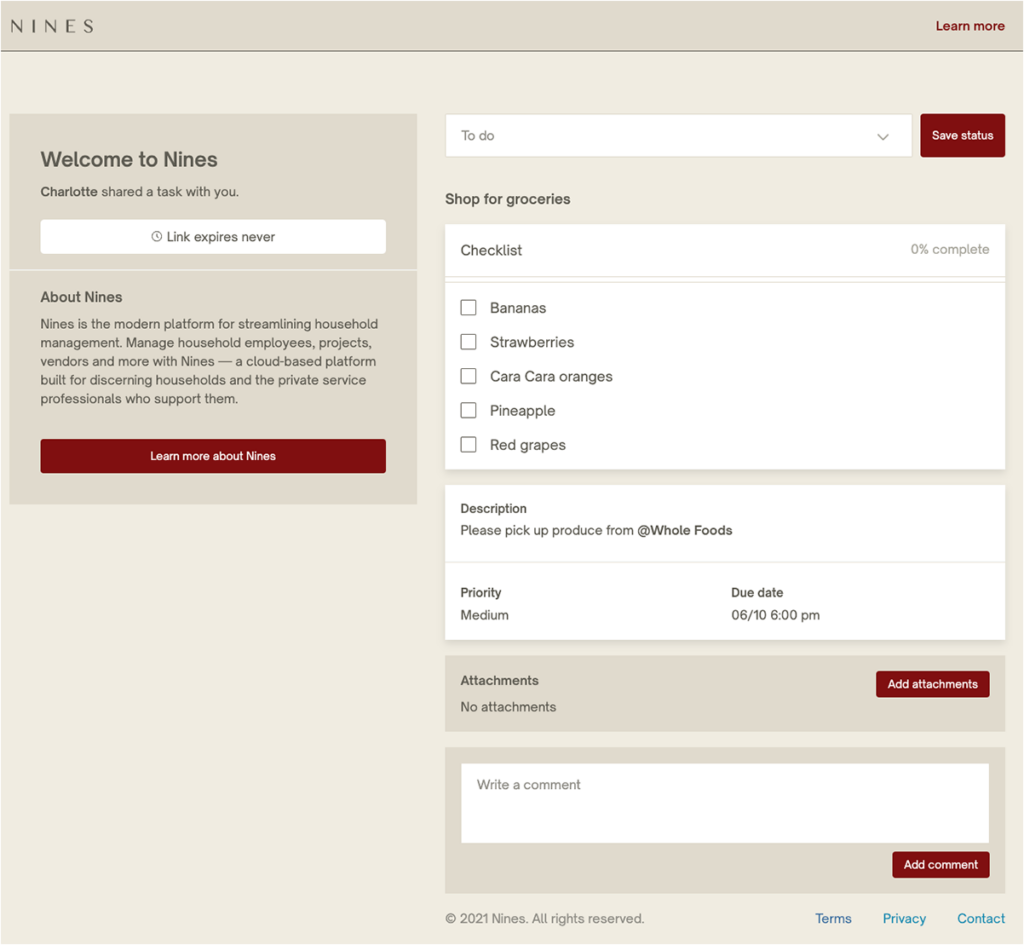 You can easily track progress, and as team members complete tasks, you'll get notified automatically. Our collaboration features are designed to make teamwork easier for you, your staff, and your vendors.
Organize tasks into checklists
For some households, home management might be as simple as delegating household chores, cleaning tasks, etc. For others, it can be as complex as project management for a small business.
Either way, having the ability to organize all of your tasks into checklists can be a powerful way to make sure nothing slips through the cracks.
In Nines, you can make simple to-do lists, or create complex lists of tasks. You could create a list of tasks for a number of different reasons, for example:
Creating a daily to-do list of recurring tasks for your housekeeper
Putting together a workflow for spring opening
Planning quarterly home maintenance projects
Tracking home inventory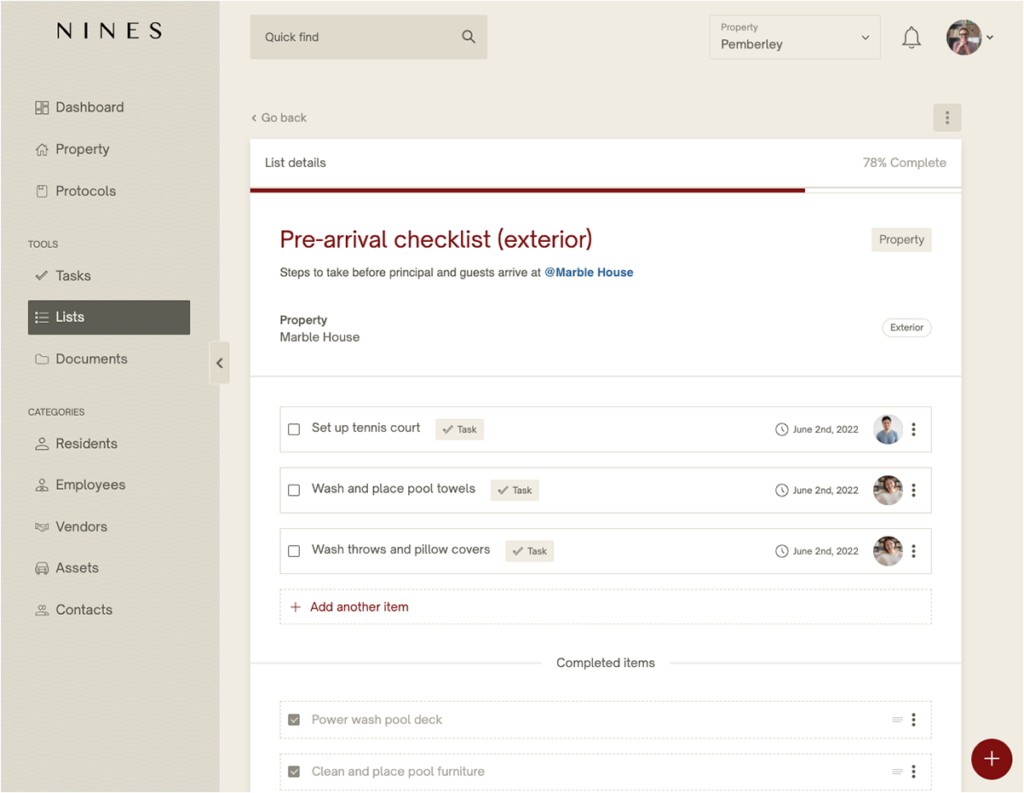 These lists make complex household management easier, balancing the power of project management and list apps with the simplicity and ease of use your household needs.
Streamline your household management
In addition to smarter tools for household management, Nines gives you the support to need along the way. Learn about home organization, house manuals, managing household staff and more through our Stories. And, check out our Easemakers community and Easemakers Podcast, where private service professionals can find inspiration, connection and professional development.
Ready to make task management easier for everyone in your household? Schedule a demo today to learn more about Nines and hear what's on our roadmap (including calendar views, integrations, time management tools and more!).