Household Management
Simplify your luxury property management with Nines
Whether you're managing one home or a dozen, high-end property management is complex. Nines household management software handles all the details, so nothing slips through the cracks.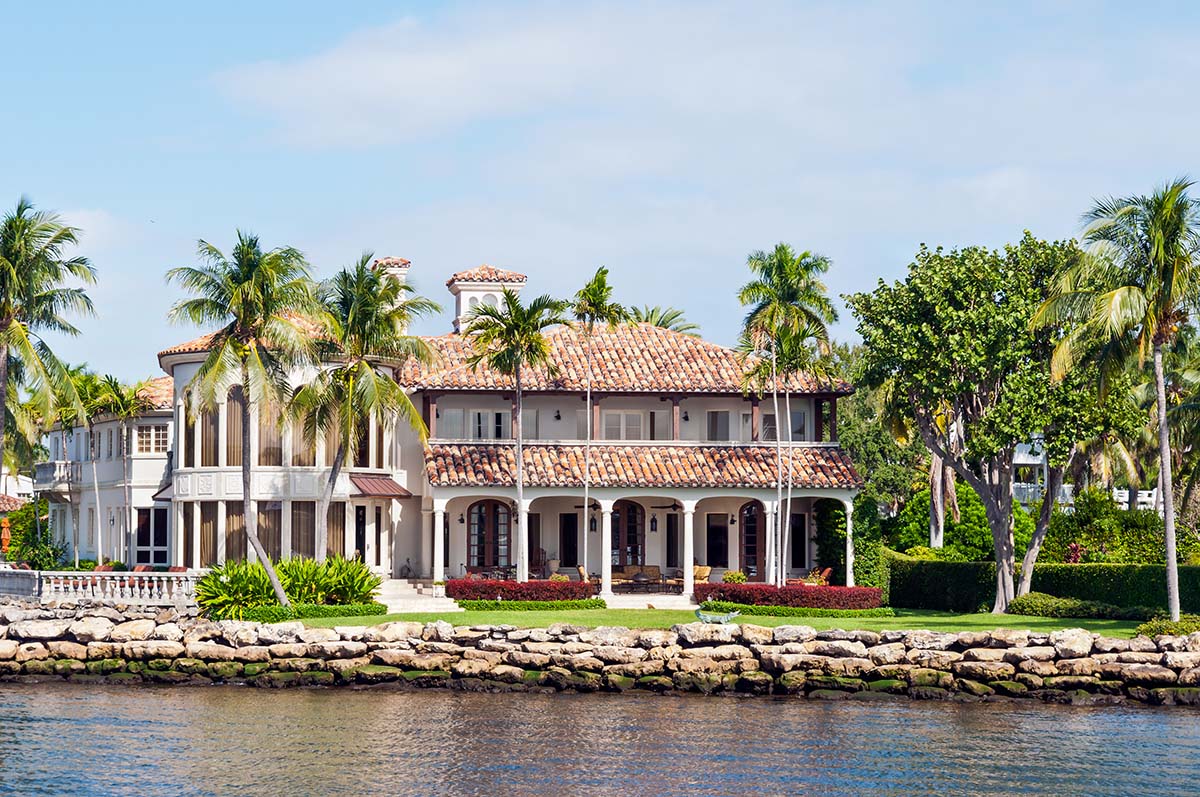 When you're managing residential properties, especially luxury homes with a lot of square footage and a number of household staff members and contractors, you need quick and easy access to hundreds of details.
In just one day, you might need to find:
The floorplan for a new addition
A letter of approval from the HOA of your luxury condo building
Phone numbers for your real estate agents in New York and Los Angeles
A task list for your landscaping vendor
The valuation details for the luxury rental property you acquired last year
Notes about the last time your HVAC system was repaired
Status updates for an ongoing renovation project at your vacation home
You shouldn't be expected to juggle all of these details in your head — or in an endless pile of excel spreadsheets.
Plus, property management is just one aspect of estate and household management, so you need all those details to work with everything else you're juggling.
Enter Nines, the first dynamic household management software built for discerning households and the private service professionals who support them. With Nines, you can organize all of those property management details in one place, so you can find them and — even more importantly — use them to check things off your list.
Think of Nines like a digital house manual, where you can store all the information about your properties, the people who live there, the staff who work there, and the vendors and property management service providers who keep them running. When all that information is connected, it can work together, and help you do your job more efficiently. Let's explore the possibilities.
Get a bird's eye view of property management
You need to be able to see and search all of your properties anytime, anywhere. Whether you're an estate manager with 20 years experience managing multiple properties, a hands-on homeowner building out your growing estate, or a full-service property management company providing concierge services to multiple households, you need an easy way to get answers and manage the day-to-day operations of your properties.
Nines gives you a bird's eye view of your property, whether you're on site or checking in on your phone.
The first step to setting up your account is to enter some basic information about your property. This sets a strong foundation for the rest of your household management.
Each property has its own dashboard view, where you can see all of its basic information at a glance, including:
Address
Square footage
Acreage
Date acquired
Here, you can upload photos and documents, like exterior images and floorplans, so they're always at your fingertips. You can log anything that happens at the property, so you have a searchable historical record for the future. And, you can @ mention any vendors, household staff, residents, or assets to create a quick link to important information, like a vendor's phone number.
Plus, you can easily toggle between properties, which makes managing multiple homes much easier.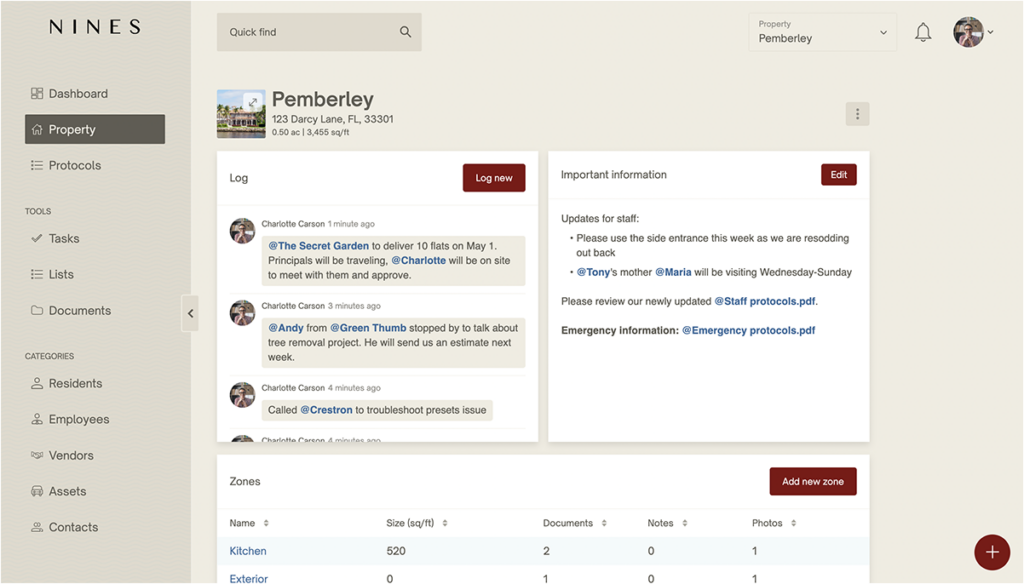 Organize properties by zone
Breaking a property up into zones allows you to clearly communicate where work needs to be done.
For example, if you oversee two housekeepers, you can give each one a task list in a specific zone, so everyone has a clear idea of what they're responsible for cleaning and maintaining.
One estate manager told the Nines team that zones help her small household staff meet their principals' expectations.
"Everybody works in a certain zone throughout the week," she explains. "Zones help me keep everything organized and know that it's running properly, it's being cleaned, it's up to my principal's standards and that they're happy."
Nines makes it easy to organize your property into zones. You can create general zones, like "exterior," or get specific, like "master bathroom." You can add basic information, like square footage, and upload photos and documents. Again, you can keep it broad, or dig into the details. For example, you might choose to upload one general photo of the master bathroom, or include specific images showing how each cabinet should be set up.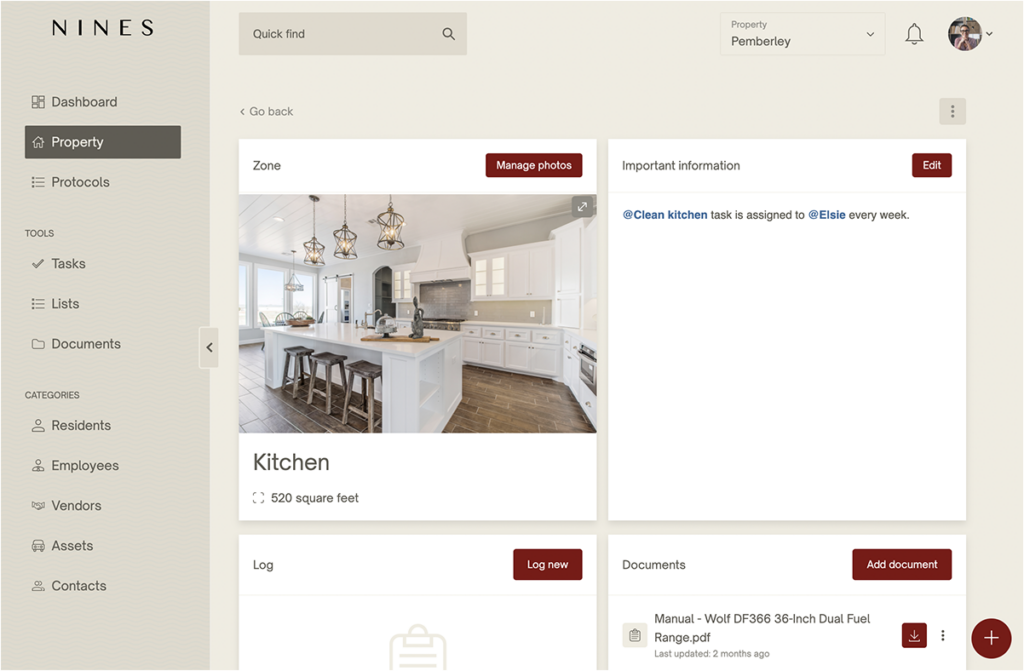 Once your zones are set up, you can add them to any task or list you make, so everyone knows where the work needs to happen. No confusion, no back and forth text messages for extra clarity. Plus, you can filter tasks by zone, so you can easily see what's happening there on a given day.
Connect information and get work done
Your property management team may include the property owner, full-time household staff, part-time contractors, and a number of vendors. How do you share relevant information and use it to check things off your list?
Your household's most important information is even more valuable when it's all connected. That's why, in Nines, you can use all of your property management information as fuel for tasks and checklists.
When you create a new task for your A/V systems vendor, who works at two different properties in the area, you can easily link the right property so he knows where to go.
Or, when you make a daily property maintenance checklist, you can add a zone to clearly communicate where your houseman should spend his day.
You can also @ mention properties anywhere in Nines. For example, when you're adding protocols, you could say, "Here are the staff arrival protocols for @Seaside Cottage." Or, when you're creating a new task for your groundskeeper, you could say, "Please call @Charlotte Carson when you leave @Seaside Cottage and are on your way to @Seaside Guest House."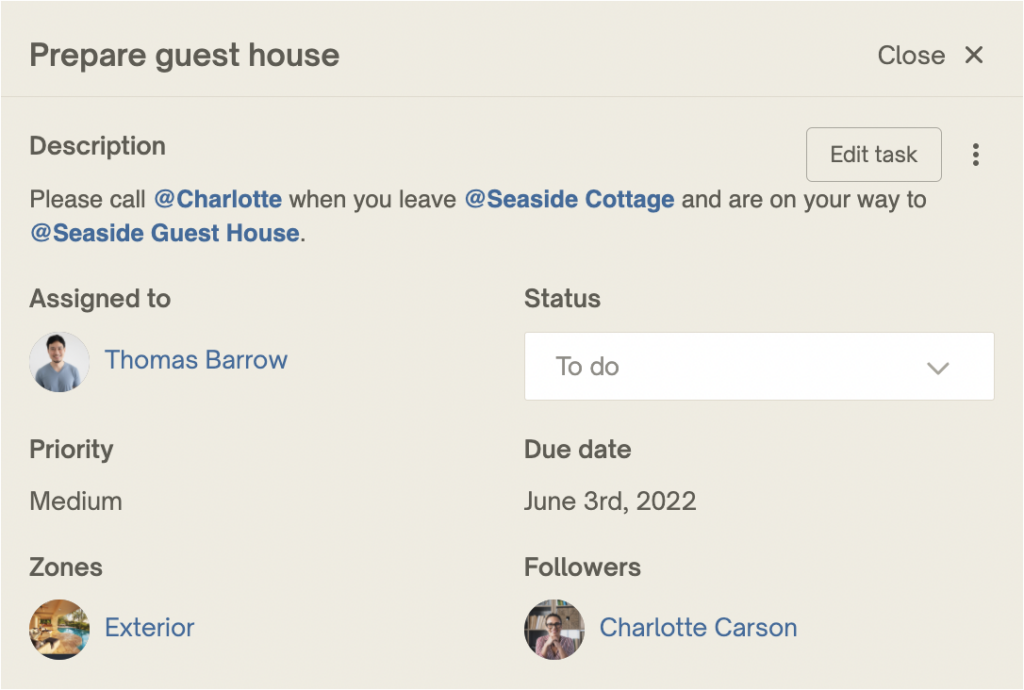 Streamline your property management experience
When all of your household's information is connected and easily accessible, you can find answers quickly, communicate clearly, and make sure work is getting done in a timely manner.
Nines is easy to search, so you can pinpoint the answers you need, whether you're at your desk, out walking the property, or traveling between homes.
All of the data you enter is connected, so you can use it to take action. Now, rather than keeping this important information in your phone or in spreadsheets only you can see, you can use it to power your tasks and checklists, and help the people who keep your property moving get their jobs done.
And, with a living platform that updates in real time, you can make sure every little detail is covered. Watch as maintenance tasks are completed, and take action when something is past its due date.
At Nines, our goal is to build the best property management solution for households and the people who support them. Want to explore the possibilities? Learn more about Nines and schedule a demo today.