Easemakers
[Easemakers Podcast E33] Service at sea: from chefing on yachts to planning private charters
Curious about yachting? In a new episode of the Easemakers Podcast, Rose Jolis shares her path from yacht chef to private yacht charter broker, and what she's learned along the way.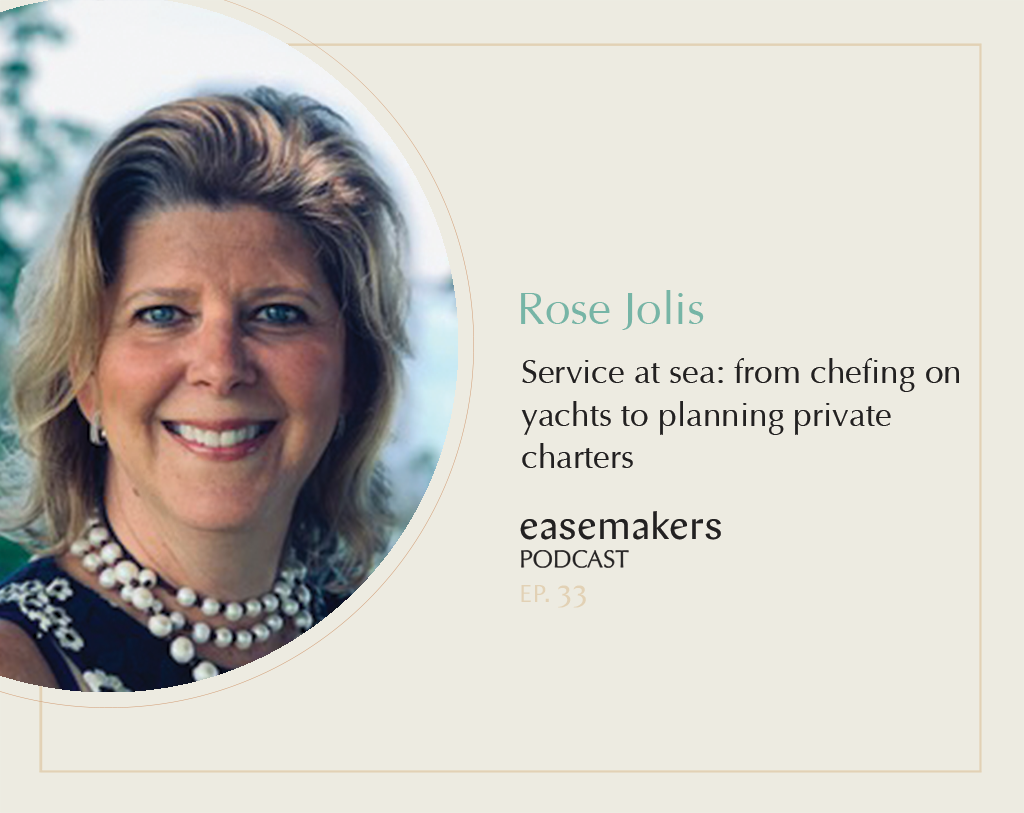 Rose Jolis' career in private service has taken her all over the world — from the Caribbean to the Mediterranean to the South Pacific. She started out as a chef, and after cooking and catering on land with Martha Stewart, she spent 27 years on private yachts.
She fell in love with creating unforgettable trips — and now, serves as a Charter Broker with Denison Yachting. She works with clients to plan unique getaways that are off the beaten path — whether they're interested in snorkeling off of a catamaran in the Bahamas, sailing the Greek islands on a mega yacht, or exploring the Thailand with a large charter fleet, complete with motor boats, kayaks and water toys.
In a new episode of the Easemakers Podcast, Rose shares stories from her own life at sea, what goes into planning a luxury yacht charter experience, what to look for in a crewed yacht charter, and her tips for any private service professionals tasked with planning a yacht charter vacation. Plus, don't miss the #1 thing Rose learned working with Martha Stewart, and why Tahiti is her favorite yacht charter destination.
The Easemakers Podcast is available on Apple Podcasts, Spotify, and anywhere you listen to your favorite shows.
Find Rose on LinkedIn and at denisonyachtsales.com, and check out bonus resources from this conversation in the Easemakers community.
Catch up on past episodes of the Easemakers Podcast to hear from more experts in the private service industry, and don't forget to subscribe on Apple Podcasts to get notified about future episodes. Follow along with @easemakers on social media, and of course, be sure to join the conversation in the Easemakers community after you listen!
The Easemakers Podcast is presented by Nines, household management software and services built for discerning households and the private service professionals who support them.