Easemakers
[Easemakers Podcast E21] From TV costumes to private service: being prepared for anything
Estate managers need keen attention to detail, great organization skills, and the ability to stay calm in the midst of chaos. Jean Weiss learned all of these things before her private service career — as a costumer on shows like Parks and Recreation. Tune in to the latest episode of the Easemakers Podcast to hear her story, and what she's learned along the way.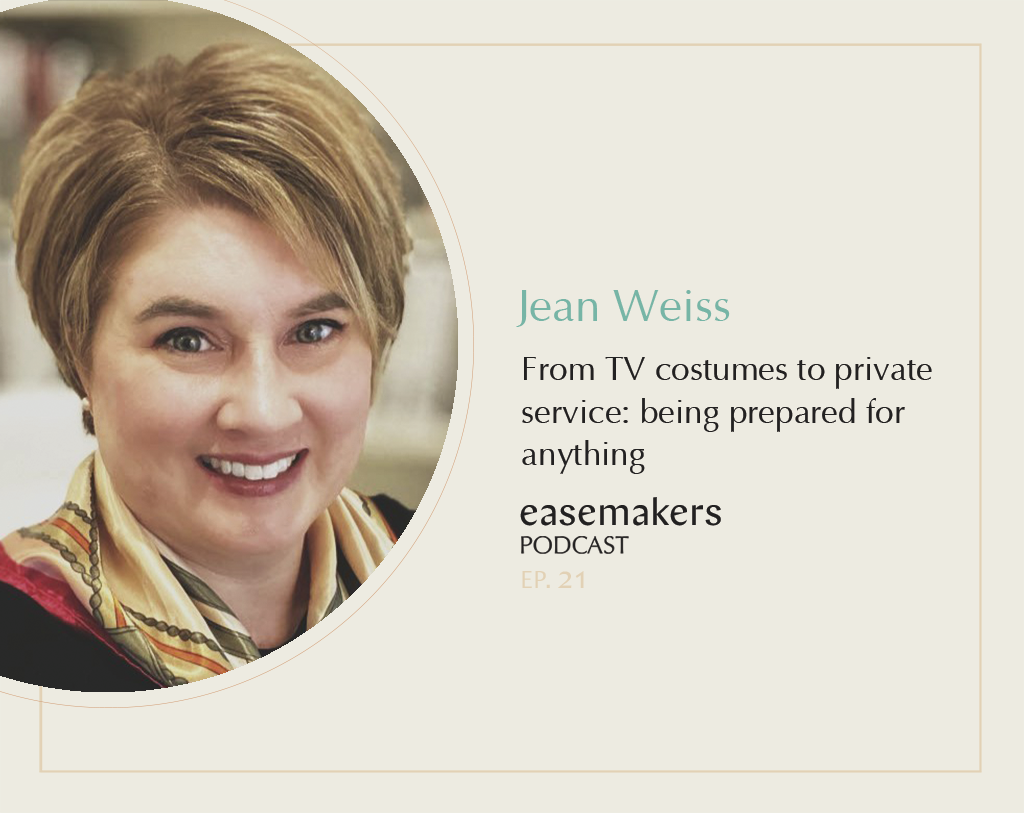 Jean Weiss spent 15 years in entertainment, doing costumes on shows like ER, The West Wing, and Parks and Recreation. Today, as an estate manager, she says her TV career prepared her for private service.
In this episode of the Easemakers Podcast, Jean shares how her experiences working on set helped her feel ready for anything — both in her day-to-day role and when a crisis strikes. Tune in to hear:
What she learned from her biggest mistake on Parks and Recreation
How she dealt with a crisis situation earlier this year
The steps she took to turn around a renovation project in record time
Plus, don't miss our Parks and Rec themed lightning round, in honor of Jean's six seasons working on the show!
The Easemakers Podcast is also available on Apple Podcasts, Spotify, Stitcher and anywhere you listen to your favorite shows.
Want to be prepared for anything that comes your way? Check out our new modern household management workshop, designed to help you tackle your household operations in three on-demand sessions.
Catch up on past episodes of the Easemakers Podcast to hear from more experts in the private service industry, and don't forget to subscribe on Apple Podcasts to get notified about future episodes. And of course, be sure to join the conversation in the Easemakers community after you listen!
The Easemakers Podcast is presented by Nines, household management software and services built for discerning households and the private service professionals who support them.