Make Yourself at Home Podcast
[Make Yourself at Home Podcast E1] Brown Harris Stevens CEO Bess Freedman
You know Bess Freedman as a real estate leader and the CEO of the top privately-held brokerage Brown Harris Stevens. This is who she is at home.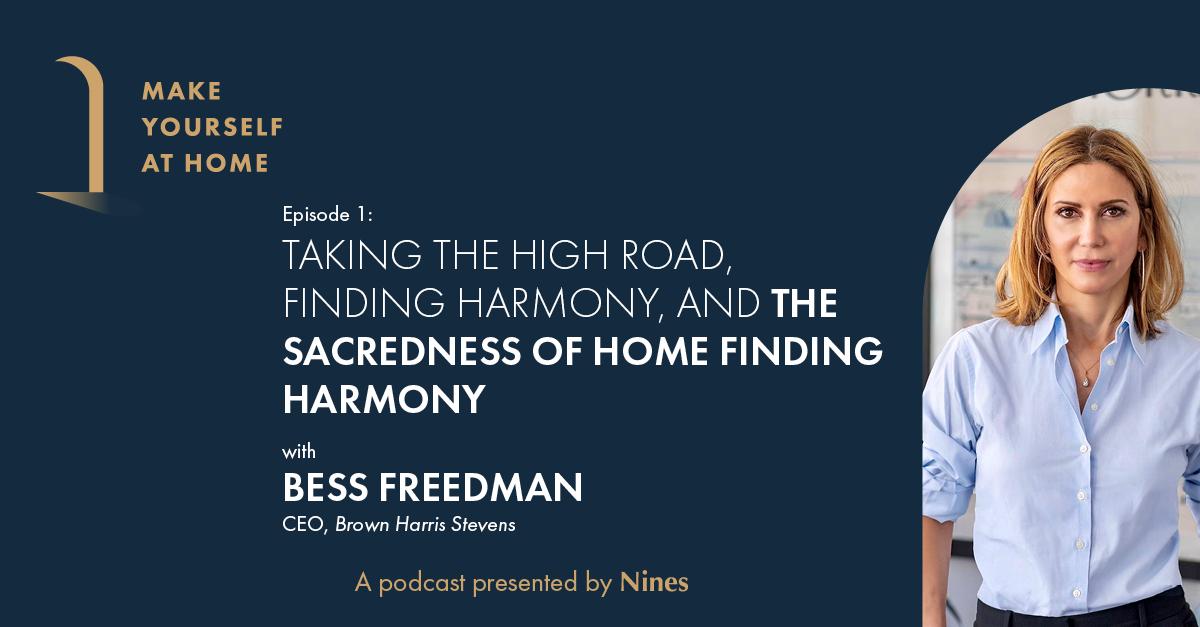 At work, Bess Freedman is the CEO of Brown Harris Stevens, one of the largest and most successful privately held real estate companies in the United States. She oversees 50+ offices and nearly 3,000 real estate agents across New York, the Hamptons, Connecticut, New Jersey, Palm Beach, Miami and more. She took on the chief executive officer role in 2018, and navigated the brokerage through the pandemic. And, you may have seen her talking about the highs and lows of the housing market as a guest real estate contributor for CNBC, CNN, Fox Business, and Bloomberg.
But at home in New York City, Bess is a mahjong player and someone who reads library books. She smiles at her neighbors on the street on the Upper East Side in Manhattan, and she's a self-described homebody.
In episode 1 of Make Yourself at Home, Bess shares how, as a little girl, she knew she would grow up to be independent, how her parents raised her to care for the people around her (leading to her career with legal aid and her commitment to social justice), and why BHS does more than home sales — they help people find sacred places.
For this conversation, we're in Bess's home in NYC, talking about what home means to her, and how home and success are intertwined. We cover why she hates the phrase killing time, her commitment to standing up for what's right, how she and her ex-husband have set aside their egos to help their family find harmony, and more. Make Yourself at Home with Bess Freedman.
Listen now and subscribe on Apple Podcasts, Google Podcasts, Spotify and wherever you listen to your favorite shows.


Follow along with Bess at bhsusa.com and at bessfreedman.com.
Upcoming guests on Make Yourself at Home include Adrian Grenier (Earth Speed Media, DuContra Ventures), Danielle Canty (Bossbabe), Frédéric Fekkai (FEKKAI), Greg Davidson (Lalo), Kara Goldin (Hint), Kate Torgersen (Milk Stork), Loren Brill (Sweet Loren's), and more. 
Make Yourself at Home is presented by Nines, the household management app designed to help you manage your home and everything that comes with it, so you can live with ease.