Make Yourself at Home Podcast
[Make Yourself at Home Podcast E2] Hair Stylist and Entrepreneur Frédéric Fekkai
You know Frédéric Fekkai as a celebrity hair stylist and the founder and CEO of FEKKAI brands. But who is Frédéric Fekkai at home?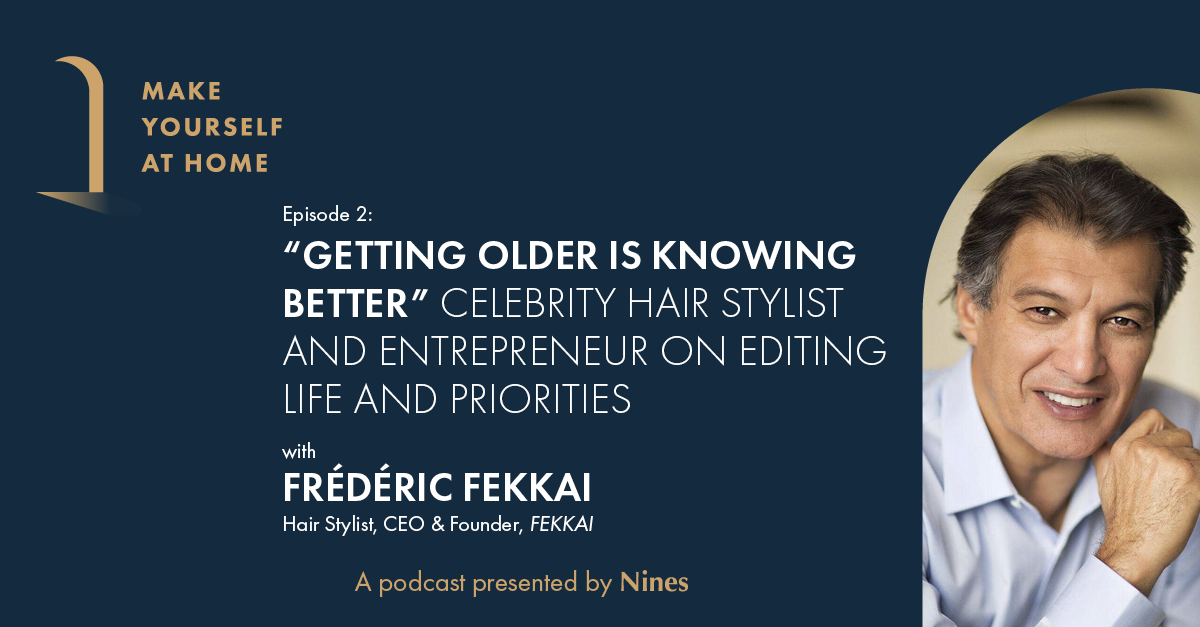 Frédéric Fekkai is known for being a celebrity hair stylist, and for reinventing the hair salon when he launched his "day spa" at Bergdorf Goodman. For decades, he's styled the biggest stars at busy salons in New York City and Hollywood, including Claudia Schiffer, Demi Moore and Martha Stewart. In 1996, he launched his hair care brand FEKKAI, working with skincare labs to revolutionize hair care, creating new luxury shampoos, conditioners, moisturizers, hairsprays, hair color care products, hair styling tools, and more. The brand disrupted the beauty industry, and he is widely credited with creating the luxury hair category.
Now, he is leading FEKKAI to a cleaner, more sustainable future, producing vegan, sulfate-free, cruelty free products free of silicone, parabens and phthalate. He also runs the beauty and lifestyle collection Bastide: Aix-en-Provence (which offers artisanal Provençal essentials like lotions, fragrances, and other products to foster naturality and wellness) with his wife, Shirin von Wulffen.
And today, he gets creative in a different environment — his home.
For this conversation, we're in Frédéric's home in Greenwich, CT, talking about his winding path to success, and how his life at home has changed every step of the way. We cover how his modest upbringing in France influenced his creativity, where he gets his sense of gratitude, and why he's edited his priorities over time. Make Yourself at Home with Frédéric Fekkai.
Listen now and subscribe on Apple Podcasts, Google Podcasts, Spotify and wherever you listen to your favorite shows.


Upcoming guests on Make Yourself at Home include Adrian Grenier (Earth Speed Media, DuContra Ventures), Danielle Canty (Bossbabe), Frédéric Fekkai (FEKKAI), Greg Davidson (Lalo), Kara Goldin (Hint), Kate Torgersen (Milk Stork), Loren Brill (Sweet Loren's), and more.
Make Yourself at Home is presented by Nines, the household management app designed to help you manage your home and everything that comes with it, so you can live with ease.
Submit your email to subscribe to our newsletter and get insights for living well in your inbox every month!
hbspt.forms.create({ region: "na1", portalId: "8062554", formId: "773d80b8-cda0-4ec6-8524-3abb278f6619" });