Easemakers
3 questions for home organization expert Faith Roberson
Curious about taking on an organizing project? Don't miss these home organization tips from professional organizer and life coach Faith Roberson.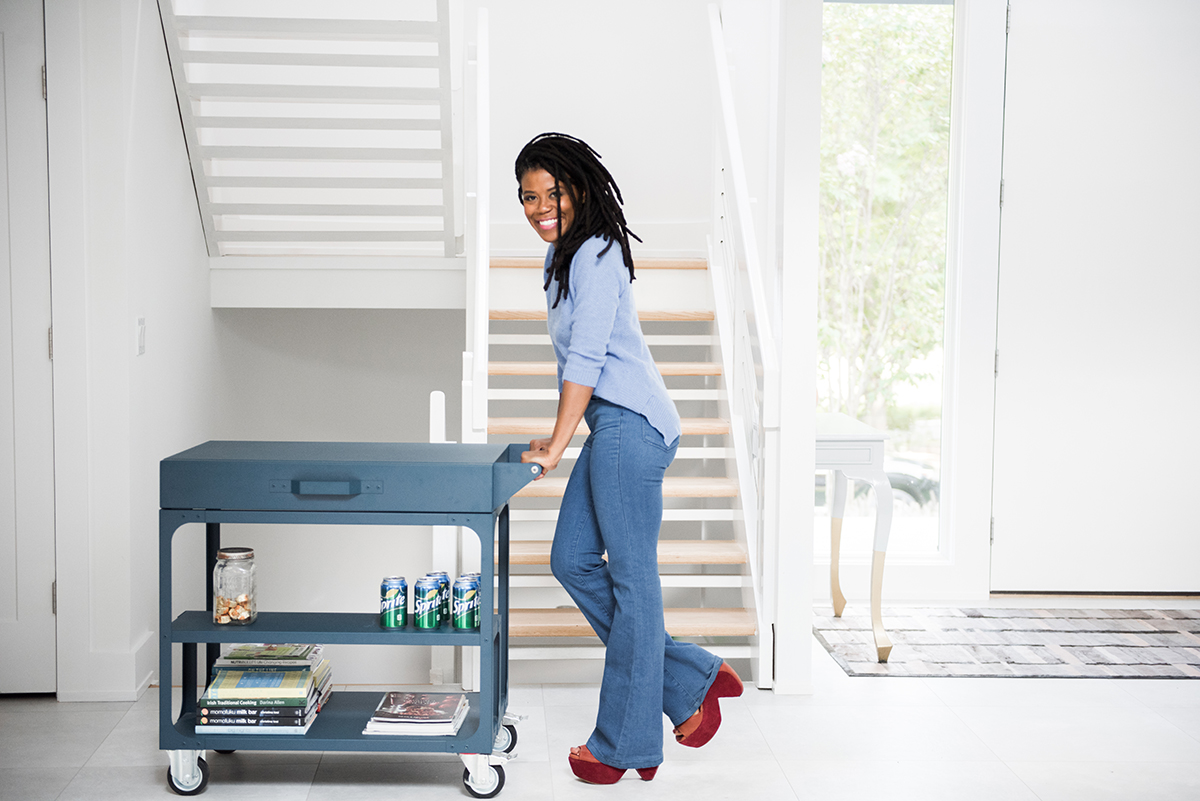 When Faith Roberson started exploring the idea of being a professional organizer, she noticed that decluttering was about more than finding the right storage containers, creating a perfectly balanced built-in bookshelf, and cleaning out the junk drawer.
Home organization is emotional. We form personal attachments to the things we've collected over the years. During an organizing project, you come face to face with physical objects that remind you of moments in your life — your first playbill, your first lease, something as small as a pencil from your first job — and these simple objects can stir up a lot of feelings.
"They allow you a moment in space and time to reflect on your accomplishments, and your trials, and the obstacles that you've overcome, and I think that's really important for people to have space to explore," says Faith. "The more you sort those things out, it creates more space for you mentally and emotionally."
Faith started out as a private cook, and found her calling when she started opening the kitchen cabinets of her clients. She found that spaces in disarray slowed people down in every aspect of their lives. She started offering kitchen maintenance, and settled into a niche of helping clients create an organized home, while recognizing their personal histories. Today, she is a professional organizer and life coach, and the founder of Organize with Faith.
In an ask me anything conversation (AMA) with our Easemakers community, Faith shared decluttering tips that go far beyond your typical getting organized tips, like must-have drawer organizers, kitchen storage ideas, laundry room hacks, space-saving hangers, and the perfect toy storage bins for kids' rooms. She shared how to approach an organization project thoughtfully, so you can create an organization system that helps a household run smoothly, while making space for emotion.
Check out her answers to three great home organization questions from our Easemakers members below, and log into the Easemakers community for private service professionals to watch the full video. Not a member? Join here.
1. When is a good time to organize a home?
Moments of transition are a great time to get organized, Faith shared with our Easemakers. If something big is happening in your life, an organized space can help you lay a strong foundation.
So, if your principals are buying a new property, taking on a new professional opportunity, having a baby, or becoming empty nesters, think about using this moment to declutter.
2. Can you share some organization ideas that help clients see the value of decluttering?
Faith says that most people don't realize they have a need for decluttering. On the surface, a home might look perfectly clean and beautiful — but is it designed to maximize each space?
"You have to know where the clutter is," says Faith.
A walkthrough can help someone realize just how much clutter they have.
She recommends closing your eyes and listing what you have in each area. What's on the top shelf of your linen closet? What's in the drawer in the side table in the living room? What's in the storage space in your entryway? If you can't list what lives in each place, it means you're not using them on a regular basis.
"If you're not touching things, you can declutter them," says Faith.
Faith and her team of organizers at Organize with Faith sort through every area of the home, then do what they call "spatial mapping." They figure out how to organize each space so it's fully functional and effective. Cleaning supplies should be where you need them — not spread out in a bunch of different closets around the house so the housekeeper has to go searching any time she needs to do an emergency clean-up.
3. Who should be responsible for decluttering?
Many principals might expect the private service professionals who work for them to keep their homes organized. But Faith says an estate manager shouldn't be expected to be a professional organizer, just as they shouldn't be expected to be a housekeeper or an interior designer. PSPs have enough on their plates already, and it can be a huge challenge to dedicate time to organizing an entire home from scratch.
"It's hard to get people to slow down and say, 'we need to have a moment with your keepsake box,'" Faith told the Easemakers community with a laugh.
Plus, it's tough to get caught in the emotional crossfire of letting go of our possessions — pieces of our past that seem like clutter, but may mean a great deal to us.
Faith says a third-party professional organizer can be an effective buffer, and can create a two-part organization system that works for both the homeowners and the household staff.
If you do take on an organizing project, she says to keep these key tips in mind:
Have one-on-one conversations. Organizing is personal and emotional, and it can be hard to talk about letting go of certain items in front of a group. Keep conversations private.
Look at the home holistically. Sorting through one room at a time might sound like a good idea, but it's better to think about the home holistically. You might fix one closet, only to find that another closet is full of similar items that should be stored together.
Choose the right organizing philosophy for your household. The Home Edit or Marie Kondo's tidying method might resonate in some homes and not others. Choose a way of decluttering that works for your household, and check out the National Association of Productivity & Organizing Professionals to explore what's out there.
Learn more about home organization
"Everybody wants a functional and efficient space," says Faith.
Interested in learning more about her approach to getting organized? Check out the full AMA conversation in the Easemakers community, and book a virtual consultation with the Organize with Faith team to get tips for your space.