Household Inventory
[Easemakers Podcast E46] The importance of an up to date home inventory — and how to create one for your household or estate
Do you know how to create a home inventory list? Why is inventory so important — to family members, to your insurance company and to your household staff? And, what needs to be included on your home inventory checklist? Inventory expert Carol Kaufman shares her tips in the latest episode of the Easemakers Podcast.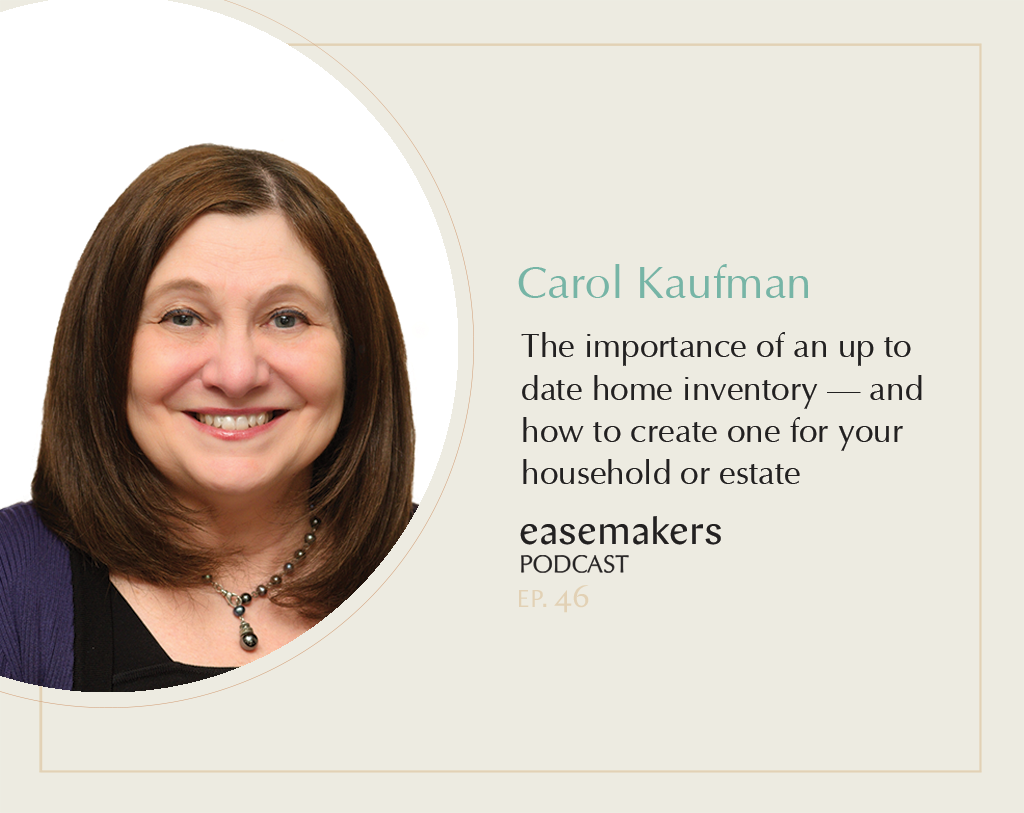 Let's say your home insurance agent asks for a list of the household's most valuable items for a homeowners insurance policy. It might be tempting to rattle off a few high-value list items without spending the time to actually put together a full inventory. Who has the time to sift through thousands of personal belongings, let alone gather together all the relevant serial numbers, appraisal details, date of purchase information, etc?
But years ago, Carol Kaufman learned the hard way that failing to do inventory properly can be a huge mistake. She launched her own company to help households and estates minimize the risk of ending up in her shoes, and today, she's the Founder and CEO of Pinventory and the consulting firm Alternatives TLC.
In a new episode of the Easemakers Podcast, Carol shares why inventory is so important, the 7 types of inventory every private service professional should know, and her tips for creating a quick but comprehensive inventory for any household or estate (good news: you don't need to write detailed descriptions of every item of personal property in the home to have a solid inventory).
Tune in to hear:
How inventories help you ensure the proper amount of insurance coverage — and why they're critical if you need to submit an insurance claim after a natural disaster
Stories of people who thought they'd hidden their valuables in a "safe place" like a dresser, the hem of a curtain, or a safe deposit box that no one else knows how to access
Tips for creating quick room view inventories (for example, quickly capturing everything in a living room or dining room), asset inventories (with supporting documentation around warranties and personal property coverage), collections inventories (like wine, musical instruments, watches), and other household inventories (for everything from linens and silverware to vehicles)
The Easemakers Podcast is available on Apple Podcasts, Spotify, and anywhere you listen to your favorite shows.
Catch up on past episodes of the Easemakers Podcast to hear from more experts in the private service industry, and don't forget to subscribe on Apple Podcasts to get notified about future episodes. Follow along with @easemakers on social media, and of course, be sure to join the conversation in the Easemakers community after you listen!
The Easemakers Podcast is presented by Nines, the household management software solution built for high net worth households, family offices and the private service professionals who support them. Questions about household staffing, luxury home management, or how to create a better workflow for everyone on your team? Start a conversation today.