Easemakers
[Easemakers Podcast E36] Improving your household's cybersecurity
What steps can you take to reduce your cybersecurity risk and protect your household against cyberattacks? Annapurna Cybersecurity Founder & CEO shares what he's learned about mitigating risk for families, family offices and household staff.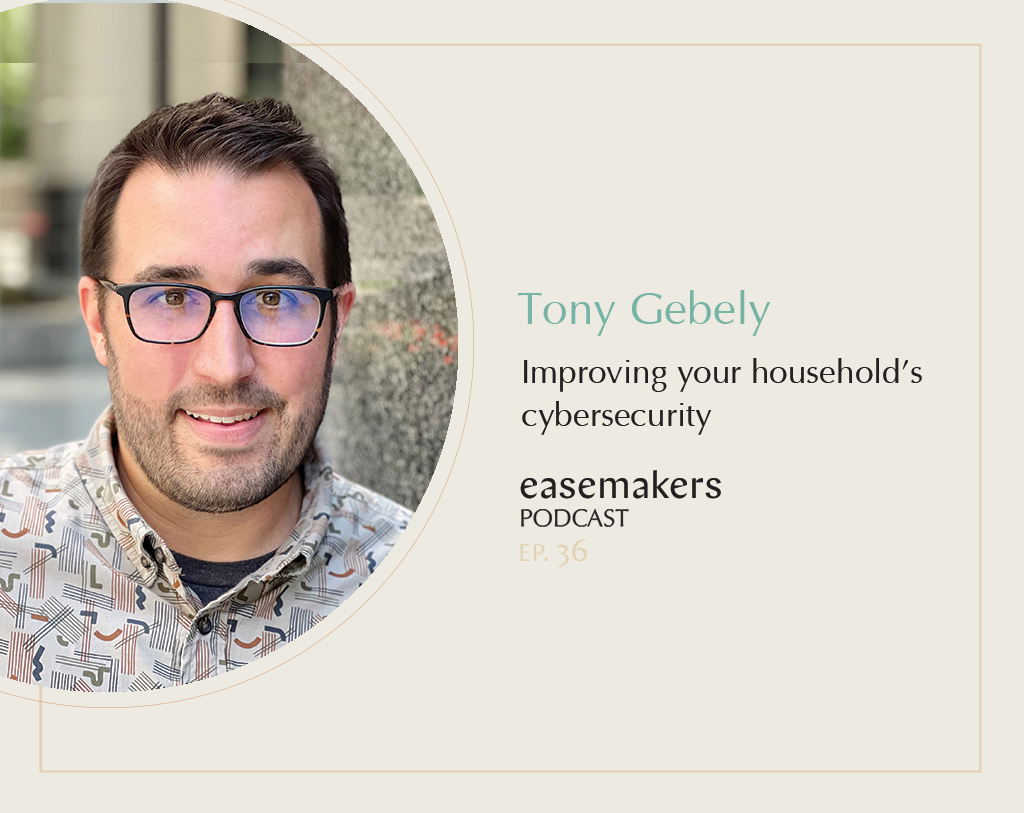 Tony Gebely spent a decade running information technology for the ultra-high net worth membership organization Family Office Exchange. He became the team's subject matter expert on cybersecurity, and started meeting with members about security measures. Soon, he realized that many of them shared a common problem: they wanted to reduce their vulnerabilities, but no one knew where to start.
Meanwhile, cybersecurity companies building software to protect against malware, ransomware and other types of cybercrime were overpromising on their ability to protect against all security threats, leaving families with cobbled-together solutions and a false sense of security.
"You're only as secure as your weakest link," says Tony.
Today, as the founder and CEO of Annapurna Cybersecurity, he helps families audit their vulnerabilities and set up critical infrastructure to protect against cyber incidents. His goal is to provide families with comprehensive cybersecurity solutions, and in a new episode of the Easemakers Podcast, he's sharing what he's learned along the way.
Tune in to hear:
Critical steps to protect a household from data breaches, hackers, malicious activity and cybersecurity threats
Why it's important to design a risk management strategy for a household's entire ecosystem — from family office information security to on-property software and hardware
How to ensure your household's private data doesn't walk away unprotected
Why the cybersecurity professionals and providers you work with should tailor standardized cybersecurity frameworks to the private sector environment
How cybersecurity is one piece of a comprehensive security strategy for your household
Plus, hear Tony's advice for educating everyone in the household about best practices to protect against phishing and other common cyber threats.
The Easemakers Podcast is available on Apple Podcasts, Spotify, and anywhere you listen to your favorite shows.
Catch up on past episodes of the Easemakers Podcast to hear from more experts in the private service industry, and don't forget to subscribe on Apple Podcasts to get notified about future episodes. Follow along with @easemakers on social media, and of course, be sure to join the conversation in the Easemakers community after you listen!
The Easemakers Podcast is presented by Nines, household management software and services built for discerning households and the private service professionals who support them.