Easemakers
[Easemakers Podcast E32] Executive protection, life safety, and being prepared for anything
Want to ensure your household is prepared for anything? In a new episode of the Easemakers Podcast, we talk with Scott Sanders, an estate manager with a specialty in executive protection, about life safety and the importance of being prepared.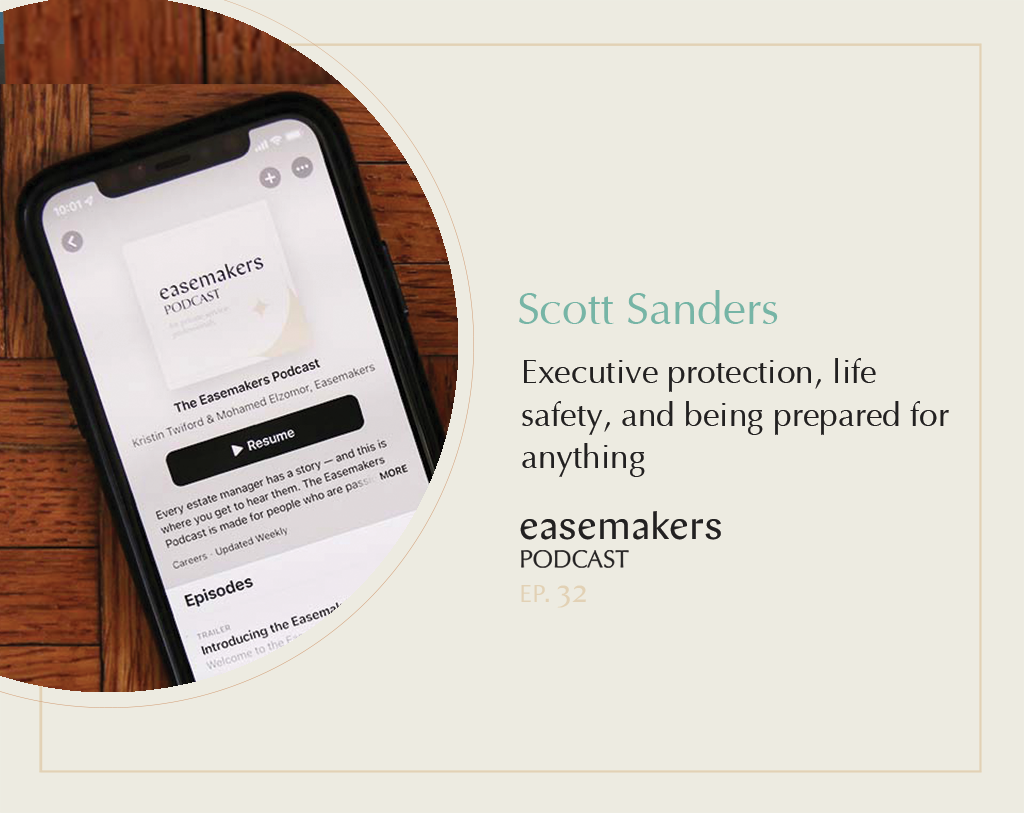 In a high net worth household, security is a top priority. If you support a celebrity, a dignitary, or a well-known corporate executive, you may be highly familiar with VIP protection and security services or work alongside a secret service or executive protection agent.
But even households without a dedicated private security team need to get ahead of vulnerabilities and ensure they're taking proactive security measures.
This week on the Easemakers Podcast, Estate Manager and executive protection specialist Scott Sanders shares how private service professionals can take basics steps to ensure their own preparedness and protect the wellbeing of everyone in the household.
During our conversation, Scott shares tips on building a relationship with law enforcement and other local authorities, executive protection training, and how to reduce personal risk — from having a basic skill set in first aid to improving residential security and sending security advances when you're traveling.
Tune in to hear:
Risk management insights for private service professionals and basic risk mitigation tips everyone can follow
A security specialist's take on how to be prepared for anything — from injuries to the worst case scenario
How to stock the household for an emergency situation
The Easemakers Podcast is available on Apple Podcasts, Spotify, and anywhere you listen to your favorite shows.
Catch up on past episodes of the Easemakers Podcast to hear from more experts in the private service industry, and don't forget to subscribe on Apple Podcasts to get notified about future episodes. Follow along with @easemakers on social media, and of course, be sure to join the conversation in the Easemakers community after you listen!
The Easemakers Podcast is presented by Nines, household management software and services built for discerning households and the private service professionals who support them.