Easemakers
Setting the table for a 5 star Thanksgiving dinner
Director of Residences and professionally trained Chef JP Cole thinks about Thanksgiving dinner all year round. "The preparation is utmost," says JP.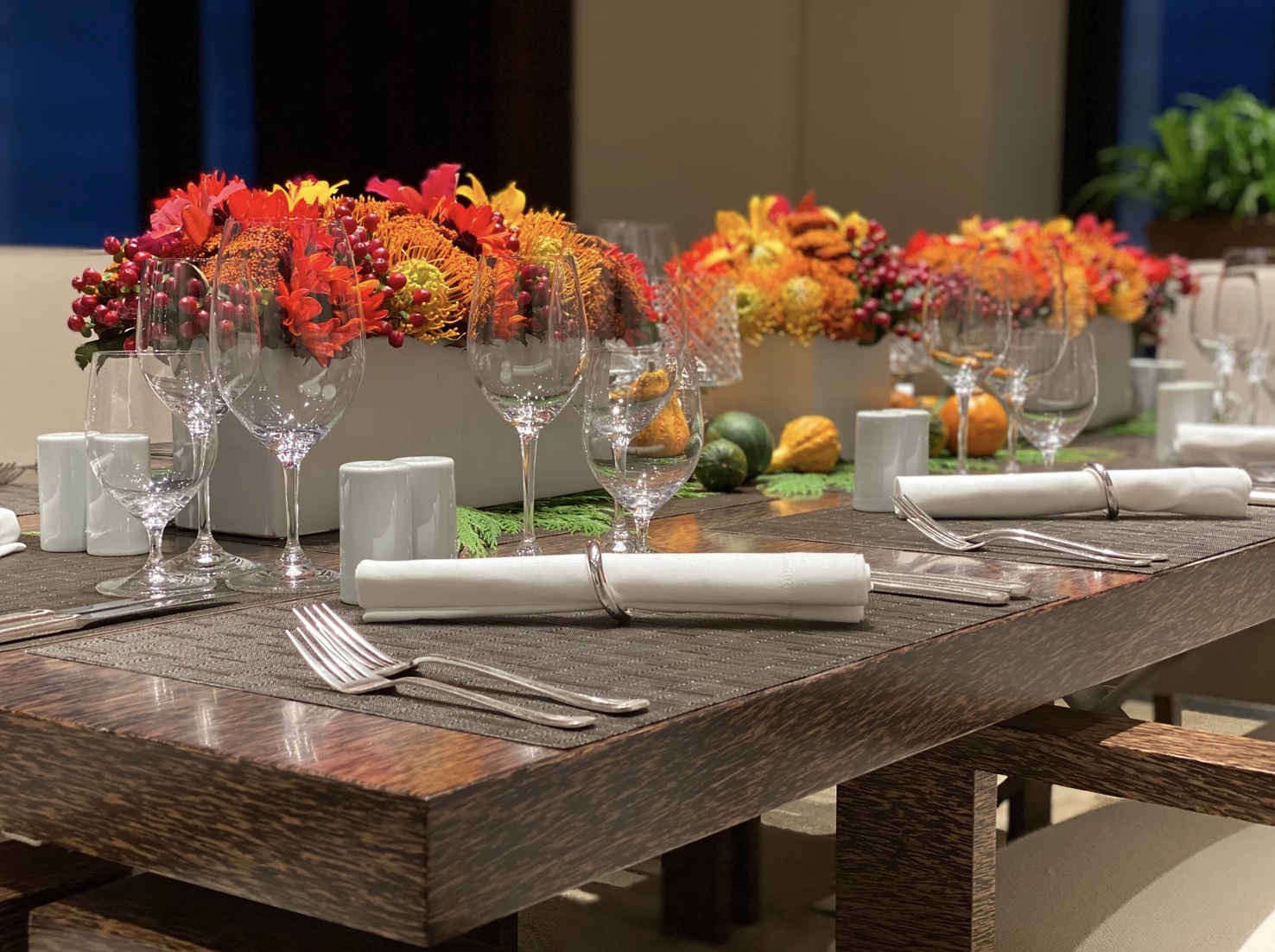 In his 30+ year career, JP has cooked for world-famous ambassadors, senators, and three US presidents. Entertaining is in his blood — even before graduating from culinary school, he helped his parents at the family catering business. Over the years, he's learned how to pay attention to minor details, which wows both principals and their guests.

"It's just taking pride and ownership," he says.
Want to host the perfect Thanksgiving dinner this year? Here are JP's tips for enchanting your guests and ensuring a flawless holiday dining experience.
"'Oops' doesn't work in my book," says JP, only half joking.
1. Start early.
Talk to your principals about how they envision Thanksgiving dinner as soon as possible. Their preferences will guide the rest of your plans for the ultimate Thanksgiving feast. "Once you know your cast of characters, it's straightforward," says JP. JP's go-to questions as you're starting the planning process:
Sit-down dinner, buffet, or family style?
Who's on the guest list?
Where do you want to have dinner?
What time do you want to eat?
Do you prefer having plenty of hands, or stealth service?
Once you have these answers, order any linens, tables, china, and other equipment you want to use, and determine whether you need to rent anything. "In 2021, more people are entertaining within, so if you need to rent equipment, do it early," says JP. "Your principals want the best, so you have to be prepared." The same goes for scheduling extra staff and ordering flowers, wine, and of course, all of the ingredients for your showstopper — the meal itself.
2. Make sure your tabletop is arranged for the best service.
Setting the table is JP's passion. He designs the tabletop well ahead of time, and starts the process of placing the components out days before Thanksgiving. He approaches every decision with purpose and precision. His goal is to design a festive tabletop with both richness and minimalistic décor.
"I'm building the ultimate tabletop with the least amount of effort during service," says JP.
He's always striving to minimize the risk of failure, thinking two steps ahead of the principals, their guests, and the service team.
For example, he likes to give everyone their own salt and pepper shakers, so no one has to reach. He always adds an extra fork, because at least one person will ask for another one. Every place setting has a water glass, as well as glasses for both red and white wine, because it's easier to remove them than to run back and forth to the kitchen to find the right glasses during service. And he always adds an extra seat or two.
"Inevitably, there's a straggler," says JP.
When he's building the table, he starts with a few basic questions:
Natural table with placemats or tablecloth?
Name cards or no name cards?
Type of centerpiece: tall flowers, short flowers, sculptures, or something outside the box? (some people like to see everyone, so they don't like tall centerpieces)
From there, JP chooses the linens or placemats, lines them up, and decides on the plates. A chef at heart, he prefers white dishes and white napkins to help the food stand out. His plans for each course guide the rest of his decisions around silverware, serving utensils, and remaining props.
"It's really cool to build the table based on the components you have to work with," says JP. "It's being an artist in motion."
JP's final touches are red sunflowers to bring in a dash of fall colors.

"You want to make it look as festive as possible," says JP.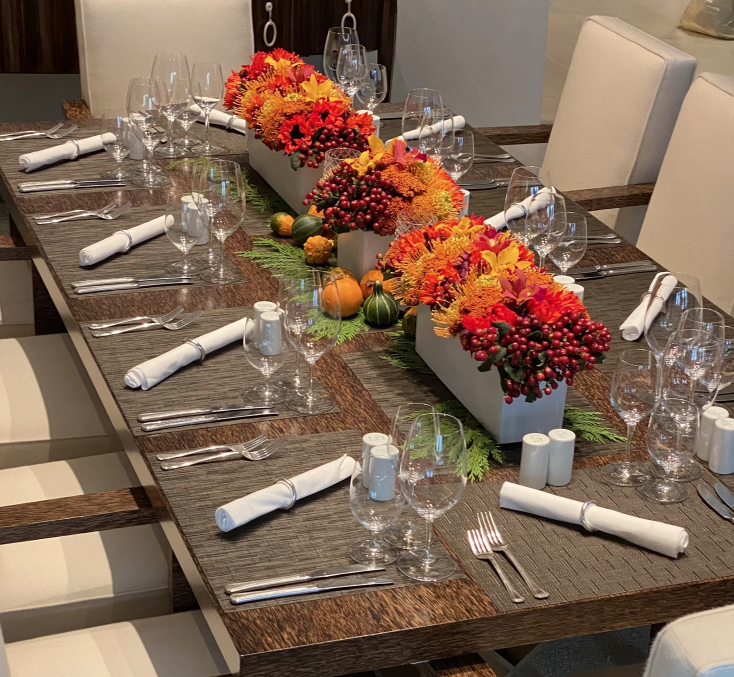 3. Stage your kitchen to minimize the risk of mistakes.
When JP has a buffet in the dining room, he builds an exact replica of the buffet in the kitchen. That way, he and his staff know exactly where each item needs to go for to maximize the functionality and aesthetic value of the serving area.
He also sets out and labels every service piece before he starts cooking. Once his three turkeys come out of the oven and guests are finished with their appetizers, JP starts the process of carving the turkeys. He plates the turkey and the remaining accoutrements in a matter of minutes, so everything is as fresh as possible.
"It was wicked and wild to watch," JP says, quoting one of the servers who witnessed his lightning-fast plating one Thanksgiving.
JP even lays out the plates in the order in which they will be used, so waiters don't have to think about which dishes to take.
"My goal is to maximize the value of my labor and time," says JP.
4. Go the extra mile with your to-go boxes.
Everyone loves Thanksgiving leftovers. But JP doesn't send anyone home with a zip lock bag. Your fabulous Thanksgiving dinner deserves better, and so do your guests.
His tip: get nice to-go boxes and small shopping bags to make to-go packaging that's as beautiful as the meal itself.
Keep in mind that some of your guests don't want to ask for leftovers. Notice what they like, and pack it up for them.
"If somebody loves something, surprise them with their own special treat to take home," says JP.
5. Take notes for next year.
JP says the most important part of a successful Thanksgiving comes after it's all over. Every year, amid the post-Thanksgiving haze, he takes the time to write down every little detail of the day — and recommends that everyone in private service do the same.
"Give yourself accolades for great work, and note your failures," says JP. "That could be the success of the next year's feast."
Check out the questions he answers to help him keep track from year to year:
How many guests did we have?
Who were they?
What did they like? (individually and on the whole — note any individual favorites so you can surprise them with their own take-home package next year)
What did they not like?
How many staff members did we have?
How did we fail?
How did we shine?
How much of each menu item did we make? Did we have too much or too little?
Keeping detailed notes will help you create memorable Thanksgiving dinners for years to come.
The takeaway
Hosting an excellent Thanksgiving dinner is all in the details, and if you think through them ahead of time, you and your team will be sure to shine. "It's all about being prepared — from the right silverware to making the ultimate to-go package," says JP. Want to share how you're planning for Thanksgiving and connect with other private service professionals like JP? Join the conversation in the Easemakers community.