Easemakers
[Easemakers Podcast E15] A "gilded age" in private service: trends in job descriptions, salaries & more
Are we seeing an unprecedented moment in private service? Brian Daniel thinks so — and he's sharing his insights in the latest episode of the Easemakers Podcast.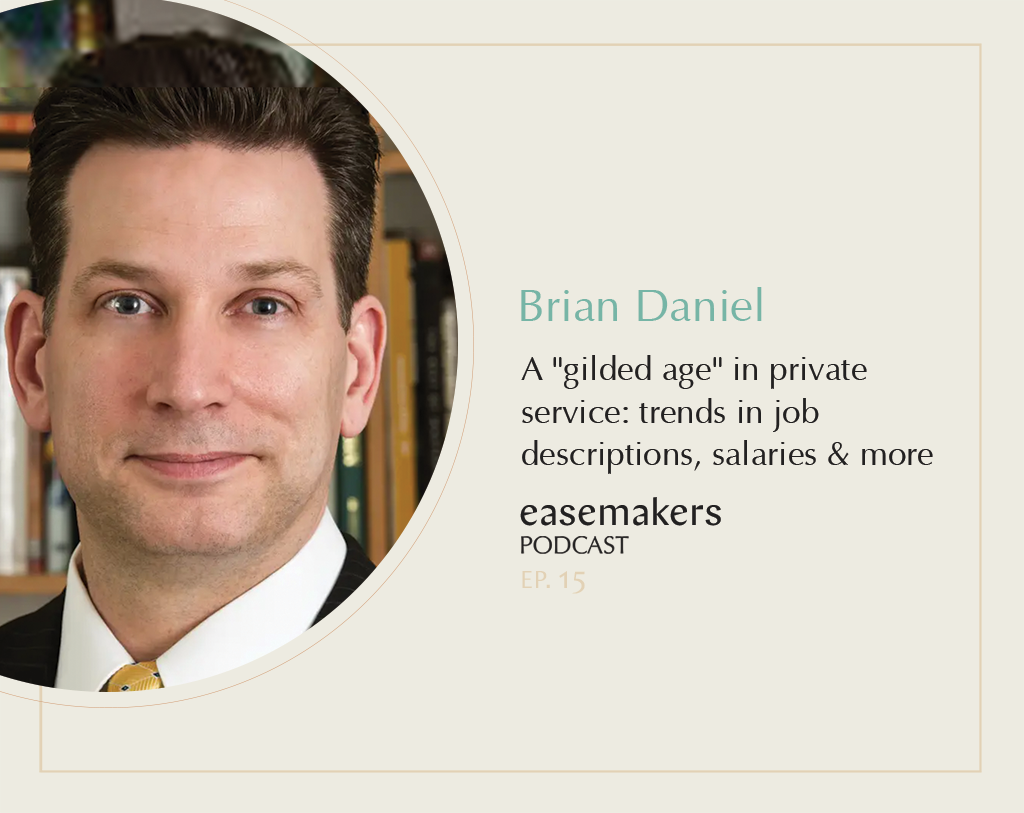 Brian Daniel has worked with billionaires, royalty and Hollywood A-listers — first as a personal assistant, and now as a recruiter. He's seen it all in his 25 years in the industry, but he says today is a unique moment in history: a gilded age in private service.
Demand for private service roles is higher than ever. Salaries are climbing, and candidates are holding the cards.
At the same time, Brian says he's seeing major changes in job descriptions, including a shift towards hybrid roles.
How can principals and private service professionals navigate the trends and find a long-lasting match?
Tune into Brian's interview on the Easemakers Podcast to hear:
Brian's take on hybrid roles, and how they can work for both principals and PSPs
How being clear and honest during the interview process can help you find the right fit
Trends in salaries, turnover, job descriptions and more
Plus, in the lightning round, don't miss his insights on balancing work and family (with a shout out to fellow Easemakers Podcast guest Bonnie Low-Kramen), and why his social media tagline is "wherever you're at, knock 'em dead."
The Easemakers Podcast is also available on Apple Podcasts, Spotify, Stitcher and anywhere you listen to your favorite shows.
To hear more from Brian, check out his website and follow him on LinkedIn.
Want to connect with other estate managers and PSPs to share experiences and get the backup you need? Join the conversation in the Easemakers community.
And, to find more insights from leading private service professionals, catch up on past episodes of the Easemakers Podcast. You'll hear stories from a career in Hollywood, tips for working with vendors, advice on caring for couture, and more.
The Easemakers Podcast is presented by Nines, household management software and services built for discerning households and the private service professionals who support them.