Easemakers
[Easemakers Podcast E34] From jewelry to NFTs: managing private collections
Whether you're handling priceless works of art or couture masterpieces, supporting a private collector comes with a lot of extra responsibility. In a new episode of the Easemakers Podcast, Naomi Sosnovsky shares how she combines her passions for private collections and private service — along with her advice for other PSPs.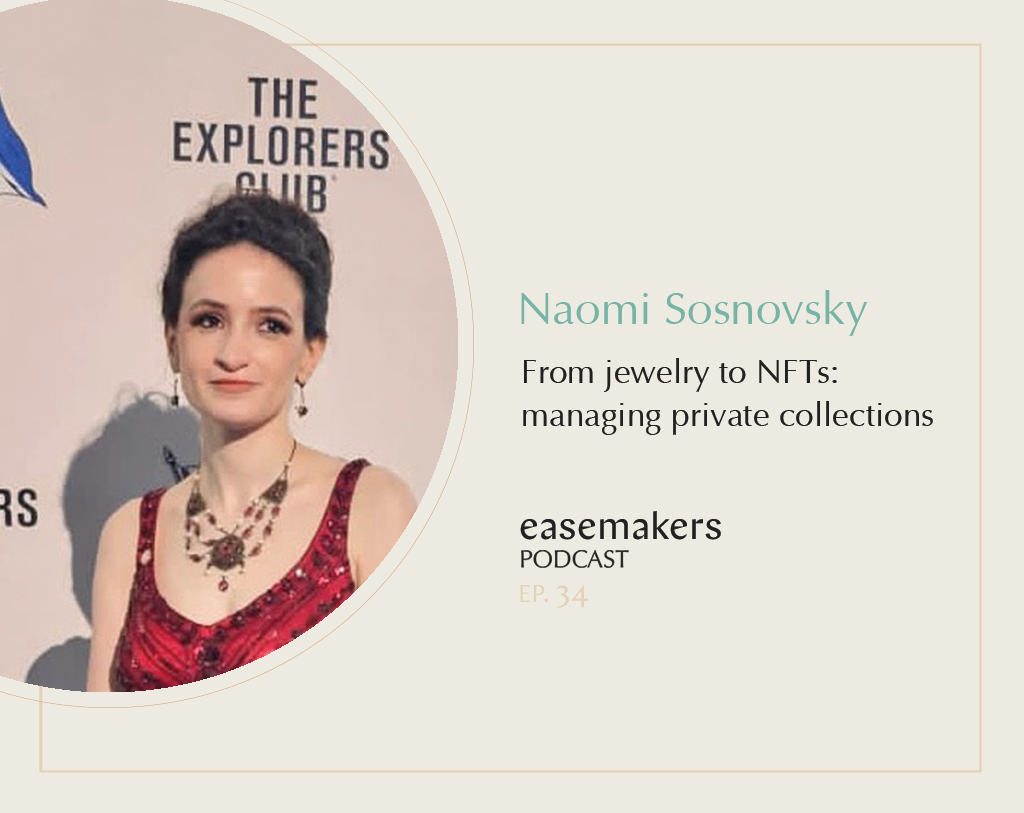 Naomi Sosnovsky always knew she wanted to work in private service — specifically, with private collectors. She's studied art history, archaeology, and fashion, and she's worked in museums and on red carpets, all to give her a deeper understanding of the world's most beautiful objects and the people who collect them.
As a New York-based Personal Assistant and Private Collections Manager, she seeks out principals with a passion for collecting, whether they're interested in contemporary art collections, impressionist paintings, 19th century jewelry, high fashion, or NFTs. No matter their preferred format, she's just as interested in the art collectors as she is in the art.
In a new episode of the Easemakers Podcast, Naomi shares her take on how a collection has the power to tell the story of a person, and why she's passionate about safeguarding her principals' prized possessions.
Tune in to hear:
What she's learned about private collections and their collectors
Common mistakes principals and private service professionals make caring for fine art, jewelry and couture
Her advice for PSPs tasked with managing collections, whether they're caring for them at home or handling loans to friends and private museums
Plus, in the lightning round, hear about Naomi's own collection of jewelry from the 18th century!
The Easemakers Podcast is available on Apple Podcasts, Spotify, and anywhere you listen to your favorite shows.
Find Rose on LinkedIn and at denisonyachtsales.com, and check out bonus resources from this conversation in the Easemakers community.
Catch up on past episodes of the Easemakers Podcast to hear from more experts in the private service industry, and don't forget to subscribe on Apple Podcasts to get notified about future episodes. Follow along with @easemakers on social media, and of course, be sure to join the conversation in the Easemakers community after you listen!
The Easemakers Podcast is presented by Nines, household management software and services built for discerning households and the private service professionals who support them.