Easemakers
[Easemakers Podcast E5] Agencies, resumes and references
How do you find the right match in private service? Whether you're looking for an agency to work with, a principal to work for, or a private service professional to hire, this episode of the Easemakers Podcast has you covered.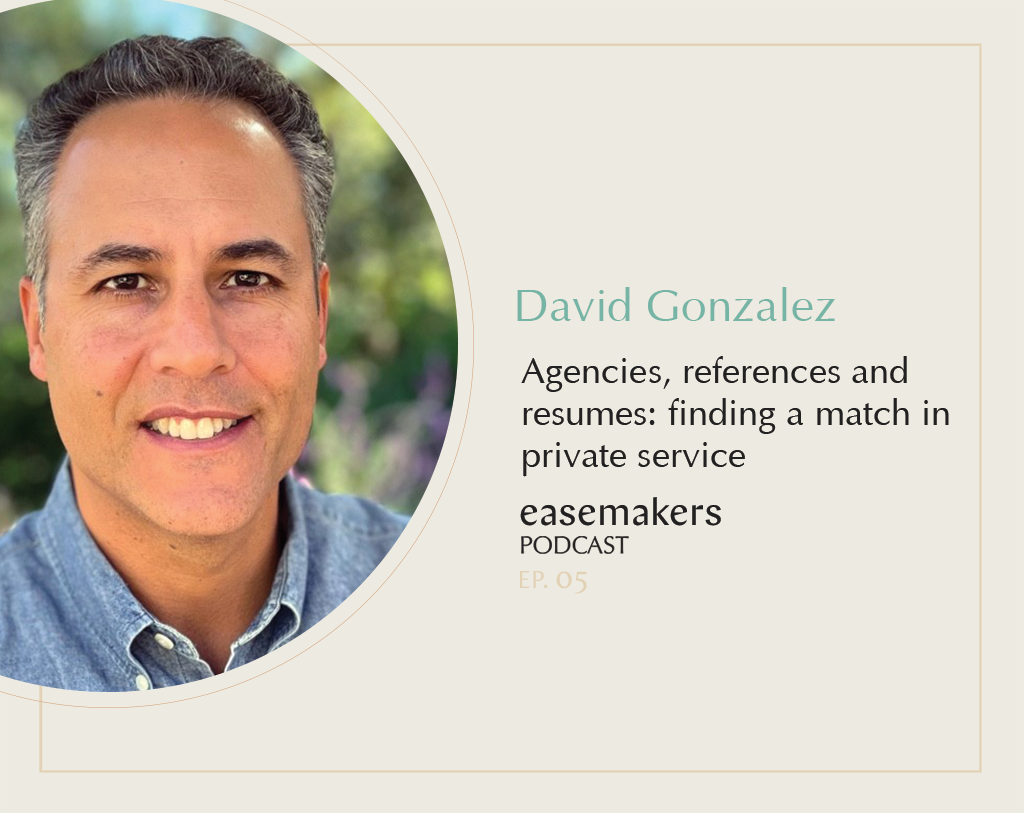 As the owner of the #1 site for private service job listings, David Gonzalez knows household staffing from every angle. He knows what principals are looking for, and what private service professionals can do to stand out. He's been on both sides of the agency process, as a private service professional turned recruiter. And in nearly two decades running EstateJobs.com, he's read thousands of job listings and resumes.
Agencies, principals and PSPs are all in search of the same thing: the right match.
And now, David is sharing his secrets for finding that one perfect fit.
"Everything you do with someone else in the business — treat it as an interview," says David.
Listen to his interview on the latest episode of the Easemakers Podcast to hear his thoughts on:
The tension between agencies and candidates
What every estate manager and private service professional should have on their resume
Why you see "local candidates only" on so many job descriptions — and how to handle it
The right time to share references
The one thing he wishes candidates knew
The Easemakers Podcast is also available on Apple Podcasts, Spotify, Stitcher and anywhere you listen to your favorite shows.
Subscribe to the Easemakers Podcast to hear more from thought leaders in the private service industry, and check out David's book, The Insider's Guide to Household Staffing, to learn more from his 20 years in household staffing.
Plus, be sure to join the conversation in the Easemakers community, where you'll meet other private service professionals and connect with people who get it.

The Easemakers Podcast is presented by Nines, the first all-in-one platform for estate and household management.