Easemakers
[Easemakers Podcast E39] Working with hyper-growth family offices and scaling your household operations
How do you scale household operations after a wealth event? In this episode of the Easemakers Podcast, Director of Properties Jeffrey Konen shares his tips for working with hyper-growth family offices.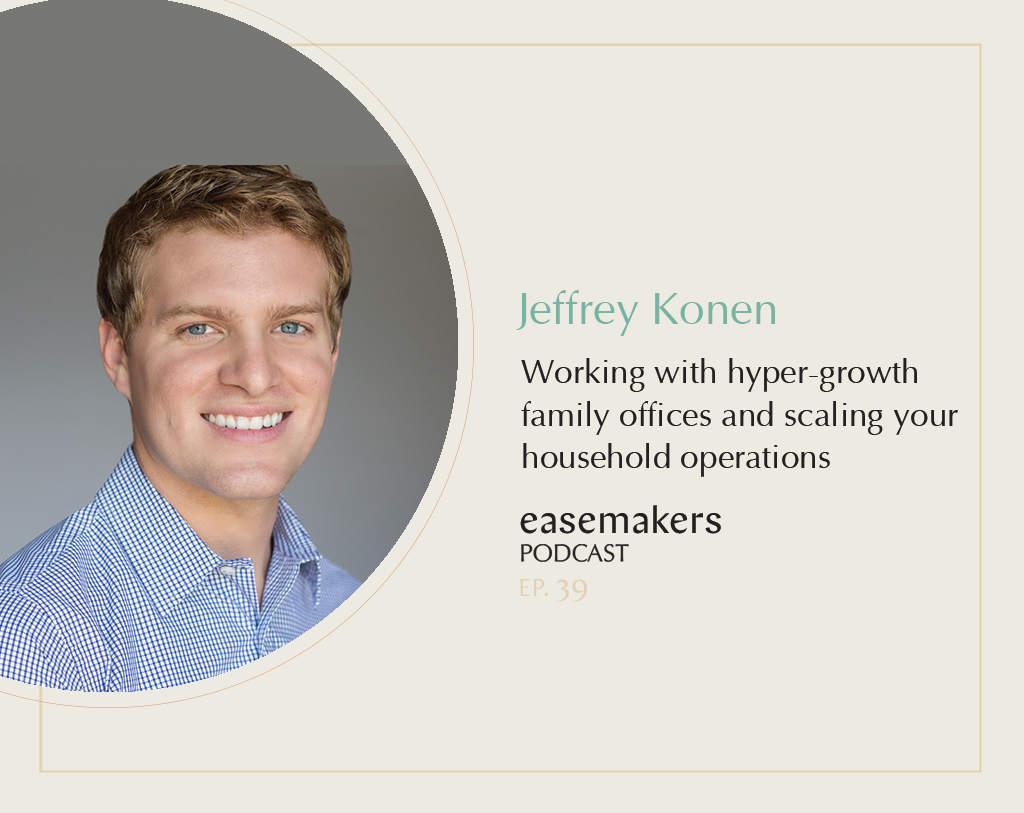 After a wealth event, a family's needs can change quickly. How do you keep a household running smoothly when you're adding properties, staff and assets, all at an unprecedented pace?
As a Director of Properties in the Bay Area, Jeffrey Konen has helped a number of families navigate the challenges of scaling their household operations.
In this episode of the Easemakers Podcast, he shares what it's like to work with hyper-growth family offices, covering everything from questions to ask in an interview to how to keep morale up on your team when you're in a state of constant change.
Tune in to hear:
Jeffrey's tips for private service professionals in a rapidly growing environment
The questions he always asks principals
His advice for setting up systems that set everyone in the household up for success
The Easemakers Podcast is available on Apple Podcasts, Spotify, and anywhere you listen to your favorite shows.
Curious about how to set up better systems for your household staff? Check out some of our favorite resources:
Catch up on past episodes of the Easemakers Podcast to hear from more experts in the private service industry, and don't forget to subscribe on Apple Podcasts to get notified about future episodes. Follow along with @easemakers on social media, and of course, be sure to join the conversation in the Easemakers community after you listen!
The Easemakers Podcast is presented by Nines, the household management software solution built for high net worth households, family offices and the private service professionals who support them. Questions about household staffing, luxury home management, or how to create a better workflow for everyone on your team? Start a conversation today.