Make Yourself at Home Podcast
[Make Yourself at Home E3] Hint Founder and Author Kara Goldin
You know Kara Goldin as the Founder of Hint, an award-winning entrepreneur, and the host of The Kara Goldin Show. This is who she is at home.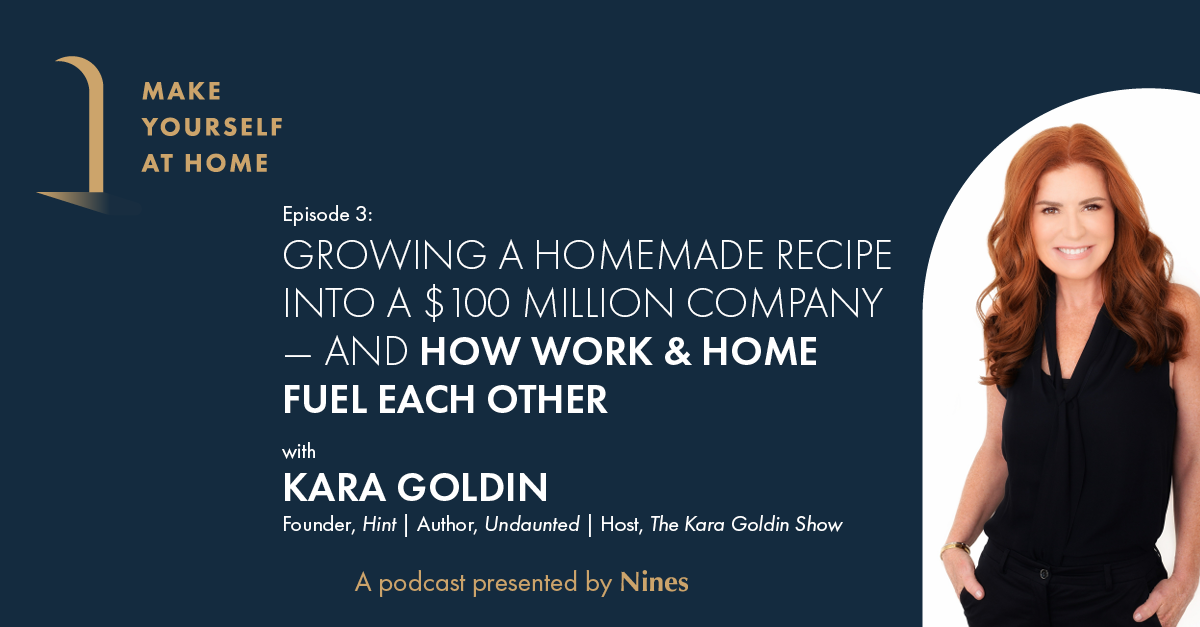 Kara Goldin is the Founder of Hint — the award-winning unsweetened flavored water brand sold in 30,000 stores across the United States.
And you may also know her from her from her podcast, The Kara Goldin Show, or her bestseller, Undaunted: Overcoming Doubts and Doubters. She has been named one of InStyle's Badass 50, Fast Company's Most Creative People in Business, Fortune's Most Powerful Women Entrepreneurs, and the EY Entrepreneur of the Year 2017 Northern California.
But who is Kara Goldin at home? How are her life at home and her professional success intertwined?
In fact, from the very beginning of Hint, Kara's personal life and her entrepreneurship career have fueled each other.
Before Hint water was a household name, it was just an idea in her kitchen — a personal choice for a healthy lifestyle.
In 2004, the former AOL exec had three kids under the age of four. She was drinking 10 diet sodas a day but found she had no energy, was 45 pounds overweight, and struggled with acne. One day, she cut diet soda out of her life completely, and switched to water with a bit of fruit to keep it interesting. 3 months later, her acne was gone, she'd lost 40 pounds, and she was bursting with energy — which she channeled into turning her simple recipe into a not-boring but still healthy beverage she could share with others who were trying to kick sugary drinks to the curb.
Kara's startup journey is her own personal journey — and at every stage, her family and her home helped her overcome challenges, tune out the naysayers, and turn Hint into a successful business. She stocked her first products on the shelves at Whole Foods the day she had her 4th child. Her kids sold early cases of Hint in the driveway. Her family stocked palettes in the garage, and delivered orders in their Jeep. And Kara and her husband Theo Goldin worked together to grow the company — Kara was the CEO of Hint, and Theo came on as the first employee, serving as COO.
Now, on episode 3 of Make Yourself at Home, Kara shares how she never planned on any of this. She dreamed of living in New York City, started her career at Time and CNN, and never expected to become an entrepreneur.
For this conversation, we're in Kara's home in Marin County, California, talking about leaving San Francisco and finding home in the Bay Area, what her kids learned from watching their parents launch Hint and become disruptors in the beverage industry, and how big moments in Kara's work and personal life tended to happen all at the same time. Make Yourself at Home with Kara Goldin.
Listen now and subscribe on Apple Podcasts, Google Podcasts, Spotify and wherever you listen to your favorite shows.


Follow along with Kara Goldin at karagoldin.com, and check out her book Undaunted on Amazon.
Season 1 guests on Make Yourself at Home include Bess Freedman (Brown Harris Stevens), Frédéric Fekkai (FEKKAI), Adrian Grenier (Earth Speed Media, DuContra Ventures), Danielle Canty (Bossbabe), Greg Davidson (Lalo), Kate Torgersen (Milk Stork), Loren Brill (Sweet Loren's), and more.
Make Yourself at Home is presented by Nines, the household management app designed to help you manage your home and everything that comes with it, so you can live with ease.