Make Yourself at Home Podcast
[Make Yourself at Home E4] Lalo Co-Founder and CEO Greg Davidson
You know Greg Davidson as the Co-Founder and CEO of Lalo, the direct-to-consumer baby and toddler brand that's been trending across social media since 2019. This is who he is at home.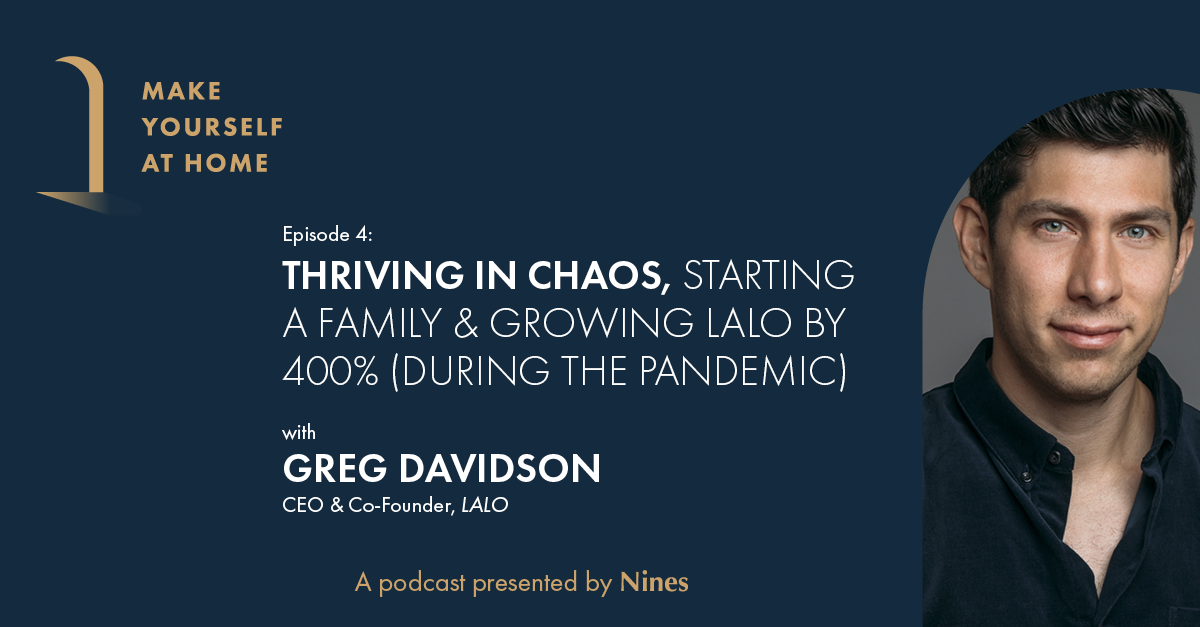 When Greg Davidson and Michael Wieder started building a company with the goal of helping new parents choose baby products for the first time, neither one of them had kids.
But since 2019, everything has changed — both for the brand and for Greg.
Lalo launched just before the pandemic. The startup took off, and in 2021, grew by 400%. Today, Lalo is known for its beautifully designed high-chairs, play tables and strollers.

At the same time, Greg's life at home was changing just as quickly. Greg and his wife got married 6 months before they launched Lalo. Their first child was born in 2020, and their second was born earlier in 2022. Today, he's his own customer (and finally understands why his coworkers used to rush home for bath time).
In episode 4 of Make Yourself at Home, Greg walks through his personal and professional rollercoasters of the past 3 years, covering the challenges of fundraising for a baby brand before becoming a parent, the reaction of his friends and family when he left his successful partnerships path (Artsy, WayUp) to launch a startup, and how having a supportive partner (who also works in ecommerce) has helped him on his entrepreneurship journey.

For this conversation, we're in New York City, talking about choosing a life of chaos, raising kids in NYC, and taking the time to live in the moment and give yourself the "30,000 foot view." Make Yourself at Home with Greg Davidson.
Listen now and subscribe on Apple Podcasts, Google Podcasts, Spotify and wherever you listen to your favorite shows.



Follow along with Greg and the Lalo team at meetlalo.com and on LinkedIn, and check out his book for kids, A Little Book About Home.
Season 1 guests on Make Yourself at Home include Bess Freedman (Brown Harris Stevens), Frédéric Fekkai (FEKKAI), Kara Goldin (Hint), Adrian Grenier (Earth Speed Media, DuContra Ventures), Danielle Canty (Bossbabe), Kate Torgersen (Milk Stork), Loren Brill (Sweet Loren's), and more. 
Make Yourself at Home is presented by Nines, the household management app designed to help you manage your home and everything that comes with it, so you can live with ease.