Make Yourself at Home Podcast
[Make Yourself at Home E6] Milk Stork Founder and CEO Kate Torgersen
You know Kate Torgersen as the Founder and CEO of Milk Stork, the first breast milk shipping company. But who is Kate Torgersen at home?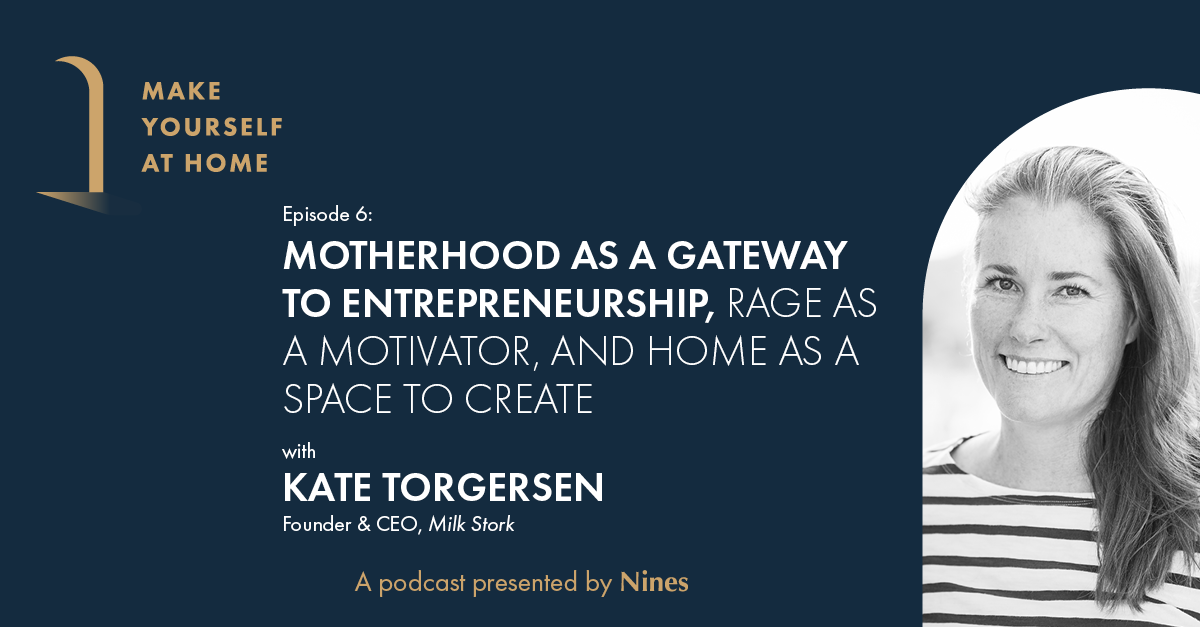 Kate Torgersen doesn't believe in work-life balance — she believes in work-life complexity.
As the Founder and CEO of Milk Stork, the first breast milk shipping company, she's helped thousands of working parents achieve their goals, both personally and professionally. And she says if she hadn't been a mom — specifically, to twins — she would never have become an entrepreneur.

Kate had the idea for Milk Stork on a four-day business trip shortly after giving birth to her twins, Finn and Zoë. She was still breastfeeding, and pumped all week (even in the middle of the night) to keep up her milk supply. Then, as she was trying to cart her breast milk home, she was stopped at TSA and forced to dump out the ice for two gallons of breast milk.
Kate was outraged, and felt compelled to solve this pain point for working moms like her. With three kids under 3 and a full-time job in executive communications at Clif Bar, she started building Milk Stork during her only free time — her pumping sessions.
Since they officially launched in 2015, the company has completed more than 82 thousand deliveries and shipped more than 5 million ounces of breast milk — including 21 gallons for athletes and other parents working at the 2021 Olympic Games. Today, Milk Stork works with more than 850 companies to provide breast milk shipping as an employee benefit.
In episode 6 of Make Yourself at Home, Kate shares the story of the moment she and her husband committed to building Milk Stork while standing on a pile of hot wheels, how her home gave her a space to create, and why for her, motherhood was the gateway to entrepreneurship.

For this conversation, we're in Kate's home in Lafayette, California, talking about why there's no doubt Kate's work and home have had an incredible impact on each other.
Listen now and subscribe on Apple Podcasts, Google Podcasts, Spotify and wherever you listen to your favorite shows.


Follow along with Kate @milkstorkmama and @milkstork on Instagram.
Season 1 guests on Make Yourself at Home include Bess Freedman (Brown Harris Stevens), Frédéric Fekkai (FEKKAI), Kara Goldin (Hint), Greg Davidson (Lalo), Danielle Canty (Bossbabe), Adrian Grenier (Earth Speed Media, DuContra Ventures), Loren Brill (Sweet Loren's), and more. Subscribe now to follow along, and if you enjoy our conversations, leave us a review to tell us why!
Make Yourself at Home is presented by Nines, the household management app designed to help you manage your home and everything that comes with it, so you can live with ease.