Make Yourself at Home Podcast
[Make Yourself at Home E5] Bossbabe Co-Founder and President Danielle Canty
You know Danielle Canty as the Co-Founder and President of bossbabe, one of the largest communities of ambitious women and female entrepreneurs in the world. This is who she is at home.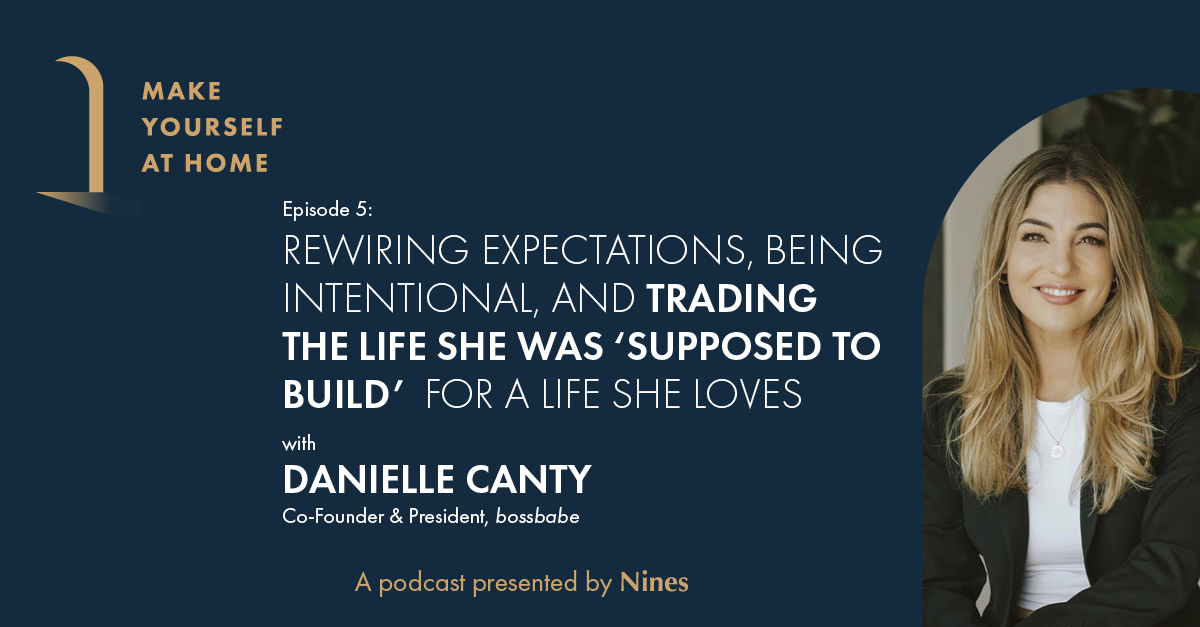 Today, Danielle Canty is the President of bossbabe, a multi-million dollar company that's helped more than 100,000 women reach their goals through its podcast, mentorship community, entrepreneurship courses, and social media empire of three million followers.
But just three years ago, Danielle had a completely different life.
She was living in the UK, where she grew up, she was married to her college boyfriend, and she had a successful career as a chiropractor and owner of her practice. She had built the life she felt she was "supposed to build," and yet, something didn't feel right.
She started to be intentional about the life she wanted to lead, and when she met her co-founder Natalie Ellis, she followed a gut instinct that set off a domino effect in every aspect of her life. At first, she kept her day job as a chiropractor and worked on growing bossbabe at night. In 2020, she moved to the US, and dove into becoming a successful entrepreneur.
In episode 5 of Make Yourself at Home, Danielle shares how, after moving halfway around the world, navigating a tough divorce, and rewiring how she thinks about time and success, she's starting to build a life she loves.
For this conversation, we're in Danielle's home in Los Angeles, talking about how her home affects her mindset, her morning self-care routine, curating a place where she can be still, and why she believes we all overestimate the time it takes to change your life. Make Yourself at Home with bossbabe's Danielle Canty.
Listen now and subscribe on Apple Podcasts, Google Podcasts, Spotify and wherever you listen to your favorite shows.


Follow along with Danielle on social media @daniellecanty and @bossbabe.inc, and hear more from her on the bossbabe podcast. Plus, check out her article in Forbes (mentioned during our conversation).
Season 1 guests on Make Yourself at Home include Bess Freedman (Brown Harris Stevens), Frédéric Fekkai (FEKKAI), Kara Goldin (Hint), Greg Davidson (Lalo), Adrian Grenier (Earth Speed Media, DuContra Ventures), Kate Torgersen (Milk Stork), Loren Brill (Sweet Loren's), and more. Subscribe now to follow along, and if you enjoy our conversations, leave us a review to tell us why!
Make Yourself at Home is presented by Nines, the household management app designed to help you manage your home and everything that comes with it, so you can live with ease.