Make Yourself at Home Podcast
[Make Yourself at Home E7] Actor, environmentalist and impact investor Adrian Grenier
You know Adrian Grenier as an actor, but in 2020, he traded Hollywood for a farm in Texas, and changed his life completely. This is Adrian Grenier at home.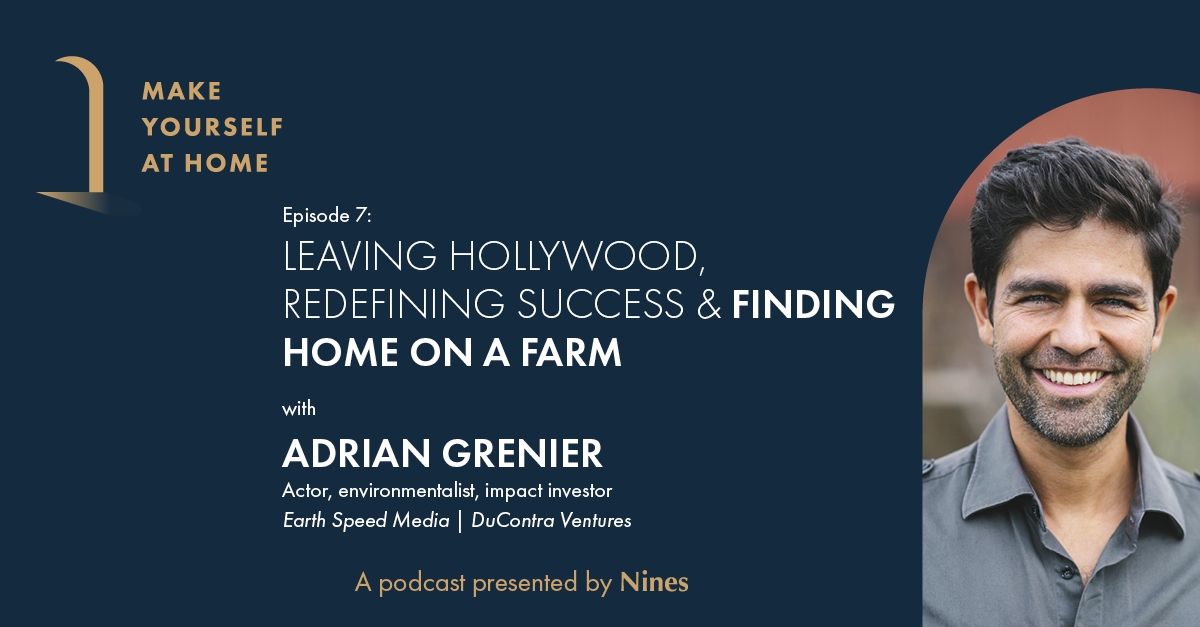 Actor Adrian Grenier had "made it." After his leading role as Vincent Chase on HBO's Entourage and the success of films like The Devil Wears Prada with Anne Hathaway, Drive Me Crazy, Trash Fire, and Marauders, he'd found success, fame, and money. He worked on socially minded projects, like Alter Eco, Shot in the Dark, How to Make Money Selling Drugs, and Teenage Paparazzo. He was known as an environmentalist through his work with the Lonely Whale Foundation, and was even named a Goodwill Ambassador for the United Nations Environment Programme.
And yet, it wasn't enough. He was always striving for more — until his girlfriend Jordan Roemmele ended their relationship and set off a chain reaction that changed his life completely.

Adrian left Hollywood in 2020 (perhaps fittingly, right around the time he played Nick Brewer in the Netflix show Clickbait, which explores the dark side of social media). He unplugged, and traded his Brooklyn home and fast-paced New York City lifestyle for humble means.
He began what he calls his "dark night of the soul," working to become the kind of man Jordan would've kept around. Two years later, he reached out to her again — this time, with a rebalanced set of priorities and a newfound sense of home.
Adrian and Jordan got married in June 2022 in an impromptu ceremony in the Atlas Mountains in Morocco. The newlyweds told People magazine they embraced the spontaneity of the moment, and created a ceremony out of thin air — a friend, musician RY X, got ordained on his phone at dinner, and with a white dress, a white button-down shirt, some string lights and some flower petals, they were ready to say, "I do."
Now, they're building a life together on a ranch, homesteading, creating a wildlife sanctuary, and leading a lifestyle "at the cadence of nature."
Today, Adrian lives at what he calls, "earth speed." He's created Earth Speed Media, a hub for education and inspiration around land stewardship, and DuContra Ventures, which makes impact investments in companies that aim to improve the human condition and benefit the planet. He's even the Chief Earth Advocate for the space tourism company World View. At the heart of it all is his own inner transformation, and his deep connection to the earth.
In episode 7 of the Make Yourself at Home podcast, Adrian explores what home means to him.

For this conversation, we're at Kintsugi Ranch — Adrian's farm in Bastrop, a town of 9,000 people outside of Austin, Texas  — talking about why he feels so much more at home here than in Hollywood, how his views on money and success have changed, why he feels his now-wife Jordan is his soulmate, sent to shake up his life. Make Yourself at Home with Adrian Grenier. 
Listen now and subscribe on Apple Podcasts, Google Podcasts, Spotify and wherever you listen to your favorite shows.


Follow along with Adrian @adriangrenier and @earthspeed.
Season 1 guests on Make Yourself at Home include Bess Freedman (Brown Harris Stevens), Frédéric Fekkai (FEKKAI), Kara Goldin (Hint), Greg Davidson (Lalo), Danielle Canty (Bossbabe), Kate Torgersen (Milk Stork), Loren Brill (Sweet Loren's), and more. Subscribe now to follow along, and if you enjoy our conversations, leave us a review to tell us why!
Make Yourself at Home is presented by Nines, the household management app designed to help you manage your home and everything that comes with it, so you can live with ease.