Make Yourself at Home Podcast
[Make Yourself at Home E8] Loren Brill Castle, Founder & CEO, Sweet Loren's
You know Loren Brill Castle as the founder of Sweet Loren's — the #1 natural cookie dough brand found in 15,000 supermarkets across the United States. But who is Loren Brill at home?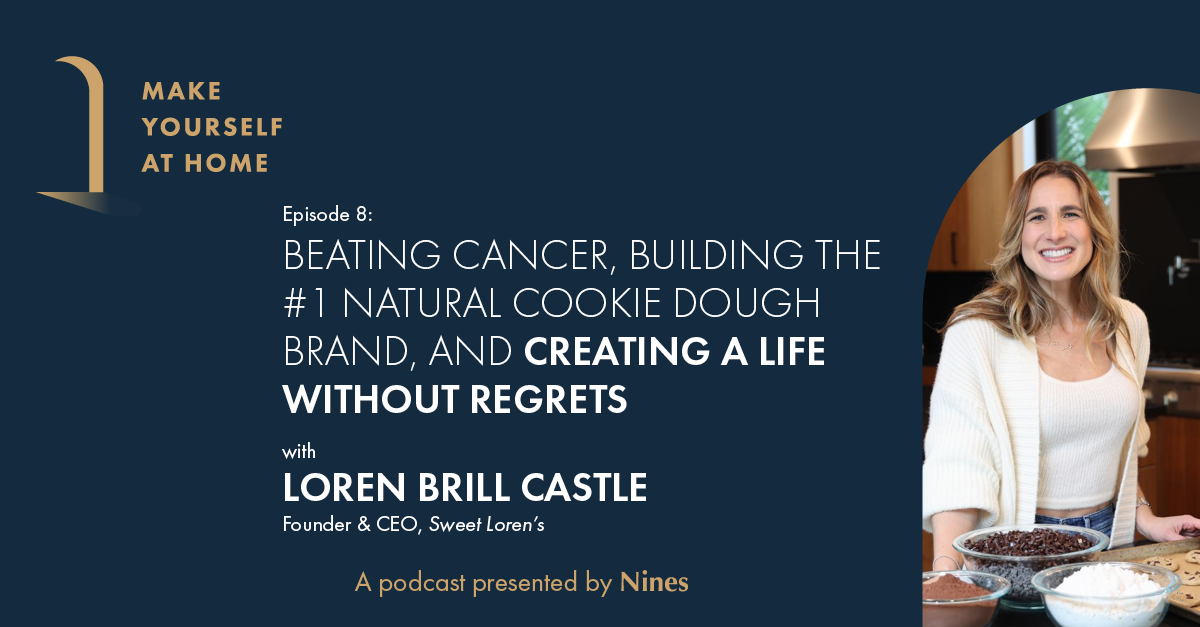 Loren Brill Castle never planned to disrupt the cookie dough aisle.
At 22 years old, just after she graduated from the University of Southern California, Loren was diagnosed with cancer, and had to spend the next year going through treatment. She channeled all her energy into building a healthy lifestyle, and along the way, developed a cookie dough recipe with clean ingredients that even her picky eating little sister couldn't get enough of. A year after her diagnosis, she was cancer free, and set out to live a life without regrets.
Today, her brand Sweet Loren's is the #1 natural cookie dough company in the United States, offering non-GMO, plant-based, gluten-free, dairy-free, peanut/tree free cookie dough to help customers satisfy their sweet tooth without compromising their health and wellness.
In episode 8 of Make Yourself at Home, Loren shares how she went from beating cancer to launching a startup, how Sweet Loren's went from an idea in her mom's New York City kitchen to a household name, and how her life has changed along the way.
For this conversation, we're in Loren's home in Los Angeles, CA, talking about choosing which road to take when bad things happen and how to find work-life balance when your company's mission is incredibly personal to you. She shares the story of finding a partner who understands the life of an entrepreneur, how she's adjusting to California after a lifetime in NYC, and what she's learned so far from becoming a mom. Make Yourself at Home with Loren Brill Castle.
Listen now and subscribe on Apple Podcasts, Google Podcasts, Spotify and wherever you listen to your favorite shows.


Follow along with Loren @lorenbrill and @sweetlorens.
Season 1 guests on Make Yourself at Home include Bess Freedman (Brown Harris Stevens), Frédéric Fekkai (FEKKAI), Kara Goldin (Hint), Greg Davidson (Lalo), Danielle Canty (Bossbabe), Kate Torgersen (Milk Stork), Adrian Grenier (Earth Speed Media), and more. Subscribe now to follow along, and if you enjoy our conversations, leave us a review to tell us why!
Make Yourself at Home is presented by Nines, the household management app designed to help you manage your home and everything that comes with it, so you can live with ease.