Nines
Nines named a finalist for Best Property & Household and Best Product Innovation in the Tenth Annual Family Wealth Report Awards
Every day, we're working with families, advisors and private service professionals to move the industry forward. Now, we're honored to be among the finalists in the Family Wealth Report Awards for 2023!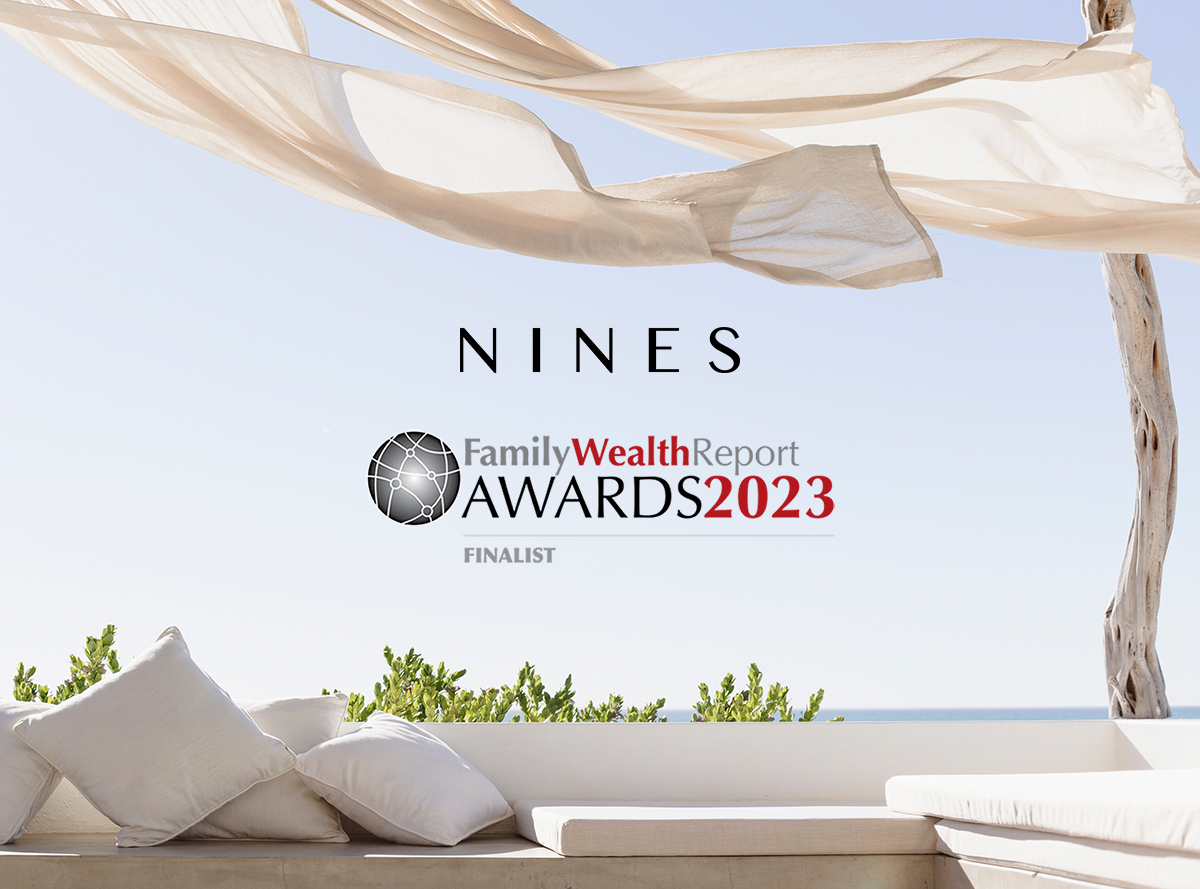 The wealth management industry is filled with incredible family offices, wealth advisors and other wealth management providers to help high net worth individuals and families manage their wealth.
But when you look closely at HNW and UHNW households, you'll see a common problem: there aren't enough services to help with life at home.
At Nines, we're on a mission to simplify and elevate household life, developing modern technology and services to manage properties and everything that comes with them, so families can make the most of their time at home.
Every day, we're working to create tools tailored to the unique needs of high net worth families, as well as the advisors and private service professionals who support them, because we want to build the best technology in the industry.
And that's why we're honored to be recognized as a finalist in the Tenth Annual Family Wealth Report Awards program in two separate categories: Best Property & Household and Best Product Innovation (B2B).
"To be recognized for both our cutting-edge technology and our commitment to elevating life at home is incredibly exciting," says Nines Co-Founder and CEO Jacco de Bruijn. "And as newcomers to the industry, we're proud to be in such good company with longtime leaders in the wealth management sector."
The Ninth Annual Family Wealth Report Awards 2022 winners included leaders like Citi Private Bank, JDJ Family Office Services, Concentric, PURE Insurance, BNY Mellon Wealth Management, BNY Mellon Wealth Management, and more from across North America, in categories ranging from estate planning and risk management to multi-family office and wealth management thought leadership, and in 2023, the judging process was even more competitive.
"This year we had a record number of registrations and submissions for this program: more than 500 submissions in nearly 70 categories," said Publisher of Family Wealth Report and ClearView Financial Media CEO Stephen Harris. "The firms and individuals in the 10th Family Wealth Report program are worthy competitors and the ones that have reached the Finalist stage are truly outstanding. These awards are judged by an expert panel of more than 40 judges and finalists are selected on the basis of entrants' submissions and their response to a number of specific questions, focusing on both qualitative and quantitative performance metrics. These awards recognize the very best operators in the private client industry. The judging process is rigorous and independent and all conflicts of interest are avoided, ensuring that these awards truly reflect excellence in family wealth management."
Harris founded ClearView Financial Media to provide high quality 'need to know' information for the discerning private client community, through these annual awards as well as reports, newsletters, and the WealthBriefing group of newswires.
We're thrilled just to be on the shortlist of nominations among these North American wealth management leaders, and we're excited to see the winners announced on May 4, 2023, at the Gala Ceremony at the Mandarin Oriental Hotel in Manhattan, New York.
Thank you to the Family Wealth Report (FWR) and to the Family Wealth Report Awards judges for this recognition, and thank you to everyone who's helped us along the way.
Thank you to our Nines clients — your feedback and ideas allow us to build best-in-class technology that feels familiar and intuitive.
Thank you to our Easemakers community — you inspire us every day with your passion for private service, and we are proud to celebrate your incredible work.
And thank you to the family offices and industry-leading service providers who have shared their guidance and expertise with us — your support and partnership has been invaluable.
Together, we can move the industry forward, and we're grateful for the opportunity to do that with all of you!
Curious about how Nines is streamlining household management? Start a conversation with our team today! Plus, check out some of our favorite resources below: