Make Yourself at Home Podcast
[Make Yourself at Home E9] Nyakio Grieco, Co-Founder, Thirteen Lune
You know Nyakio Grieco as the award-winning beauty founder who created nyakio Beauty, Thirteen Lune, and Relevant: Your Skin Seen. But who is Nyakio Grieco at home?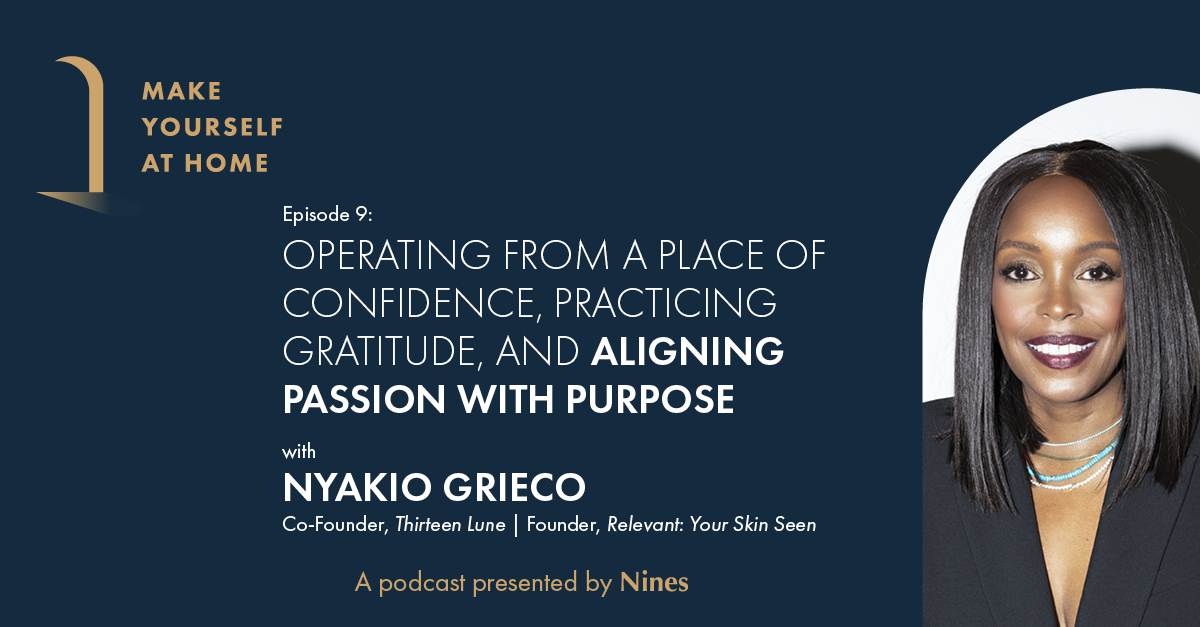 Nyakio Grieco's path to becoming a beauty entrepreneur started close to home. Her grandmother was a coffee farmer and her grandfather was a medicine man. When Nyakio Grieco was 11 years old, she visited her grandmother in Kenya, and learned how to use coffee beans to treat skin — beauty secrets that would one day launch her career.
After college, Nyakio moved from Oklahoma to Los Angeles. She worked for one of Hollywood's biggest talent agencies, then moved into management, supporting the careers of actors and actresses. But after struggling to get a promotion, she decided it was time for a change.
She launched her first brand, nyakio Beauty, more than 20 years ago, working relentlessly to bring her grandparents' Kenyan beauty secrets to the U.S.
Then, in 2020, Nyakio built on her own experience and created new opportunity for founders like her, when — with co-founder Patrick Herning — she launched Thirteen Lune, the e-commerce platform dedicated to the discovery of beauty brands created by Black and Brown founders that resonate with people of all colors. The platform, which just went national with a partnership with JC Penney, follows a 90/10 rule. 90% of the brands they carry are founded by people of color who make products for people of all colors, and 10% are dedicated to fostering allyship.
Nyakio says that in giving herself the promotion she always wanted, she's opening up a world of possibilities both for herself and for others to create generational wealth, to desegregate the beauty aisle, and to debunk the myth that BIPOC founders only make products for certain skin tones.
In 2022, Nyakio launched a new inclusive beauty brand, Relevant: Your Skin Seen. The company offers vegan, cruelty-free clean beauty and skincare products for all skin types, and donates a portion of proceeds from purchases of their One & Done Everyday Cream with SPF 40 to Girls Inc. of Los Angeles, where Nyakio is a board member.

Nyakio is a force in the beauty industry, but she says she struggled with imposter syndrome, and embraced the title "entrepreneur" later on in her career. She's a former chronic people pleaser who's learned how to say no and prioritize what matters most. And she's a mom of 2, who says home is her happy place.
In episode 9 of Make Yourself at Home, Nyakio shares how she's aligning passion and purpose to make an impact, and why now, more than ever, she feels at peace.
For this conversation, we're in Nyakio's home in Los Angeles, talking about learning to operate from a place of confidence, why she's dedicated to lifting up other women (and how she's supported by her own powerhouse group of girlfriends), and how rest, family time and gratitude fuel her success. Make Yourself at Home with Nyakio Grieco.
Listen now and subscribe on Apple Podcasts, Google Podcasts, Spotify and wherever you listen to your favorite shows.


Follow along with Nyakio on Instagram @nyakio, @thirteenlune, and @relevant.skin.
Season 1 guests on Make Yourself at Home include Bess Freedman (Brown Harris Stevens), Frédéric Fekkai (FEKKAI), Kara Goldin (Hint), Greg Davidson (Lalo), Danielle Canty (Bossbabe), Kate Torgersen (Milk Stork), Adrian Grenier (Earth Speed Media), Loren Brill (Sweet Loren's) and more. Subscribe now to follow along, and if you enjoy our conversations, leave us a review to tell us why!
Make Yourself at Home is presented by Nines, the household management app designed to help you manage your home and everything that comes with it, so you can live with ease.