Make Yourself at Home Podcast
[Make Yourself at Home E24] Katie Hoff, Olympic Swimmer, Author & Founder
You know Olympian Katie Hoff as a World Champion swimmer and Olympic medalist — but who is Katie Hoff at home?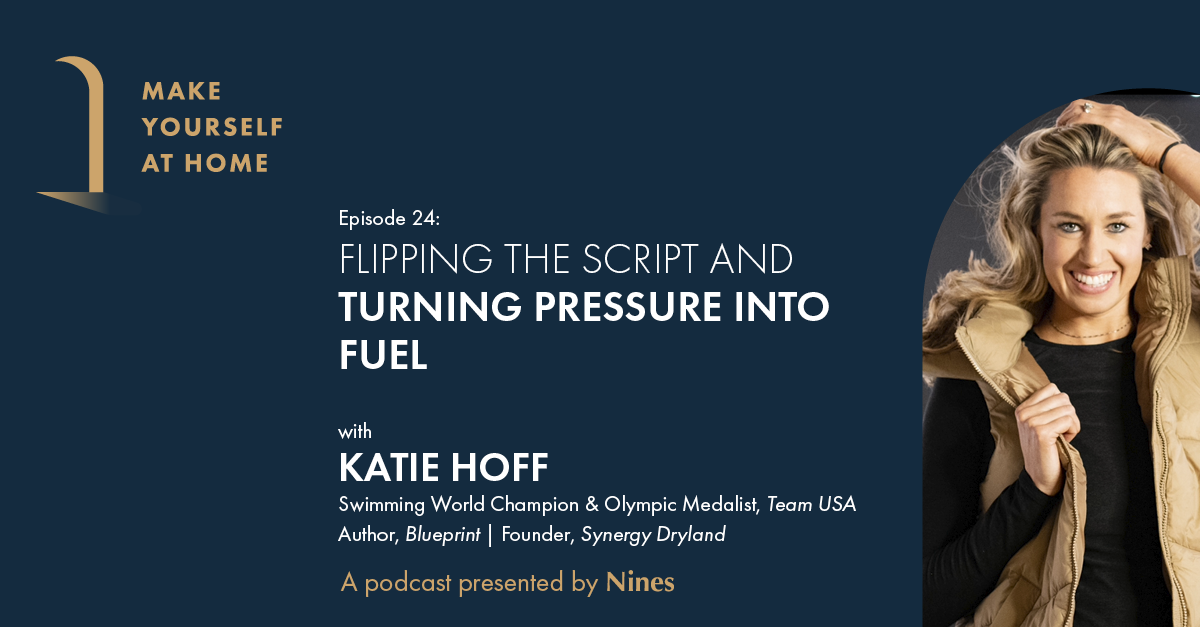 Katie Hoff went to her first Olympic Games at the age of 15. She's won 8 World Championships and 3 Olympic medals — a silver (400m freestyle) and two bronze (400m individual medley, 4x200m freestyle relay) in Beijing. She spent years swimming for Team USA, breaking world records, and being heralded as the female Michael Phelps. After decades competing on the world stage, she knows a lot about extraordinary pressure.
Now, as a mentor, keynote speaker and bestselling author, she helps other people turn that pressure into fuel — whether they're striving for gold medals and national championships or working towards a promotion at work.
After a blood clot ended Katie's swimming career, the former world record holder and Olympian had to shift her mindset to find new wins. Along the way, she found her passion for helping other people achieve their goals and translating the process that helped her find unshakeable confidence in swimming to other arenas.
In a new episode of Make Yourself at Home, Katie shares her passion for process, why she's learned to recognize the difference between good nerves and "dark side nerves," how she and her husband and fellow athlete Todd Anderson have found home in Nashville, and why they chose this place to grow both their personal lives and the training business they co-founded, Synergy Dryland. Make Yourself at Home with Katie Hoff.
Listen now and subscribe on Apple Podcasts, Google Podcasts, Spotify and wherever you listen to your favorite shows.



Follow along with Katie on Instagram @kthoff7 and check out her book, Blueprint: An Olympian's Story of Striving, Adapting, and Embracing the Suck.
Subscribe now to Make Yourself at Home to hear from all our season 1 guests, including Danielle Canty (Bossbabe), Adrian Grenier (Earth Speed Media), Nyakio Grieco (Thirteen Lune), Noora Raj Brown (goop), Ruth Zukerman (SoulCycle, Flywheel Sports), Katelin Holloway (Seven Seven Six), Sasha Cohen (Olympic Medalist), Ally Love (Peloton), Nicole Ryan (SiriusXM) and more. And if you enjoy our conversations, leave us a review to tell us why!
Make Yourself at Home is presented by Nines, the household management app designed to help you manage your home and everything that comes with it, so you can live with ease.
Submit your email to subscribe to our newsletter and get insights for living well in your inbox every month!
hbspt.forms.create({ region: "na1", portalId: "8062554", formId: "773d80b8-cda0-4ec6-8524-3abb278f6619" });