Make Yourself at Home Podcast
[Make Yourself at Home E18] Sasha Cohen, Figure Skating Champion & Olympic Medalist
You know Sasha Cohen as a figure skater and an Olympic silver medalist. But who is Sasha Cohen at home?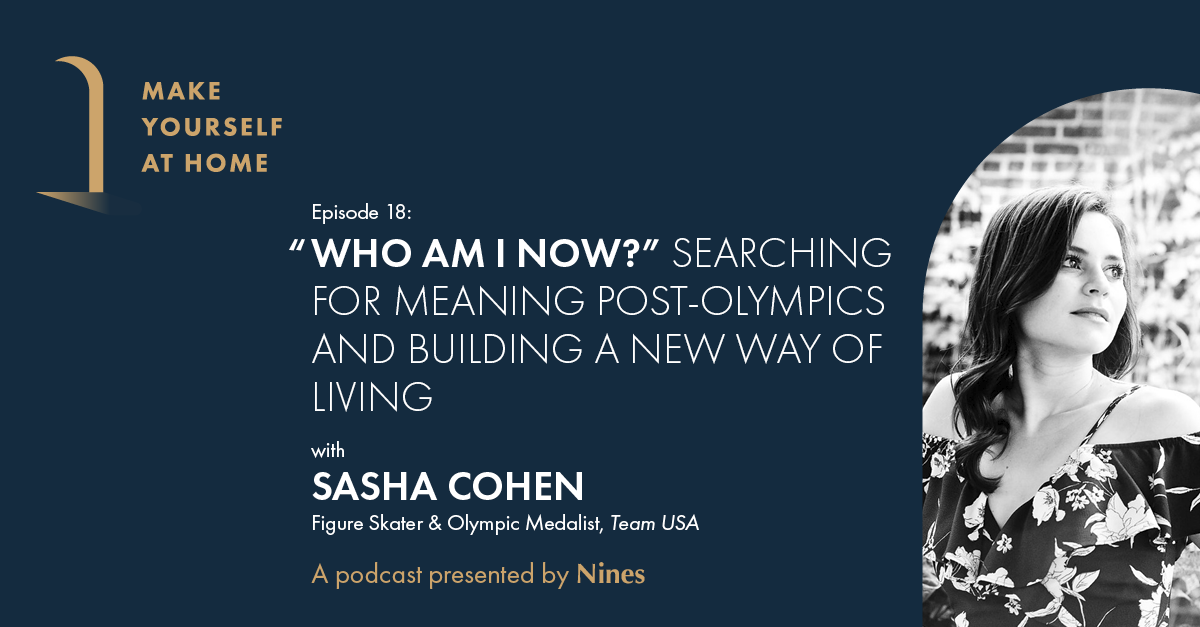 Sasha Cohen is a U.S. figure skating legend — she's a 6-time medalist at the U.S. National Championships, with a gold medal in 2006, and a 3-time medalist at the World Championships, but she spent 20 years laser-focused on one goal: winning gold at the Olympic Games.

She made it to the Olympics twice — the first time as a rising star, the second as the favorite.
At the 2006 Winter Olympics in Torino, Sasha shined in the short program. But after falling in the first two jumps of her long program, she left with a silver medal — a moment she says she's still processing.
After she stopped skating, she enjoyed the opportunities the Olympics brought her (like appearing in television shows and feature films, and going to the Golden Globes and meeting Sacha Baron Cohen — no relation), and started exploring new paths. She left Los Angeles for New York and studied at Columbia University, starting what she calls, "chapter two."

Today, Sasha has a totally different career, a passion for investing and entrepreneurship, and two kids under the age of three. She's built a new way of living, but she says those two decades of skating serve as the foundation for who she is. 
In episode 18 of Make Yourself at Home, Sasha talks about what she's learned in chapter two — reflecting on how her figure skating career shaped her, and how she set out on a new search for meaning post-competition.

During this conversation in her home in Colorado, Sasha shares how she's reshaped her identity, what happiness and success look like to her now, and why, whether you win or lose, you're left asking yourself, "who are you now?" Make Yourself at Home with Sasha Cohen.
Listen now and subscribe on Apple Podcasts, Google Podcasts, Spotify and wherever you listen to your favorite shows.


Follow along with Sasha on Instagram @sashacohennyc and hear more of her story in The Weight of Gold on HBO.
Subscribe now to Make Yourself at Home to hear from all our season 1 guests, including Bess Freedman (Brown Harris Stevens), Frédéric Fekkai (FEKKAI), Kara Goldin (Hint), Greg Davidson (Lalo), Danielle Canty (Bossbabe), Kate Torgersen (Milk Stork), Adrian Grenier (Earth Speed Media), Loren Brill (Sweet Loren's), Nyakio Grieco (Thirteen Lune), Noora Raj Brown (goop), Tara Williams (Dreamland Baby), Dr. Wendy Borlabi (Chicago Bulls), Ruth Zukerman (SoulCycle, Flywheel Sports), Katelin Holloway (Seven Seven Six), Al Doan (Missouri Quilt Co), Rechelle Balanzat (Juliette), and more. And if you enjoy our conversations, leave us a review to tell us why!
Make Yourself at Home is presented by Nines, the household management app designed to help you manage your home and everything that comes with it, so you can live with ease.