Make Yourself at Home Podcast
[Make Yourself at Home E12] Dr. Wendy Borlabi, Director of Performance and Mental Health, Chicago Bulls
Dr. Wendy Borlabi is known for her career in sports psychology, and her role as the Director of Mental Health and Performance for the Chicago Bulls. But who is Dr. B at home?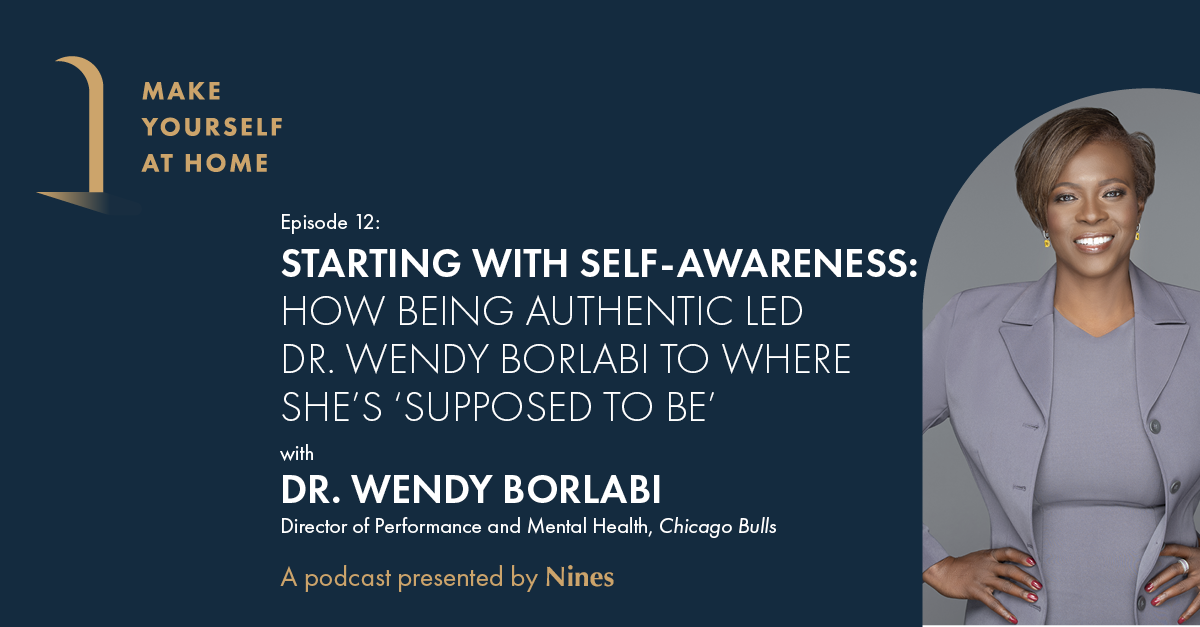 Dr. Wendy Borlabi is a renowned sports psychologist who today serves as the first Director of Performance and Mental Health the Chicago Bulls have ever had. She's an expert in high performance, and helps NBA players and other professional athletes channel mental toughness and unwavering confidence.
She says her professional philosophy started with her own journey with self-awareness — and that her personal experiences in getting to know herself and finding her confidence led her to where she is today.

Growing up, Wendy never imagined she'd become Dr. Borlabi. She wanted to play basketball, and become a mom.
But after graduating from Southwestern Oklahoma State University, she fell into sports psychology serendipitously, and her career took off. She worked as a performance coach in the athletic department at James Madison University, then moved to San Diego for a role as a sports psychologist with the United States Olympic Committee, where she supported athletes through two Winter Olympics and one Summer Olympic Games.
Then, a health scare put things into perspective — and set off a sea of change in her life that would lead her to have twins, move to Chicago, and land a job with the Bulls she says felt meant to be.
Today, she's the mom of 10 year-old twins. In addition to her role with the Bulls, she's the founder of Borlabi Consulting, her own performance psychology firm, and the founding CEO of Wisdom Knot, a nonprofit inspired by Wendy's own experience that helps inner-city youth in Chicago increase self-exploration and understand the possibilities in sports beyond being an athlete. And she recently spoke at the Forbes Power Women's Summit alongside Blake Lively, Brooke Shields, Tamron Hall, and more.
In episode 12 of Make Yourself at Home, Wendy shares her unexpected path to becoming "Dr. B," the story of deciding to have her "wonder twins" as a solo parent, and why she always trusts her gut and follows her "waffle rule" — if she waffles, it's the wrong decision. Make Yourself at Home with Dr. Wendy Borlabi.
Listen now and subscribe on Apple Podcasts, Google Podcasts, Spotify and wherever you listen to your favorite shows.


Follow along with Wendy at wendyborlabi.com, and on social media @drborlabi.
Subscribe now to Make Yourself at Home to hear from all our season 1 guests, including Bess Freedman (Brown Harris Stevens), Frédéric Fekkai (FEKKAI), Kara Goldin (Hint), Greg Davidson (Lalo), Danielle Canty (Bossbabe), Kate Torgersen (Milk Stork), Adrian Grenier (Earth Speed Media), Loren Brill (Sweet Loren's), Nyakio Grieco (Thirteen Lune), Noora Raj Brown (goop), Tara Williams (Dreamland Baby), and more. And if you enjoy our conversations, leave us a review to tell us why!
Make Yourself at Home is presented by Nines, the household management app designed to help you manage your home and everything that comes with it, so you can live with ease.