Make Yourself at Home Podcast
[Make Yourself at Home E10] Noora Raj Brown, EVP, Brand, goop
You know Noora Raj Brown as the Executive Vice President of Brand at goop.com. But who is Noora Raj Brown at home?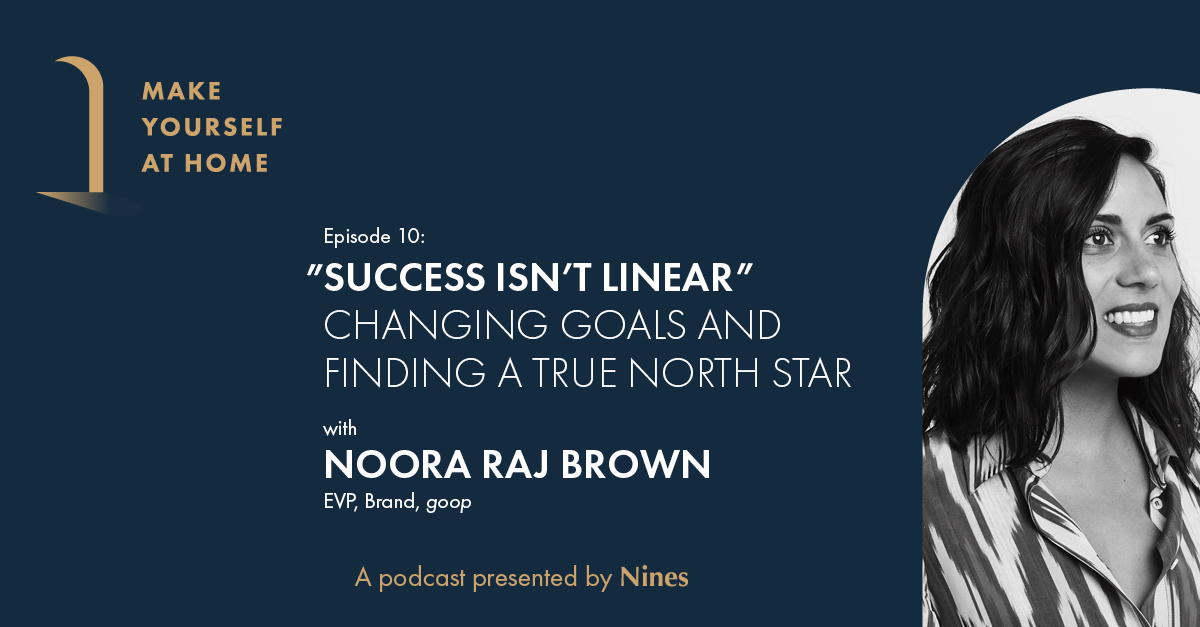 Noora Raj Brown has led communications for goop since 2016, which means for the last 6 years, she's been always-on, ready to take the heat when goop is trending and to navigate the brand as they work to push the conversation forward.
The University of California San Diego grad joined Gwyneth Paltrow's modern lifestyle brand after a career in fashion at Time Inc, Condé Nast and more. Since then, she's worked on campaigns like "the diapér," The Goop Lab With Gwyneth Paltrow on Netflix, and the "Hands Off My Vagina" candle in partnership with the ACLU.
For years, she was the first to raise her hand for a work trip, and she was always focused on her next career move. During her time at goop, she's grown with the startup, working her way up from VP of Communications to SVP of Communications to her current role.
But in 2020, a challenge in Noora's personal life started to change how she thinks about goals in work and in life, when she and her husband were told they couldn't have kids. Then, after a tough round of IVF, a global pandemic, and an unexpected gift from a friend, they welcomed their daughter, Lily, and Noora shifted how she thinks about her North Star.
In episode 10 of Make Yourself at Home, Noora shares how to recognize that you have enough, when there's so much you can want. Plus, in the lightning round, Noora shares the wellness product she can't live without, her favorite room in the house, and the best thing she's learned about living well from Gwyneth Paltrow.
For this conversation, we're in Noora's home in Pacific Palisades, California, talking about finally feeling at home in Los Angeles after years in New York, how she found a sense of belonging after leading a transient lifestyle, and why — in home and in life — "there's no time for sad sushi." Make Yourself at Home with Noora Raj Brown.
Listen now and subscribe on Apple Podcasts, Google Podcasts, Spotify and wherever you listen to your favorite shows.


Follow along with Noora on social media @noorarajbrown and @goop.
Subscribe now to Make Yourself at Home to hear from all our season 1 guests, including Bess Freedman (Brown Harris Stevens), Frédéric Fekkai (FEKKAI), Kara Goldin (Hint), Greg Davidson (Lalo), Danielle Canty (Bossbabe), Kate Torgersen (Milk Stork), Adrian Grenier (Earth Speed Media), Loren Brill (Sweet Loren's), Nyakio Grieco (Thirteen Lune) and more. And if you enjoy our conversations, leave us a review to tell us why!
Make Yourself at Home is presented by Nines, the household management app designed to help you manage your home and everything that comes with it, so you can live with ease.