Make Yourself at Home Podcast
[Make Yourself at Home E11] Tara Williams, Founder & CEO, Dreamland Baby
You know Tara Williams as the Founder & CEO of Dreamland Baby — the Shark Tank success story that disrupted the swaddle industry with a weighted sleep sack for babies. But who is Tara Williams at home?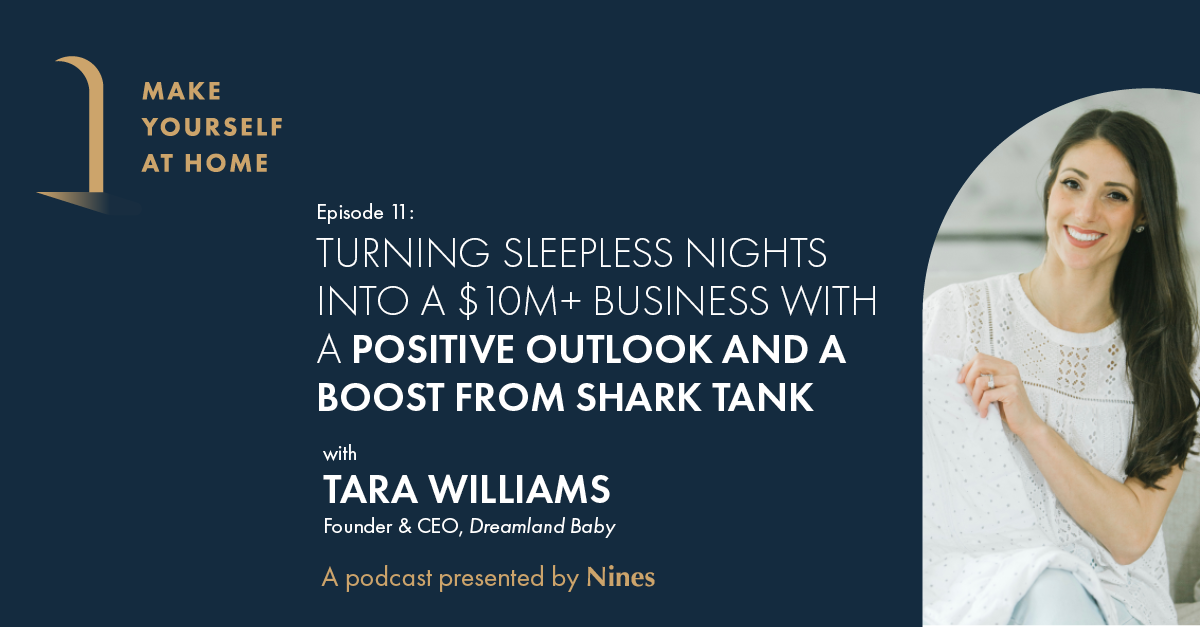 Tara Williams had always dreamed of becoming an entrepreneur, but her million dollar idea came out of challenge in her personal life, at the worst possible time to start a business.
The day before she gave birth to their fourth child, Tara's husband was laid off from the company he'd worked with for 14 years. Two months into her maternity leave, the startup Tara worked for shut its doors. Suddenly, the family went from two strong incomes to none, with four kids under the age of 5. And to add insult to injury, Tara's new baby Luke couldn't sleep.
Then one night, when Luke was crying on the couch, she laid a heavy throw blanket on top of him, and he fell fast asleep. She realized he needed a wearable weighted blanket, and started scouring Amazon and Google in hopes of finding a solution to give her family a better night's sleep — but she found nothing.
She called her mother-in-law (a seamstress) and asked her to make a prototype for an evenly weighted wearable sleep sack. The first night he wore it, he slept through the night.
Right away, Tara channeled her stress and sleepless nights into turning the idea she had to help her own baby sleep into Dreamland Baby, a startup aimed at helping new parents find better sleep solutions for their children.
She set her sights on Shark Tank, and worked relentlessly to get on the show. She landed the opportunity to pitch the sharks, and got an offer from Lori Greiner. As soon as the episode aired, sales started to climb on Shopify, and Tara got a call from Nordstrom.
Since then, Tara's life has changed completely.
In episode 11 of Make Yourself at Home, Tara shares why she pursued her vision at the worst possible time, how it takes a village to achieve her goals, and how being hard-wired to focus on the positive helped her turn hard times into her "dream life."
For this conversation, we're in Tara's home in Danville, California, talking about the reality of "having it all," knowing what you want, and why she believes success is a life of gratitude. Make Yourself at Home with Tara Williams.
Listen now and subscribe on Apple Podcasts, Google Podcasts, Spotify and wherever you listen to your favorite shows.


Follow along with Tara on social media @tarawilliams2110 and @dreamlandbabyco.
Subscribe now to Make Yourself at Home to hear from all our season 1 guests, including Bess Freedman (Brown Harris Stevens), Frédéric Fekkai (FEKKAI), Kara Goldin (Hint), Greg Davidson (Lalo), Danielle Canty (Bossbabe), Kate Torgersen (Milk Stork), Adrian Grenier (Earth Speed Media), Loren Brill (Sweet Loren's), Nyakio Grieco (Thirteen Lune), Noora Raj Brown (goop) and more. And if you enjoy our conversations, leave us a review to tell us why!
Make Yourself at Home is presented by Nines, the household management app designed to help you manage your home and everything that comes with it, so you can live with ease.