Make Yourself at Home Podcast
[Make Yourself at Home E15] Al Doan, Investor & Co-Founder, Missouri Star Quilt Company
Al Doan is known as a quilting mogul after working with his family to build the largest quilting company in the world. But who is Al Doan at home?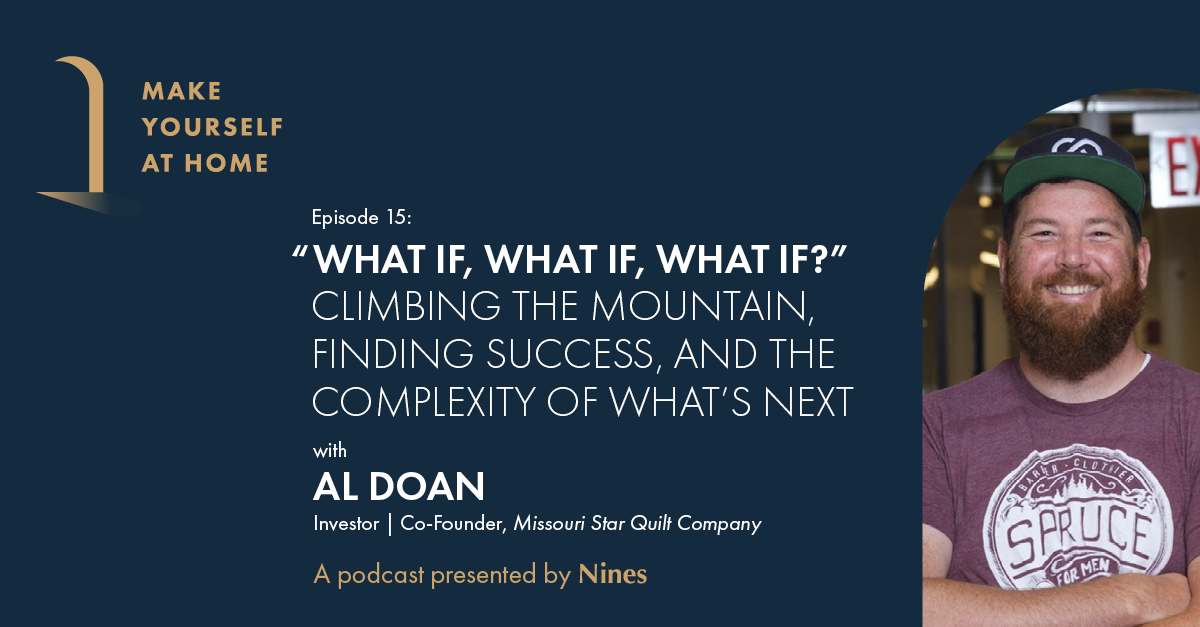 Al Doan and his sister had always talked about starting a business together, and for years they wondered, "what if, what if, what if?" When he lost his job in 2008, they decided to give it a try — and ended up becoming quilt moguls.
They started with a quilt machine and a building in their hometown of Hamilton, MO, but when their small community outside of Kansas City couldn't keep them afloat, they started turning their quilt shop into an e-commerce business. Al filmed his mom sharing insider's tips and posted the videos on YouTube, and they began to build a national subscriber base.

Just a few years later, the Missouri Star Quilt Company is a $100 million business — the largest quilting company in the world. Hamilton is known as "Quilt Town USA." And Al's mom Jenny Doan is referred to as the most famous quilter in the world, with hundreds of millions of hits on her YouTube tutorials.

They've achieved the level of success Al had always imagined, and then some. Since 2008, his world has changed completely — and after growing up in a home where money was tight, he says he thinks a lot about how to come into abundance gracefully and responsibly.

For this conversation, we're in Al's home on a farm in Hamilton, talking about what it's like to build a startup with your siblings, how realizing his dream feels different than he thought it would, and why he's focusing on being more and not just doing more. Make Yourself at Home with Al Doan.
Listen now and subscribe on Apple Podcasts, Google Podcasts, Spotify and wherever you listen to your favorite shows.


Follow along with Al on Twitter and Instagram @drbillnye.
Subscribe now to Make Yourself at Home to hear from all our season 1 guests, including Bess Freedman (Brown Harris Stevens), Frédéric Fekkai (FEKKAI), Kara Goldin (Hint), Greg Davidson (Lalo), Danielle Canty (Bossbabe), Kate Torgersen (Milk Stork), Adrian Grenier (Earth Speed Media), Loren Brill (Sweet Loren's), Nyakio Grieco (Thirteen Lune), Noora Raj Brown (goop), Tara Williams (Dreamland Baby), Dr. Wendy Borlabi (Chicago Bulls), Ruth Zukerman (SoulCycle, Flywheel Sports), Katelin Holloway (Seven Seven Six), and more. And if you enjoy our conversations, leave us a review to tell us why!
Make Yourself at Home is presented by Nines, the household management app designed to help you manage your home and everything that comes with it, so you can live with ease.
Submit your email to subscribe to our newsletter and get insights for living well in your inbox every month!
hbspt.forms.create({ region: "na1", portalId: "8062554", formId: "773d80b8-cda0-4ec6-8524-3abb278f6619" });