Make Yourself at Home Podcast
[Make Yourself at Home E14] Katelin Holloway, Investor & Founding Partner, Seven Seven Six
You know Katelin Holloway as a leader in People & Culture, an investor, and a Founding Partner at Seven Seven Six. But who is Katelin Holloway at home?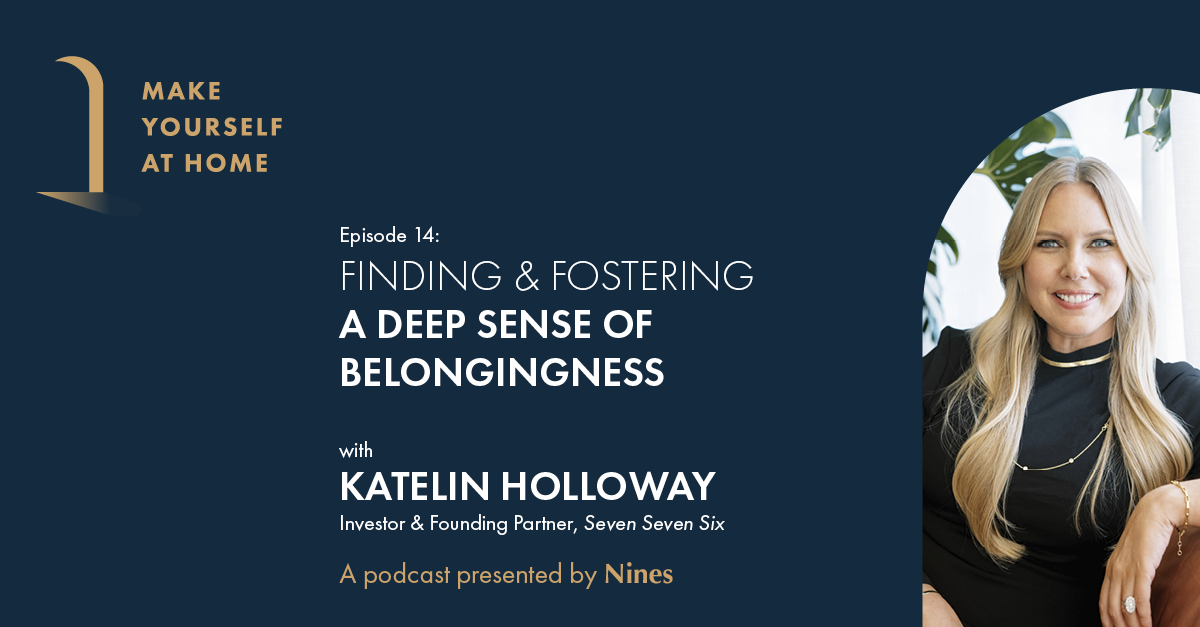 Katelin Holloway has built a career around investing in people. She started building people-first cultures for companies like Pixar Animation Studios and Klout. Then, as VP of People & Culture at Reddit, led a cultural turnaround that transformed employee engagement and landed the company in the Top 20 Companies to Work For In Tech.
Today, she's bringing her culture-building expertise to early stage startups and fostering entrepreneurs as people. During her time at Initialized Capital in 2020, she helped founders navigate the challenges of the pandemic and went full-time as a venture capitalist.
As an investor, she's passionate about supporting the companies that will shape the future of work, life, and sustainability, like Poppy Seed Health, Tend Lab, Dispatch Goods, and Doodles. And as Founding Partner at Alexis Ohanian's venture capital firm Seven Seven Six, she's using what she learned as a culture executive to reshape how startups operate, leading initiatives like Seven Seven Six's 2% Growth & Caregiving Commitment and Operator in Residence Program.
At work, she's rewriting how companies think about belonging, building inclusive cultures, and the future of work — and at home, she's just like the people on the other end of the changes she's making. She's a planner who struggles to stay present, a mom whose path to parenthood wasn't easy, and someone who thinks critically about what she wants her legacy to be. 
For episode 14 of Make Yourself at Home, we're in Katelin's home in San Francisco, talking about how she found belonging with other moms on Reddit, how her own personal challenges have shaped her mindset around supporting founders, and why she wakes up every day feeling grateful and completely surprised at where she's landed. Make Yourself at Home with Katelin Holloway.
Listen now and subscribe on Apple Podcasts, Google Podcasts, Spotify and wherever you listen to your favorite shows.


Follow along with Katelin on social media — find her on LinkedIn and @katelin_cruse on Twitter — and tune into her podcast, All Hands, by Lattice.
Subscribe now to Make Yourself at Home to hear from all our season 1 guests, including Bess Freedman (Brown Harris Stevens), Frédéric Fekkai (FEKKAI), Kara Goldin (Hint), Greg Davidson (Lalo), Danielle Canty (Bossbabe), Kate Torgersen (Milk Stork), Adrian Grenier (Earth Speed Media), Loren Brill (Sweet Loren's), Nyakio Grieco (Thirteen Lune), Noora Raj Brown (goop), Tara Williams (Dreamland Baby), Dr. Wendy Borlabi (Chicago Bulls), Ruth Zukerman (SoulCycle, Flywheel Sports), and more. And if you enjoy our conversations, leave us a review to tell us why!
Make Yourself at Home is presented by Nines, the household management app designed to help you manage your home and everything that comes with it, so you can live with ease.