Make Yourself at Home Podcast
[Make Yourself at Home E16] Rechelle Balanzat, Founder & CEO, Juliette
You know Rechelle Balanzat as the CEO and Founder of Juliette — the brand that's disrupting laundry and dry-cleaning. But who is Rechelle Balanzat at home?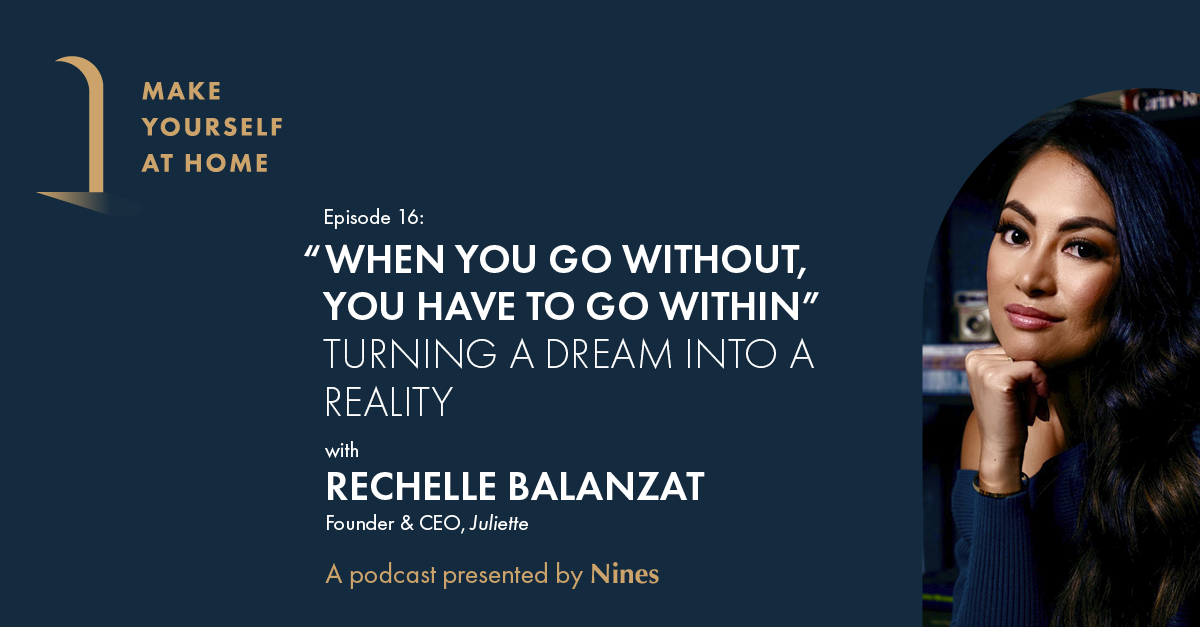 With her company Juliette Technologies, Rechelle Balanzat is on a mission to bring the laundry and dry-cleaning industry into the 21st century. The startup offers busy New Yorkers laundry pick-up, cleaning and delivery in 24 hours at the tap of a button — think laundry and dry-cleaning services that are just as easy as Seamless.
Rechelle has been working for over 9 years to launch and grow the Juliette app and to make the company a category leader. Today, it's thriving. Juliette was named one of the Future 5 of New York City Tech by Built in NYC, and Rechelle is a Tory Burch Fellow.

She says she's living her dream — but getting here hasn't been easy. In 2016, Rechelle struggled to support the business and herself. Then, just after Juliette took off, they lost 90% of their revenue at the onset of the pandemic. Through it all, Rechelle refused to give up, and she says starting with nothing helped her find strength from within — a strength that's helped her overcome every personal and professional challenge along the way.

For this conversation, we're in Rechelle Balanzat's home in New York City, talking about how moving to the U.S. from the Philippines affected her mindset around success, how her Manhattan apartment has given her a safe space to weather every storm, and why she's always been set on doing everything it takes to make her dream of disrupting the laundry industry a reality.  Make Yourself at Home with Rechelle Balanzat.
Listen now and subscribe on Apple Podcasts, Google Podcasts, Spotify and wherever you listen to your favorite shows.


Follow along with Rechelle on social media at @irechelle, @juliettelaundry and @chineselaundryinc on Instagram, and check out her book, Juliette: The Story of Building Something from Nothing.
Subscribe now to Make Yourself at Home to hear from all our season 1 guests, including Bess Freedman (Brown Harris Stevens), Frédéric Fekkai (FEKKAI), Kara Goldin (Hint), Greg Davidson (Lalo), Danielle Canty (Bossbabe), Kate Torgersen (Milk Stork), Adrian Grenier (Earth Speed Media), Loren Brill (Sweet Loren's), Nyakio Grieco (Thirteen Lune), Noora Raj Brown (goop), Tara Williams (Dreamland Baby), Dr. Wendy Borlabi (Chicago Bulls), Ruth Zukerman (SoulCycle, Flywheel Sports), Katelin Holloway (Seven Seven Six), Al Doan (Missouri Quilt Co) and more. And if you enjoy our conversations, leave us a review to tell us why!
Make Yourself at Home is presented by Nines, the household management app designed to help you manage your home and everything that comes with it, so you can live with ease.