Make Yourself at Home Podcast
[Make Yourself at Home E19] Ally Love, Peloton Instructor and Love Squad CEO
You know Ally Love as a Peloton Instructor, the in-arena host of the Brooklyn Nets, an Adidas Global Ambassador, and the Founder and CEO of Love Squad. But who is Ally Love at home?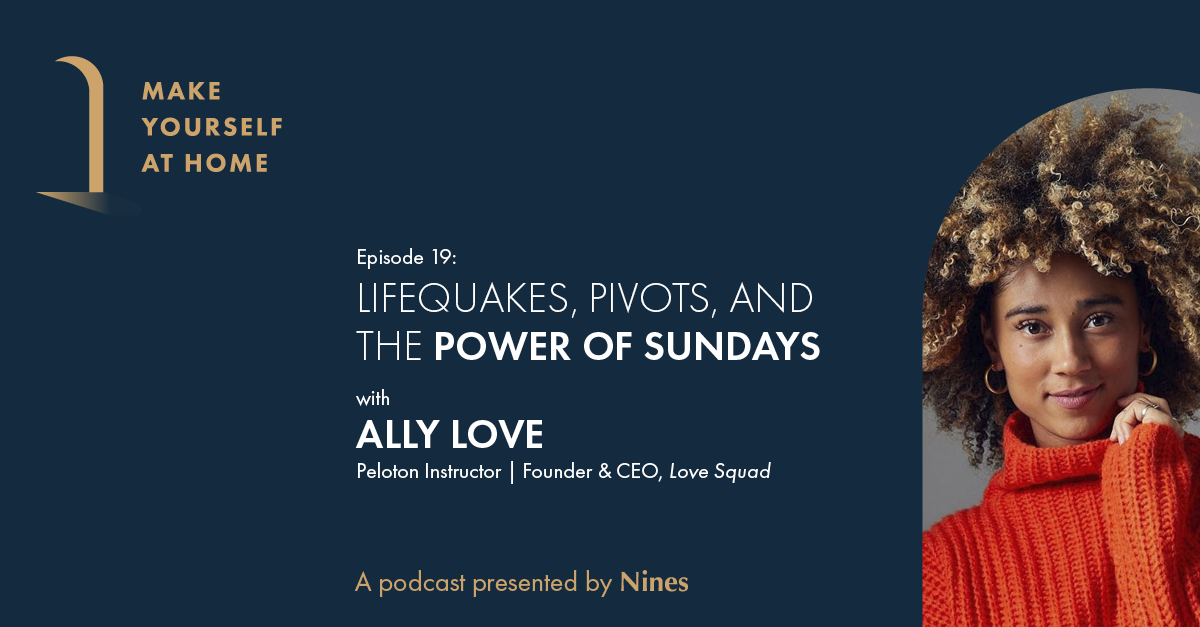 Peloton Instructor Ally Love is on a mission to spread light and lift up the people around her — not just as a fitness instructor, but in every aspect of her life.

Ally grew up in Miami, and when she was 9 years old, she was hit by a car. She remembers a conversation with her mom where she chose to fight — setting her on the path to walking again and to where she is today.
With a broken femur, she set her sights on becoming a dancer. She pursued dance as soon as she could, and continued through getting her fine arts degree at Fordham University. She went on to perform with contemporary ballet companies and landed a job as a dancer with the New York Knicks — her first role with the NBA.
Since then, her performing career has evolved to include in-arena hosting for the Brooklyn Nets, and of course, her Peloton classes, where she's known for "Feel Good" rides and "Sundays with Love." Ally is all about empowerment, whether she's leading a workout, hosting conversations as the Founder of Love Squad, or sharing what she's learned from her own personal life in her Basics of Bossing Up series.
She says she wants to make other people feel good, because she knows how hard life can be. She's fought back from a life-threatening injury, and even though she always wears a smile, she, too, has her share of struggles with staying positive.
In a new episode of Make Yourself at Home, Ally shares where her sense of clarity comes from, why she's so committed to lifting up the people around her, and what success looks like to her today.

For this conversation, we're in Ally's home in New York City, talking about making tough decisions, how her husband Andrew Haynes helps her maintain a healthy relationship with social media, and why Sundays are her favorite day. Make Yourself at Home with Ally Love.
Listen now and subscribe on Apple Podcasts, Google Podcasts, Spotify and wherever you listen to your favorite shows.


Follow along with Ally on Instagram at @allymisslove and @lovesquad.
Subscribe now to Make Yourself at Home to hear from all our season 1 guests, including Bess Freedman (Brown Harris Stevens), Frédéric Fekkai (FEKKAI), Kara Goldin (Hint), Greg Davidson (Lalo), Danielle Canty (Bossbabe), Kate Torgersen (Milk Stork), Adrian Grenier (Earth Speed Media), Loren Brill (Sweet Loren's), Nyakio Grieco (Thirteen Lune), Noora Raj Brown (goop), Tara Williams (Dreamland Baby), Dr. Wendy Borlabi (Chicago Bulls), Ruth Zukerman (SoulCycle, Flywheel Sports), Katelin Holloway (Seven Seven Six), Al Doan (Missouri Quilt Co), Rechelle Balanzat (Juliette), Sasha Cohen (Olympic Medalist) and more. And if you enjoy our conversations, leave us a review to tell us why!
Make Yourself at Home is presented by Nines, the household management app designed to help you manage your home and everything that comes with it, so you can live with ease.