Make Yourself at Home Podcast
[Make Yourself at Home E20] Nicole Ryan, Host, SiriusXM Hits 1 The Morning Mash Up
You know Nicole Ryan from The Morning Mash Up on SiriusXM Hits 1 and her podcast, Have Kids, They Said. But who is Nicole Ryan at home?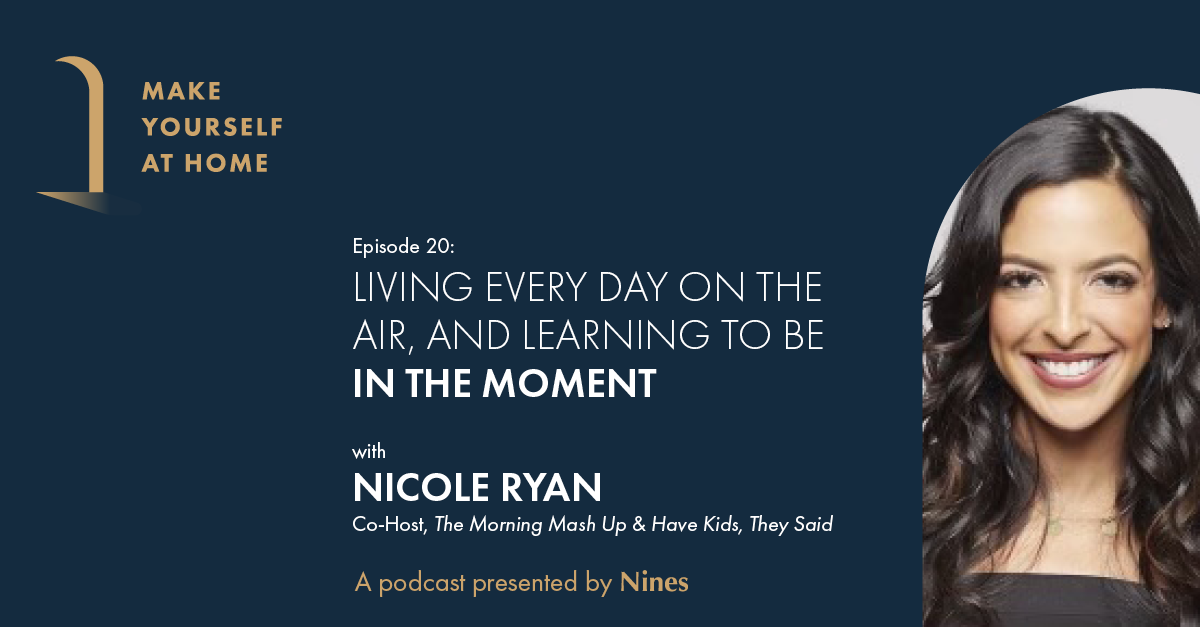 Nicole Ryan took a job as a receptionist at Sirius Satellite Radio 17 years ago — before the merger with XM Satellite Radio and before Howard Stern brought his show (and along with it, millions of listeners) to Sirius.
And at the time, she had no idea that job would change her life, both professionally and personally. After growing up in Syracuse and graduating from Ithaca College, she wanted to work on the marketing side of the entertainment industry — and never pictured herself in front of a microphone.
Today, she's one of the hosts of The Morning Mash Up on SiriusXM Hits 1, alongside Ryan Sampson and Stanley T Evans. Over the years, she's hosted red carpets and appeared on Good Morning America, Chelsea Lately, and The Wendy Williams Show. In 2018, she launched her own digital series, sharing a transparent look at managing life as "On-Air Mom" in the nonstop action of New York City. And in 2020, she launched her own podcast, Have Kids, They Said, where she and co-host Rich Davis get personal and laugh about the realities of parenting.
Between her signature What's Trending segments and interviews with top artists like Taylor Swift, Katy Perry, Charlie Puth and Marshmello, huge moments in Nicole's own life have played out on the air, like getting engaged to husband Matt Ryan and going into labor with her second child.
Most recently, Nicole was bolstered by the support from her "Mash Up family" after she was hit by a car while riding her scooter in New York City. She spent 15 days in the hospital nursing a shattered pelvis, 8 broken ribs, and a "bruised ego," among a number of other injuries, but is expected to make a full recovery. When she returned to the radio earlier this week, she said messages of encouragement from listeners gave her the strength she needed.
"I really do believe that is what got me out of the hospital so quickly," she said on The Morning Mash Up on Monday.
In a new episode of Make Yourself at Home, which was recorded before the accident, Nicole talks about the ups and downs of bringing millions of listeners into your personal life, the challenges of having to be "on" every day, and what she's learned from Ed Sheeran about how to focus on what's most important.
For this conversation, we're in Nicole's apartment in New York City, talking about raising kids in Manhattan, taking time to put your phone down and be in the moment, and rethinking success after interviewing the world's biggest stars.
Listen now and subscribe on Apple Podcasts, Google Podcasts, Spotify and wherever you listen to your favorite shows.


Follow along with Nicole on social media on Instagram and TikTok @mashupnicole.
Subscribe now to Make Yourself at Home to hear from all our season 1 guests, including Bess Freedman (Brown Harris Stevens), Frédéric Fekkai (FEKKAI), Kara Goldin (Hint), Greg Davidson (Lalo), Danielle Canty (Bossbabe), Kate Torgersen (Milk Stork), Adrian Grenier (Earth Speed Media), Loren Brill (Sweet Loren's), Nyakio Grieco (Thirteen Lune), Noora Raj Brown (goop), Tara Williams (Dreamland Baby), Dr. Wendy Borlabi (Chicago Bulls), Ruth Zukerman (SoulCycle, Flywheel Sports), Katelin Holloway (Seven Seven Six), Al Doan (Missouri Quilt Co), Rechelle Balanzat (Juliette), Sasha Cohen (Olympic Medalist), Ally Love (Peloton) and more. And if you enjoy our conversations, leave us a review to tell us why!
Make Yourself at Home is presented by Nines, the household management app designed to help you manage your home and everything that comes with it, so you can live with ease.