Make Yourself at Home Podcast
[Make Yourself at Home E29] Betsy Fore, Co-Founder, Tiny Organics & Natives Rising
You know Betsy Fore as the creator of WonderWoof, the Co-Founder of Tiny Organics, and now, as the Co-Founder of Natives Rising. But who is Betsy Fore at home?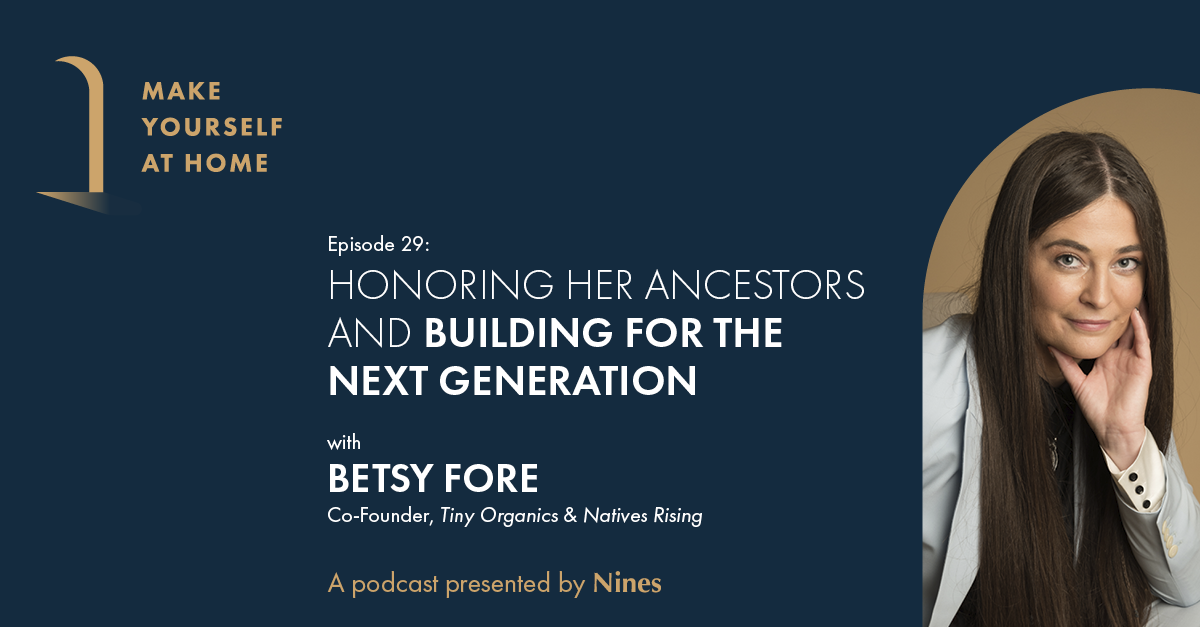 Betsy Fore has always been a builder. Growing up in Illinois, she used to tinker in the garage building motorcycles with her dad, and spent hours building forts outside with her brother and her velveteen rabbit. Her parents told her that she could build anything she wanted in life, and after college, she set out to do just that.
She started inventing toys for Mattel, Hasbro and Spinmaster. Then, she helped Michael Acton Smith (now Founder of Calm) build his London-based startup Mind Candy, launching a line of physical Moshi Monsters toys that became the top selling toy brand in the UK.
During a hackathon, she created a wearable fitness tracker for her dog, Whiskey. This bowtie fitbit for dogs, WonderWoof, soon led her to found her first company, Wondermento, landing Betsy in Forbes 30 Under 30.
Then, when she was pregnant with her first child, she was ready to start building something new, and she looked to her son for inspiration. She co-founded Tiny Organics to give him and the rest of his generation a love of vegetables and a healthier lease on life through veggie-first baby food. As Co-CEO of Tiny, she was named to Former First Lady Michelle Obama's Shaping Early Palates Board, Entrepreneur's 100 Women of Impact, and BBC's 100 Most Inspiring Women, and became a member of and Entrepreneurial Advisor to the Tufts School of Nutrition and Policy Food Innovation Council.
While fundraising for Tiny, she became the first Native American woman to raise a Series A. Now, she's paving the way for other founders with XFactor Ventures, Longjump VC, and Natives Rising, a holistic career accelerator for indigenous founders and indigenous in tech. She co-founded the nonprofit just as she had her second son. She says this legacy work is a full-circle way to honor her ancestors and support entrepreneurs of the future.
In a new episode of Make Yourself at Home, Betsy shares how home is both the inspiration for everything she's built and the reason she became a builder in the first place, why, for her, spirituality and business are intertwined, and how, after setting out to chase her dreams, she built a life she never could have imagined. Make Yourself at Home with Betsy Fore.
Listen now and subscribe on Apple Podcasts, Google Podcasts, Spotify and wherever you listen to your favorite shows.



Follow along with Betsy on LinkedIn and Instagram @betsyfore.
Subscribe now to Make Yourself at Home to check out all of our podcast episodes, with guests including Adrian Grenier (Earth Speed Media), Nyakio Grieco (Thirteen Lune), Noora Raj Brown (goop), Ruth Zukerman (SoulCycle, Flywheel Sports), Katelin Holloway (Seven Seven Six), Sasha Cohen (Olympic Medalist), Ally Love (Peloton), Nicole Ryan (SiriusXM) and more. And if you enjoy our conversations, leave us a review to tell us why!
Make Yourself at Home is presented by Nines, the household management app designed to help you manage your home and everything that comes with it, so you can live with ease.