Make Yourself at Home Podcast
[Make Yourself at Home E26] Steve Schlafman, Professional Transition Coach & Creator, Where the Road Bends
You know Steve Schlafman as the creator of the podcast and newsletter Where the Road Bends. But who is Steve Schlafman at home?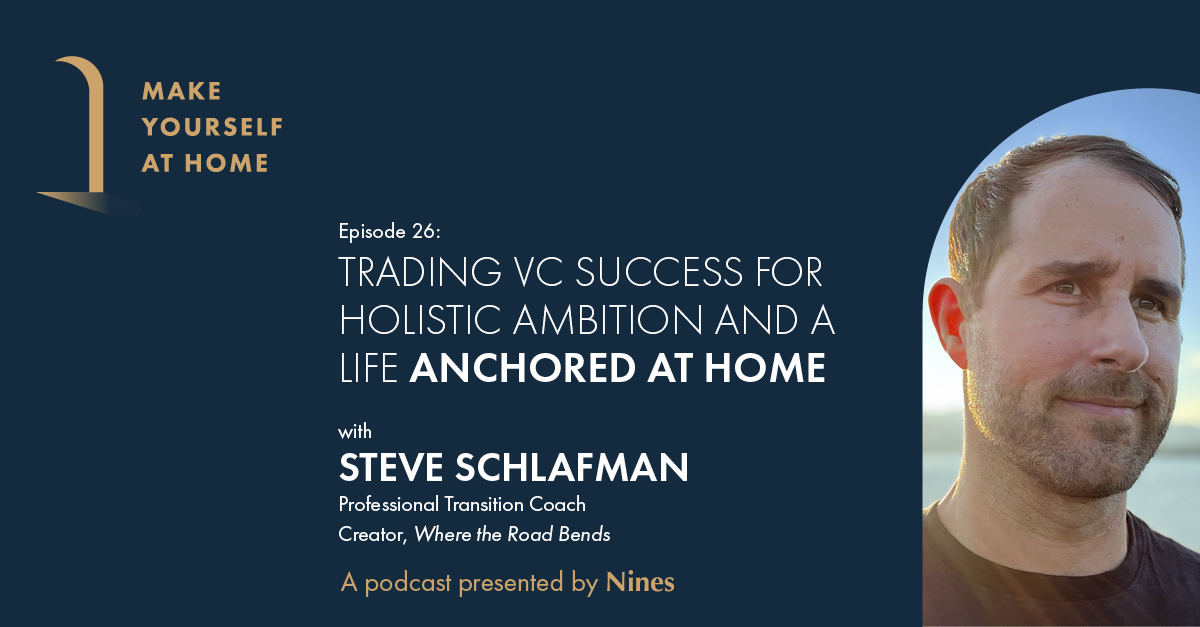 Steve Schlafman — or Schlaf, as he's known to most people — is a professional transition coach, helping entrepreneurs and high performers navigate transitions and find their next calling. 
It's a passion he found through a transition of his own. Over the last decade, he's gotten sober, become a parent, and traded a career as an angel investor to launch an executive coaching business dedicated to helping startup founders and execs.
For years, he envisioned success as an investor. He worked his way up in New York City, then, at the height of his venture capital career, just after he'd made partner at the multi-billion dollar firm RRE Ventures, he walked away.
Since then, he's discovered a world of other "possible selves." Today, he sees himself as a husband, a father, a cook and a lifelong learner, rather than just a worker. In his podcast and newsletter Where the Road Bends, Steve draws on his own learnings, digging into mental health, mindfulness, spirituality and change.
While Steve's transition sounds like a professional shift, he says it's affected every aspect of his life — and that it all started at home.
For this episode of Make Yourself at Home, we're in Steve's home in upstate New York, where he and his family are moving full time after 15 years in NYC, talking about holistic ambition, what he's learned about the value of slowing down and taking a breather, and how his home has played a central role in reshaping his life. Make Yourself at Home with Steve Schlafman.
Listen now and subscribe on Apple Podcasts, Google Podcasts, Spotify and wherever you listen to your favorite shows.



Follow along with Steve at schlaf.co and @schlaf on Twitter. 
Subscribe now to Make Yourself at Home to hear from all our season 1 guests, including Danielle Canty (Bossbabe), Adrian Grenier (Earth Speed Media), Nyakio Grieco (Thirteen Lune), Noora Raj Brown (goop), Ruth Zukerman (SoulCycle, Flywheel Sports), Katelin Holloway (Seven Seven Six), Sasha Cohen (Olympic Medalist), Ally Love (Peloton), Nicole Ryan (SiriusXM) and more. And if you enjoy our conversations, leave us a review to tell us why!
Make Yourself at Home is presented by Nines, the household management app designed to help you manage your home and everything that comes with it, so you can live with ease.