Make Yourself at Home Podcast
[Make Yourself at Home E25] Lindsay Shookus, Television Producer & Co-Founder, Women Work Hard
You know Lindsay Shookus as an Emmy award winning television producer, who spent 20 years booking talent at SNL. But who is Lindsay Shookus at home?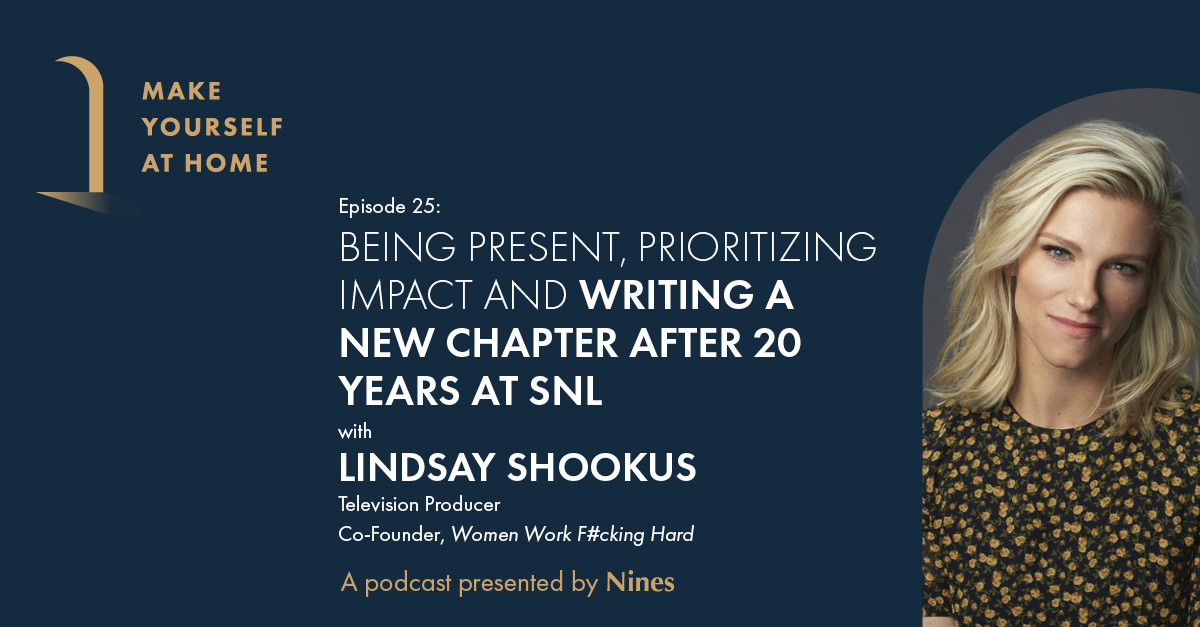 Lindsay Shookus has spent decades helping the world's most talented people feel at home at Saturday Night Live.
She landed her first role as Marci Klein's assistant right after graduating from University of North Carolina Chapel Hill, worked her way up to associate producer and co-producer, and eventually became the head of the show's talent department, booking hosts and musical guests, scouting potential cast members, and spending 6 days out of every week helping guests feel confident about performing in live shows alongside the likes of Kristen Wiig, Kate McKinnon and Pete Davidson.
Her two decades at NBC shaped not only her professional path, but also her life outside of work. She met her ex-husband Kevin Miller at SNL, gave birth to her 10 year old daughter Maddie while working there, and honed her ability to make people feel comfortable and confident — something that translates to every aspect of her life.
Now, after leaving SNL 9 months ago, she's adjusting to a completely different lifestyle (with the perk of making plans on Saturday nights) and writing her own new chapter.
In a new episode of Make Yourself at Home, Lindsay shares what she learned from helping guests like Miley Cyrus navigate a week at SNL, how her view of success has evolved over the last 20 years (and why the idea of being invited to Hollywood premiere parties quickly lost its luster), why she keeps what she calls a "help diary," and how she's channeling her passion for helping others into something new: Women Work F#cking Hard, a community of female entrepreneurs she co-founded with her best friend Kristin O'Keeffe Merrick.

For this conversation, we're in Lindsay's home in New York City, talking about being present and welcoming her daughter home from school, reclaiming her Saturday nights and reframing her sense of identity. Make Yourself at Home with Lindsay Shookus.
Listen now and subscribe on Apple Podcasts, Google Podcasts, Spotify and wherever you listen to your favorite shows.



Follow along with Lindsay on Instagram @shookusshookus and learn more about the Women Work F#cking Hard community at wwfh.community.
Subscribe now to Make Yourself at Home to hear from all our season 1 guests, including Danielle Canty (Bossbabe), Adrian Grenier (Earth Speed Media), Nyakio Grieco (Thirteen Lune), Noora Raj Brown (goop), Ruth Zukerman (SoulCycle, Flywheel Sports), Katelin Holloway (Seven Seven Six), Sasha Cohen (Olympic Medalist), Ally Love (Peloton), Nicole Ryan (SiriusXM) and more. And if you enjoy our conversations, leave us a review to tell us why!
Make Yourself at Home is presented by Nines, the household management app designed to help you manage your home and everything that comes with it, so you can live with ease.
Submit your email to subscribe to our newsletter and get insights for living well in your inbox every month!
hbspt.forms.create({ region: "na1", portalId: "8062554", formId: "773d80b8-cda0-4ec6-8524-3abb278f6619" });