Make Yourself at Home Podcast
[Make Yourself at Home E23] Christopher Gavigan, Founder of Prima, Uplifter Brands & The Honest Company
You know Christopher Gavigan as the Founder of Prima and Uplifter Brands, and a Co-Founder of The Honest Company. But who is Christopher Gavigan at home?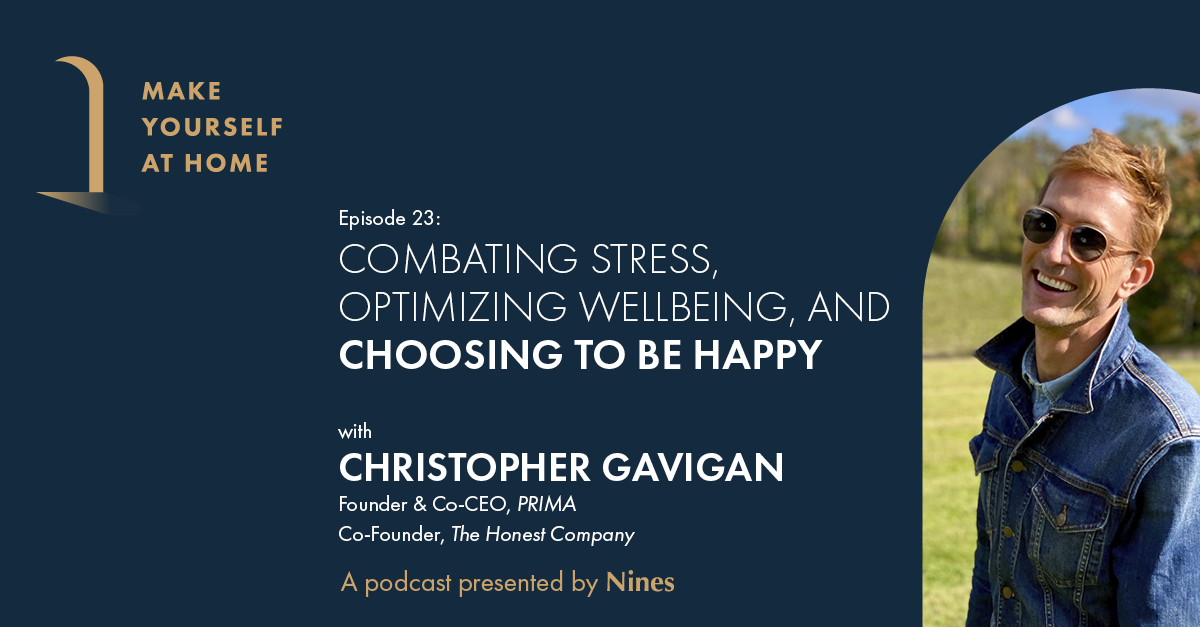 At home and at work, Christopher Gavigan has a passion for optimizing wellbeing.
He says it all started when he made the decision to leave the east coast for the University of California, Santa Barbara. That move set off a chain reaction that led him to a career devoted to helping people live healthier.
First, he served as the CEO of Healthy Child Healthy World (now part of Environmental Working Group, or EWG). During his time at the nonprofit, he wrote Healthy Child Healthy World: Creating a Cleaner, Greener, Safer Home, designed to help parents protect their children's health by creating a healthier home.
Next, he co-founded The Honest Company with Jessica Alba, Brian Lee and Sean Kane. The Santa Monica-based natural baby and beauty brand is known for clean personal care products that promote both human wellness and environmental health.
Now, Christopher is on a mission to combat stress. He recently launched Prima, a therapeutics company offering supplements and skincare that Forbes called "the Patagonia of CBD," and its umbrella network, Uplifter Brands, a CPG wellness platform.

Meanwhile, Christopher is "optimizing for the 1%" in his own life at home, striving to mitigate his own stress and practicing gratitude every day.
Recently, after reflecting on their priorities and asking themselves, what's the life we want to live, his family decided to leave Los Angeles and come back to the east coast — and once again, a big move has changed the way he lives every day.

For this episode of Make Yourself at Home, we're in Christopher Gavigan's home in Bedford, New York, where he lives with his wife, Grey's Anatomy actress Jessica Capshaw, and their 4 children, Luke, Eve, Poppy and Josephine.
In this conversation, he shares why he's passionate about connecting with nature, how his own upbringing informs his parenting, and how, as he turns 49 this week, he's thinking about living well until he's at least 100. Make Yourself at Home with Christopher Gavigan.
Listen now and subscribe on Apple Podcasts, Google Podcasts, Spotify and wherever you listen to your favorite shows.



Follow along with Christopher on LinkedIn and @prima on Instagram.
Subscribe now to Make Yourself at Home to hear from all our season 1 guests, including Bess Freedman (Brown Harris Stevens), Frédéric Fekkai (FEKKAI), Kara Goldin (Hint), Greg Davidson (Lalo), Danielle Canty (Bossbabe), Kate Torgersen (Milk Stork), Adrian Grenier (Earth Speed Media), Loren Brill (Sweet Loren's), Nyakio Grieco (Thirteen Lune), Noora Raj Brown (goop), Tara Williams (Dreamland Baby), Dr. Wendy Borlabi (Chicago Bulls), Ruth Zukerman (SoulCycle, Flywheel Sports), Katelin Holloway (Seven Seven Six), Al Doan (Missouri Quilt Co), Rechelle Balanzat (Juliette), Sasha Cohen (Olympic Medalist), Ally Love (Peloton), Nicole Ryan (SiriusXM) and more. And if you enjoy our conversations, leave us a review to tell us why!
Make Yourself at Home is presented by Nines, the household management app designed to help you manage your home and everything that comes with it, so you can live with ease.
Submit your email to subscribe to our newsletter and get insights for living well in your inbox every month!
hbspt.forms.create({ region: "na1", portalId: "8062554", formId: "773d80b8-cda0-4ec6-8524-3abb278f6619" });