Make Yourself at Home Podcast
[Make Yourself at Home E22] John Andrew Entwistle, CEO & Founder, Wander
You know John Andrew Entwistle as the Founder & CEO of Wander and as a Co-Founder of Coder. But who is John Andrew Entwistle at home?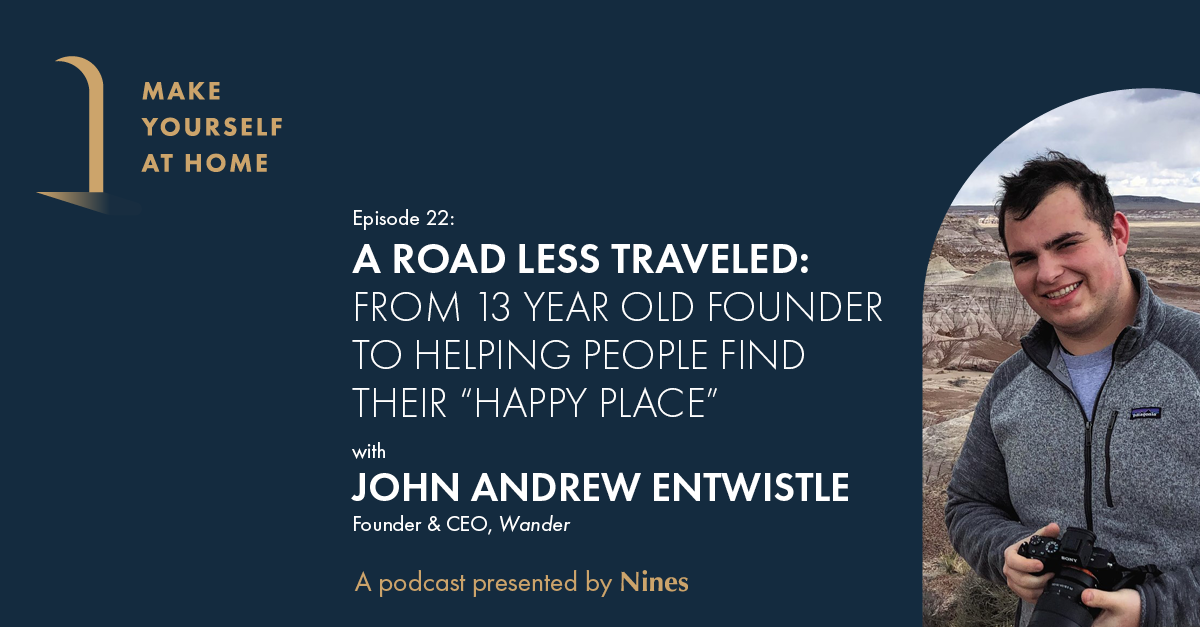 John Andrew Entwistle is on a mission to help people find their happy place.

For the Wander Founder & CEO, it's a mission that feels personal.
John Andrew started his first company at just 13 years old, and launched his second, Coder, right out of high school. Over the next 5 years, he became a Thiel Fellow and was named alongside his Coder co-founders to Forbes 30 Under 30. When he stepped down to Coder's board in 2021, he took some time away to ask himself, what's next?

That question — and that trip, where he stayed in a sub-par vacation rental — sparked the idea for Wander. The startup vertically integrates short-term rentals to create better experiences for travelers. Wander's growing network of smart homes is built to optimize the guest experience, with everything from WiFi you can depend on during your next workcation to a Tesla you can use to explore the area with your family.

Now, less than a decade after graduating from high school, John Andrew says he's building the company he wants to work on until he's old and gray.

For this episode of Make Yourself at Home, we're in John Andrew's home in Austin, TX, talking about the road less taken, how he's guided by a set of rules he wrote down as a kid, and what shapes his idea of a meaningful life. Make Yourself at Home with John Andrew Entwistle.
Listen now and subscribe on Apple Podcasts, Google Podcasts, Spotify and wherever you listen to your favorite shows.


Follow along with John Andrew on LinkedIn and on Twitter @jaentwistle.
Subscribe now to Make Yourself at Home to hear from all our season 1 guests, including Bess Freedman (Brown Harris Stevens), Frédéric Fekkai (FEKKAI), Kara Goldin (Hint), Greg Davidson (Lalo), Danielle Canty (Bossbabe), Kate Torgersen (Milk Stork), Adrian Grenier (Earth Speed Media), Loren Brill (Sweet Loren's), Nyakio Grieco (Thirteen Lune), Noora Raj Brown (goop), Tara Williams (Dreamland Baby), Dr. Wendy Borlabi (Chicago Bulls), Ruth Zukerman (SoulCycle, Flywheel Sports), Katelin Holloway (Seven Seven Six), Al Doan (Missouri Quilt Co), Rechelle Balanzat (Juliette), Sasha Cohen (Olympic Medalist), Ally Love (Peloton), Nicole Ryan (SiriusXM) and more. And if you enjoy our conversations, leave us a review to tell us why!
Make Yourself at Home is presented by Nines, the household management app designed to help you manage your home and everything that comes with it, so you can live with ease.
Submit your email to subscribe to our newsletter and get insights for living well in your inbox every month!
hbspt.forms.create({ region: "na1", portalId: "8062554", formId: "773d80b8-cda0-4ec6-8524-3abb278f6619" });