Make Yourself at Home Podcast
[Make Yourself at Home E27] Michael Perry, Founder & CEO, Maple
You know Michael Perry as a serial entrepreneur and the Founder & CEO of Maple. But who is Michael Perry at home?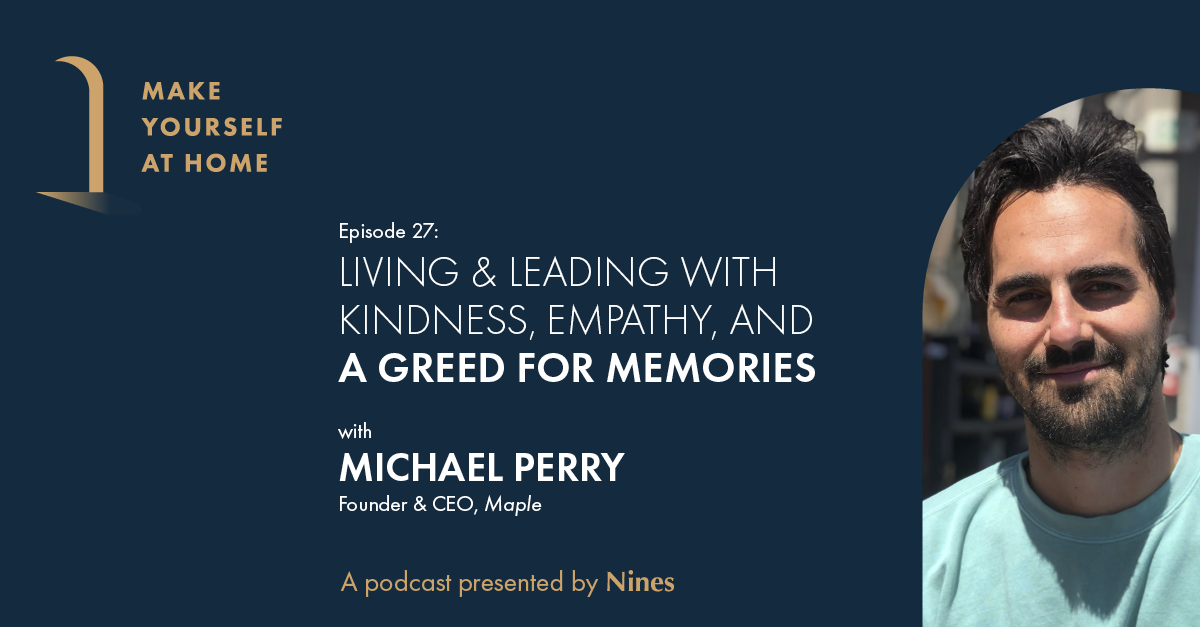 Michael Perry says his only greed is for memories.
Back in 2016, Michael looked like he had everything he wanted. He had just sold Kit — his virtual marketing assistant startup — to Shopify, joining the company as Director of Kit and later Director of Product, Marketing Technology.
Outside of work, he and his wife had just bought a house and their dream car, and they took a vacation that, from Instagram at least, looked like the trip of a lifetime.
But in reality, Michael and his wife were going through one of the most difficult moments of their lives. A doctor had told them they probably wouldn't be able to have kids, and they had started a years-long journey with IVF.
It was a moment that set off a chain reaction in every aspect of Michael's personal and professional life.
"The IVF journey, quite honestly, was one of the best wake-up calls for me on a human level," says Michael.
Today, he's the Founder & CEO of Maple, but he says his most important title is "Dad."
For a new episode of Make Yourself at Home, we're in Michael's home in Santa Barbara, where he lives with his wife and two young sons, talking about how his path to becoming a parent influenced how he thinks about everything from entrepreneurship and leadership to household chores.
In this conversation, Michael shares why he feels he and his wife are "co-founders in life," how his family's IVF journey fueled his dedication to gender equality, and why he shifted his focus from helping small business owners with companies like Kit and GVING to helping parents with Maple — an app that helps parents take the stress out planning and organizing their homes. Make Yourself at Home with Michael Perry.
Listen now and subscribe on Apple Podcasts, Google Podcasts, Spotify and wherever you listen to your favorite shows.



Follow along with Michael on LinkedIn and on Instagram @michaelperry and @growmaple.
Subscribe now to Make Yourself at Home to check out all of our podcast episodes, with guests including Danielle Canty (Bossbabe), Adrian Grenier (Earth Speed Media), Nyakio Grieco (Thirteen Lune), Noora Raj Brown (goop), Ruth Zukerman (SoulCycle, Flywheel Sports), Katelin Holloway (Seven Seven Six), Sasha Cohen (Olympic Medalist), Ally Love (Peloton), Nicole Ryan (SiriusXM) and more. And if you enjoy our conversations, leave us a review to tell us why!
Make Yourself at Home is presented by Nines, the household management app designed to help you manage your home and everything that comes with it, so you can live with ease.