Make Yourself at Home Podcast
[Make Yourself at Home E17] Ariel Kaye, Founder & CEO, Parachute Home
You know Ariel Kaye as the Founder and CEO of Parachute, the direct-to-consumer home essentials brand. But who is Ariel Kaye at home?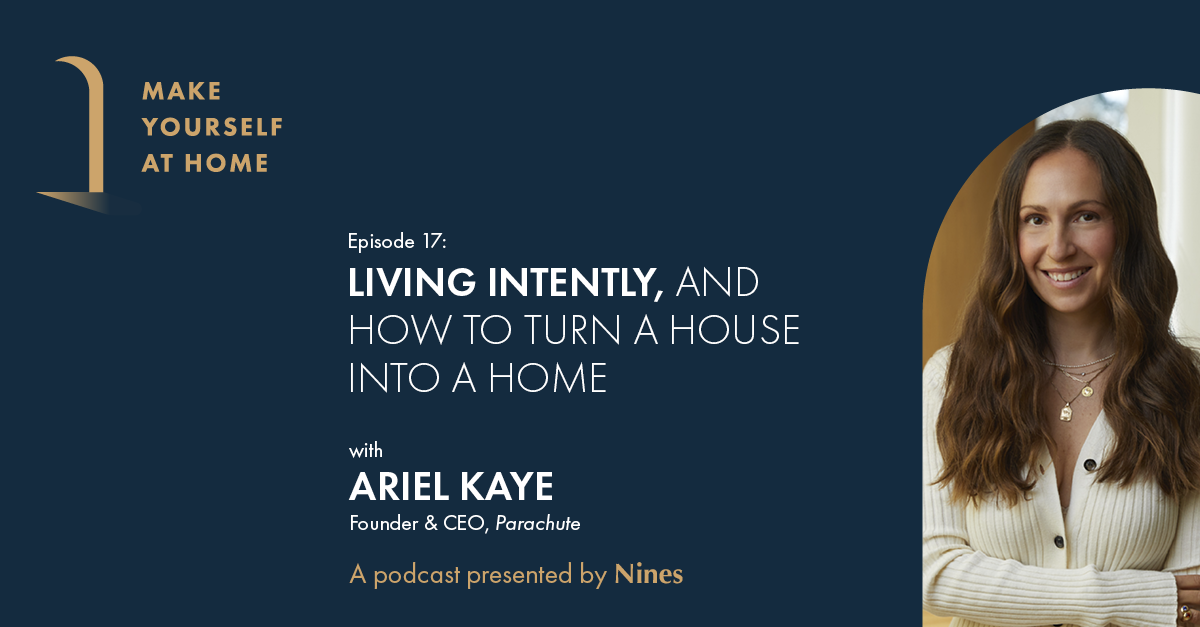 Parachute Founder and CEO Ariel Kaye doesn't have a background in interior design, and she never planned on becoming an entrepreneur. Instead, she felt compelled to launch the brand because of her own love of home.
She was living in New York City, working in advertising and regularly entertaining friends in her apartment, when she noticed a gap in the market for a direct-to-consumer home goods brand. She thought to herself, "if not now, when?" and dove into building a startup dedicated to helping people create comfortable spaces. Her first goal: help people get a good night's sleep.
Within weeks of launching her first online-only product — high-quality bedding — the brand took off, and Ariel was able to secure funding to grow her business. Since 2014, Parachute has raised over $44 million, expanded into other areas of the home, and built on its e-commerce foundation with 25 retail stores across the country. Today, the brand offers premium quality sheets, linens, towels, robes, rugs and more, while committing to social responsibility.
Along the way, Ariel's life at home has changed, too. She moved to California when she launched Parachute, and several moves and two kids later, she's turning a new house into a home in Los Angeles.
In a new episode of Make Yourself at Home, Ariel shares her love of making people feel comfortable, and why she strives to live intently. Make Yourself at Home with Ariel Kaye.
Listen now and subscribe on Apple Podcasts, Google Podcasts, Spotify and wherever you listen to your favorite shows.


Follow along with Ariel on social media @arielkaye and @parachutehome, and check out her book, How to Make a House a Home.
Subscribe now to Make Yourself at Home to hear from all our season 1 guests, including Bess Freedman (Brown Harris Stevens), Frédéric Fekkai (FEKKAI), Kara Goldin (Hint), Greg Davidson (Lalo), Danielle Canty (Bossbabe), Kate Torgersen (Milk Stork), Adrian Grenier (Earth Speed Media), Loren Brill (Sweet Loren's), Nyakio Grieco (Thirteen Lune), Noora Raj Brown (goop), Tara Williams (Dreamland Baby), Dr. Wendy Borlabi (Chicago Bulls), Ruth Zukerman (SoulCycle, Flywheel Sports), Katelin Holloway (Seven Seven Six), Al Doan (Missouri Quilt Co), Rechelle Balanzat (Juliette), and more. And if you enjoy our conversations, leave us a review to tell us why!
Make Yourself at Home is presented by Nines, the household management app designed to help you manage your home and everything that comes with it, so you can live with ease.
Submit your email to subscribe to our newsletter and get insights for living well in your inbox every month!
hbspt.forms.create({ region: "na1", portalId: "8062554", formId: "773d80b8-cda0-4ec6-8524-3abb278f6619" });