Make Yourself at Home Podcast
[Make Yourself at Home E21] Alissa Heinerscheid, VP, Bud Light, Anheuser-Busch
You know Alissa Heinerscheid as the VP of Bud Light — the largest beer brand in the world. But who is Alissa Heinerscheid at home?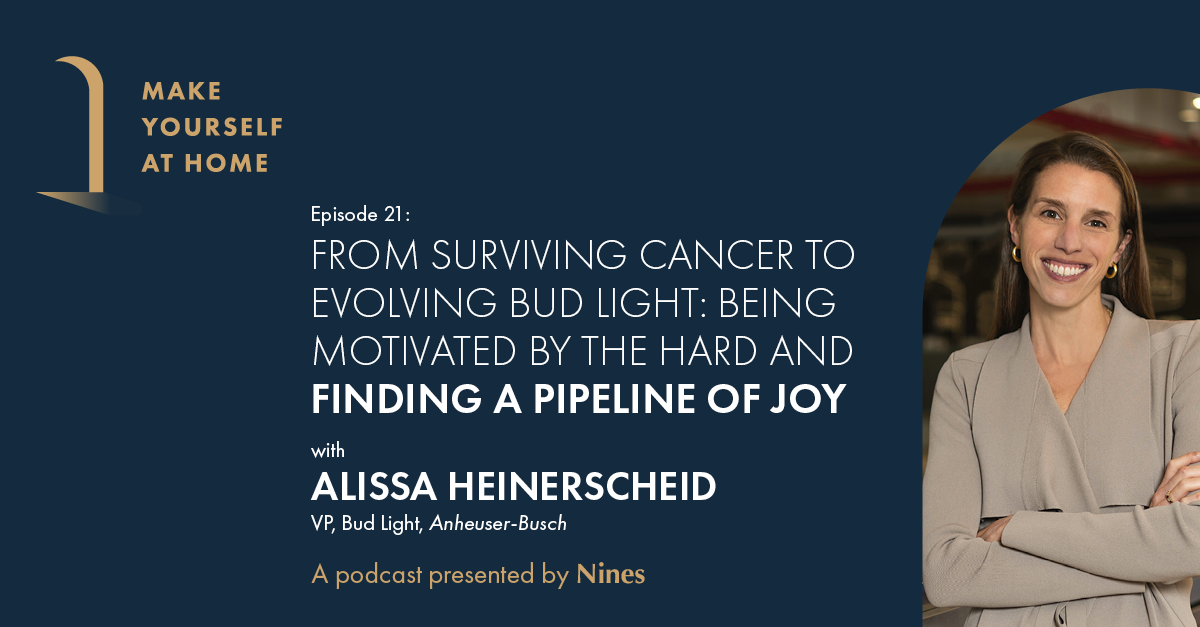 At work, Alissa Heinerscheid is the Vice President of Bud Light for Anheuser-Busch. When she stepped into the role last year, she was tasked with evolving and elevating an iconic brand that was in decline. As the first woman to lead Bud Light in its 40+ year history, she's bringing a new perspective to the brand's creative work, like the Super Bowl commercial featuring Keleigh Teller and Miles Teller. The spot is one of two 2022 Bud Light Super Bowl ads to feature women as the main characters.

At home, she's a mom who celebrates her kids' wins with a family swag chain, and a cancer survivor, who finds her joy paying it forward and coaching other women through the tough moments she's been through herself, like having her three kids through surrogacy.

She says, in both work and home, her values are the same — she's motivated by the hard, and she's always looking for depth and meaning.
In early 2020, before taking over at Bud Light, Alissa was promoted to VP, Direct to Consumer Marketing at Anheuser-Busch. A month later, the pandemic struck, and suddenly, she found herself working harder than ever, both in her new role and at home. After a tough wakeup call from her husband, she set out to find her "pipeline of joy," and started a project called, 100 Women in 100 Days. She talked to friends, and eventually total strangers, asking each person, "what's in your worry box?"
For episode 21 of Make Yourself at Home, we're in Alissa's home in New York City, talking about the importance of connection, why it's ok to give yourself permission to pursue what gives you energy, and how Alissa found her pipeline of joy. Make Yourself at Home with Alissa Heinerscheid.
Listen now and subscribe on Apple Podcasts, Google Podcasts, Spotify and wherever you listen to your favorite shows.


Follow along with Alissa on social media @alissa.heinerscheid on Instagram and on LinkedIn.
Subscribe now to Make Yourself at Home to hear from all our season 1 guests, including Bess Freedman (Brown Harris Stevens), Frédéric Fekkai (FEKKAI), Kara Goldin (Hint), Greg Davidson (Lalo), Danielle Canty (Bossbabe), Kate Torgersen (Milk Stork), Adrian Grenier (Earth Speed Media), Loren Brill (Sweet Loren's), Nyakio Grieco (Thirteen Lune), Noora Raj Brown (goop), Tara Williams (Dreamland Baby), Dr. Wendy Borlabi (Chicago Bulls), Ruth Zukerman (SoulCycle, Flywheel Sports), Katelin Holloway (Seven Seven Six), Al Doan (Missouri Quilt Co), Rechelle Balanzat (Juliette), Sasha Cohen (Olympic Medalist), Ally Love (Peloton), Nicole Ryan (SiriusXM) and more. And if you enjoy our conversations, leave us a review to tell us why!
Make Yourself at Home is presented by Nines, the household management app designed to help you manage your home and everything that comes with it, so you can live with ease.