Easemakers
[Easemakers Podcast E26] Celebrating the voices of our community
In our final episode of 2022, members of the Easemakers community share what they've learned this year, what they're grateful for, and what they're looking forward to in the New Year.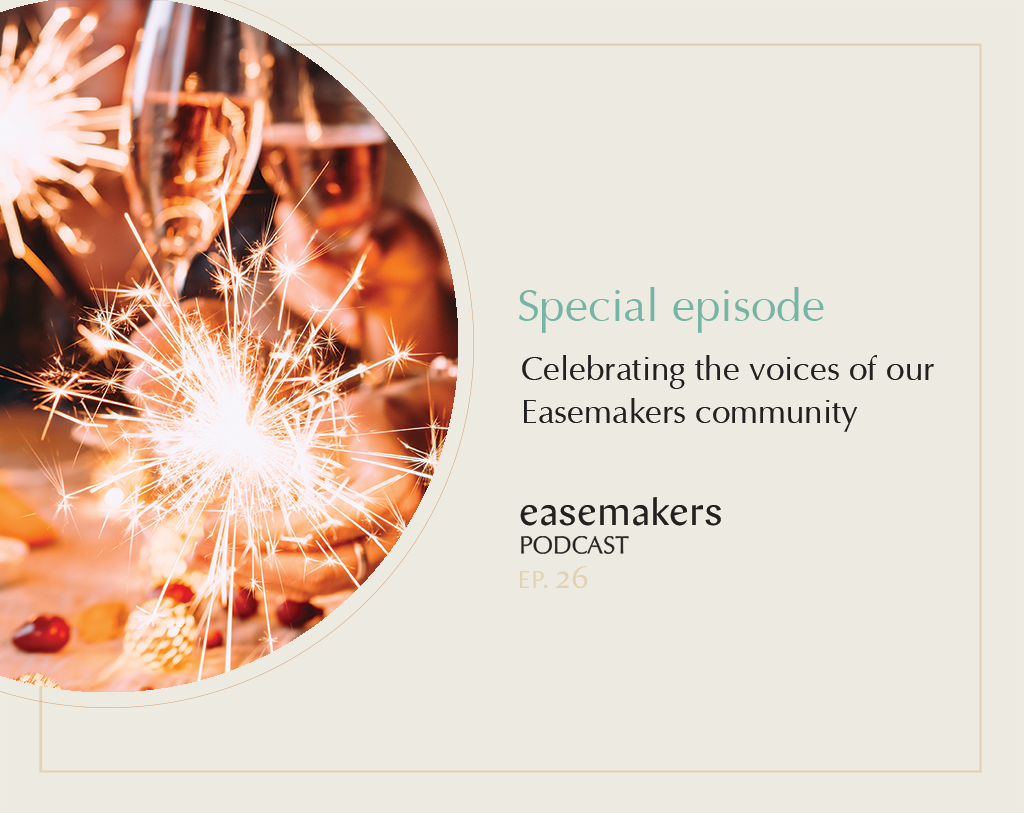 This week, as we approach the end of 2022, we want to take a moment to say thank you, and to celebrate our Easemakers community.
We started the Easemakers Podcast exactly one year ago, in hopes of highlighting the expertise of the estate managers and private service professionals in our community, helping you all learn from each other, and giving every listener the sense that you're not alone.
Since then, our guests have shared incredible stories, tips and words of wisdom — along with their favorite fictional private service professionals, from Mr. Carson to Lurch to Mary Poppins — and you all have rallied around them by listening, sharing, and adding to the conversation. Let's recap…
We've heard amazing behind the scenes stories you'll only hear from private service professionals — Chris Ely told us what it was like to serve as a footman to Queen Elizabeth II at Buckingham Palace, J Paulin shared stories from his time working with Bob Hope, and Edgardo Roman Bolaños and Teresa Vanderford gave us a window into the military's enlisted aide program. Jean Weiss shared how her TV career helps her stay calm in the midst of chaos as an estate manager, and John Christensen explained how growing up in hospitality shaped his service mindset.
Getting into the nitty gritty, Latricia Friend walked us through how she turned a mayday situation into a roaring success, Kelly Cooper shared tips for managing second homes, Tammy Goforth got into the nuts and bolts of construction projects for luxury homes, and Doug Greenberg gave us tips for caring for couture.
We talked all things vendor management — first, Shelby Boudreau shared how to make your vendors feel a part of the team, then, Bobbie Halminiak told her own story of being persistent and pushing back against her vendors (in a nice way). In a great debate, Peter Van Ryder and English Minter talked about how to navigate the tension between household staff and interior designers.
We covered leadership and team building — in our first episode, Jared Miles shared how he fosters an amazing team, and later, Fiona Spence-McNeil told us how she became a better communicator (going from the "Dragon Lady" to the "Fiona Whisperer"). Bonnie Low-Kramen shared her take on why PSPs need better backup, Tejai Singh explained how she uses interpersonal tactics to bring teams together, and Rachel Green helped us understand how to avoid risks in household employment.
We explored trends in the private service industry and the household staffing job market. Peter Van Ryder shared his tips for navigating the job search, David Gonzalez dug into resumes, job descriptions and references, and Brian Daniel shared his take on the 'gilded age' of household staffing. Brianna Shute shared her own career path from nanny to estate manager, and Christopher Milu gave us a window into how he turned his private service experience into a fractional estate management business. Kimberly Varney highlighted trends across the private service industry, and Philippa Smith shared what she's learned about working with a new generation of principals.
And, we walked through strategies for streamlining household management — first, digging into household manuals with housekeeping and estate management expert Marta Perrone, then, talking operations and property management basics with Shelby Boudreau.
Through it all, you've been there to listen, to support each other, and to move the conversation forward. Thank you.
Thank you to all of our guests this year for sharing your words of wisdom with us, and thanks to all of you for tuning in, leaving us reviews and ratings, and joining the conversation in the Easemakers community. You make this community (and this podcast!) special, and we're grateful to all of you for sharing your insights and encouraging each other.
For our final Easemakers Podcast episode of the year, we're celebrating the voices of our community. You'll hear Texas Director of Residences Jared Miles, California Estate Manager Jean Weiss, Maine Estate Manager Shelby Boudreau, and California Personal Assistant Brooke Lawrence share what they've learned this year, what they're grateful for, and what they're looking forward to in the New Year — along with some of their favorite holiday treats. Thanks to all of these special guests, and to all of you for a wonderful 2022!
The Easemakers Podcast is also available on Apple Podcasts, Spotify, Stitcher and anywhere you listen to your favorite shows.
We'll be back in 2023 after a short break, and we look forward to more wonderful conversations in the New Year! In the meantime, subscribe to the Easemakers Podcast on Apple Podcasts, Spotify, and wherever you listen to your favorite shows to catch up on all our past episodes, and join the conversation in the Easemakers community.

The Easemakers Podcast is presented by Nines, household management software and services built for discerning households and the private service professionals who support them. From Kristin, Mo, Jacco, and the entire team at Nines, happy holidays! Wishing you all the best in the new year, and looking forward to continuing to work together to move the industry forward in 2023.